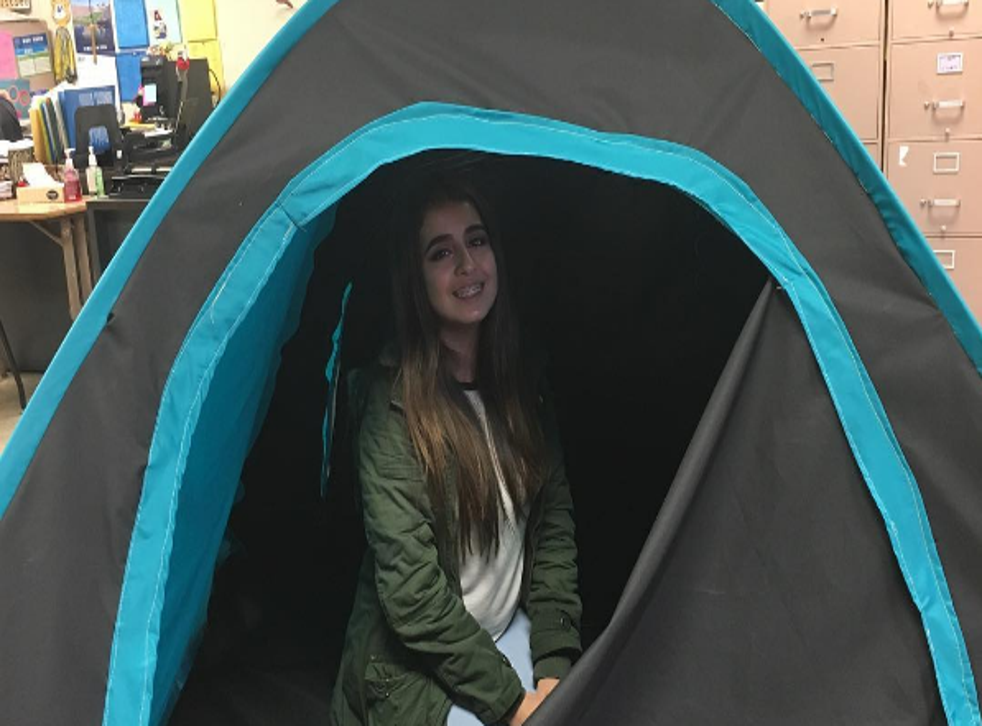 Teenage girls help tackle homelessness in California by inventing solar-powered tent
"We're the only two girls in our Calculus class. But we're gonna change that"
12 teenage girls from California have created a solar-powered tent which they hope will help tackle homelessness.
In the San Fernando Valley, 20 miles northwest of downtown LA, homelessness increased by 36 per cent to 7.094 people last year, according to the Los Angeles Homeless Services Agency's annual count.
Although they had little money to give, a group of teenage girls wanted to make a difference. So they've created a specially engineered tent.
"Because we come from low-income families ourselves, we can't give them money," high school senior Daniela Orozco told Mashable.
"We wanted to offer something besides money," adds her classmate Veronica Gonzalez.
The 12 girls have designed and built a solar-powered tent that rolls up into a backpack. None of them have any engineering training so largely taught themselves using online videos and tutorials.
Having spent a year working on the project, they're today presenting the tent at the Massachusetts Institute of Technology (MIT).
They were recruited by non-profit organisation DIY Girls and also won a grant of $10,000 (£7,800) from the Lemelson-MIT Program to work on their invention.
DIY Girls aims to encourage young women from low income families to pursue careers in maths, science and engineering.
According to the National Science Board, just 29 per cent of the science and engineering workforce are women. And only six per cent of working scientists and engineers are Hispanic or Latina.
Many of the girls will be the first in their families to go on to higher education. They've started using the motivational hashtag: #wegetitdone.
The reason the tent is so special is that it has button-powered lights, two USB ports and a micro-USB port.
"You're learning new things you've never even heard of or even thought of," says Chelly Chavez.
And they particularly wanted to make a difference in their local community, because they see how bad the homelessness is every day.
"Because we live here, we see it growing constantly," Maggie Mejia says. "If your parents miss X amount of bills, you can fall into homelessness too."
As coverage of their invention grows, the team hope to encourage other girls to follow in their footsteps.
"Me and her, we're the only two junior girls in our AP Calculus class, which has way more guys than girls," says Paola Valtierra, pointing to Kassandra Salazar, who wants to be an astronaut. "But we're gonna change that."

Join our new commenting forum
Join thought-provoking conversations, follow other Independent readers and see their replies