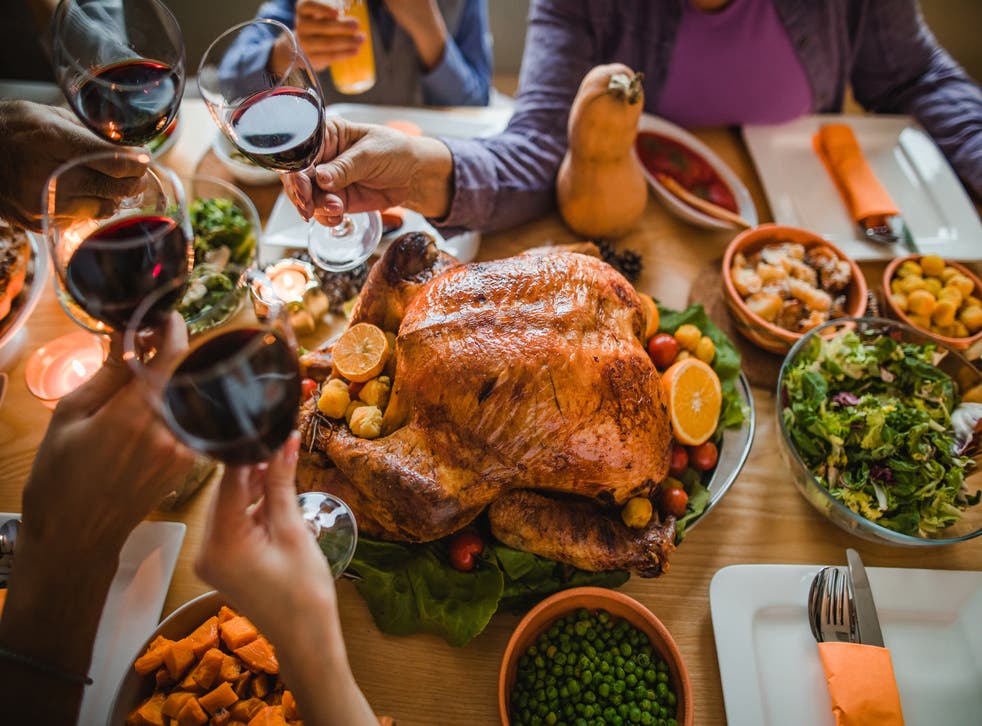 Thanksgiving 2019: Eight ways to celebrate in the UK, from a full turkey feast to a street parade
Fancy a slice of pecan pie? We know just the place
Today, millions of people across America will be sitting around the dinner table with friends or family for Thanksgiving.
Thanksgiving is a holiday that commemorates the feast that was shared between the Plymouth colonists and the native Wampanoag Indians in Virginia in 1621.
Thanksgiving has been celebrated in America since 1863, when President Abraham Lincoln declared it an official national holiday.
While the food-focused holiday may be observed primarily in the USA and Canada, there's no reason why Brits can't also join in the fun.
From a chicken-eating competition to watching live NFL matches, here are 8 ways to celebrate in London.
1. Try your luck at a wing-eating competition
After huge success in 2018, Big Easy in London is bringing back its wing-eating competition for a second year running.
Think you've got what it takes? You'll be given 10 minutes to eat as many chicken wings as possible and the lucky victor will win a year's supply of Sierra Nevada beer.
Big Easy has venues in Covent Garden, Kings Road and Canary Wharf.
For more information, click here.
2. Devour a pecan pie
The Dominique Ansel Bakery, which was first opened in New York in 2011, is famous for the creation of numerous baked delights, such as the cronut and the cookie shot.
It should therefore come as no surprise that the bakery is offering a variety of scrumptious desserts in celebration of Thanksgiving.
Head on offer to the Dominique Ansel Bakery in Belgravia for a classic American slice of bourbon pecan pie, silky pumpkin pie or salted caramel apple pie.
For more information, click here.
3. Listen to a Johnny Cash tribute act
Goose Island is bringing a bit of the USA to the East End on 28 November with a three-course dinner and limited edition pint at The Star Of Bethnal Green pub.
There will also be a live Johnny Cash tribute act playing all evening and free Thanksgiving merchandise - what more could you want?
For more information, click here.
4. Give back to the community
Want to leave the stress of cooking at home and do something good while you're at it? Book a table at the Sea Containers restaurant for a Thanksgiving meal.
The three-course Thanksgiving menu is made up of a butternut squash, manchego and chorizo salad, roast turkey and all the trimmings, followed by pecan and apple pie.
And 20 per cent of the proceeds will go to The Felix Project, a London-based charity which takes surplus food from restaurants and feeds it to local schools and community groups.
For more information, click here.
5. Have a cocktail and a barn dance
If you fancy a cocktail instead of a full three-course meal then Goat bar in Chelsea will be serving up old fashioned cocktails all evening on 28 November.
As well as throwing a barn dance from 9pm. Think hay bales, staff dressed up as cowboys and plenty of country music.
For all table bookings there is also a round of drinks on the house. What could be more patriotic?
For more information, click here.
6. Get swept up in the spirit of the NFL
While food may be the main focus of Thanksgiving, one of the other predominant traditions associated with the holiday is American football.
On 28 November, two NFL American football games will be taking place: the Chicago Bears versus the Detroit Lions and the Dallas Cowboys versus the Buffalo Bills.
To watch the matches, while also enjoying a three-course meal, head on over to Belushi's bar in London Bridge, Hammersmith, Camden, Shepherd's Bush or Greenwich.
For more information, click here.
7. March in the Plymouth parade
In 1620, the Mayflower ship departed from Plymouth, England, carrying the Pilgrims to the 'New World'.
As such, the city of Plymouth is an integral component of the story of Thanksgiving.
On Thursday 28 November, an annual parade will be taking place at the Plymouth Barbican Waterfront, starting at 10am at the Mayflower steps where the Pilgrims set off on their journey.
For more information, click here.
8. Take part in a historical tradition
Every year on Thanksgiving, a special service is held at St Paul's Cathedral in London in commemoration of the American holiday.
The ceremony is held primarily for the American community in London, but is open to all.
Doors will open at 10am on 28 November for the service, which begins at 11am and runs for an hour.
You don't require a ticket to attend, however it is requested that people bring as little baggage as possible and that they be prepared to walk through metal detectors.
For more information, click here.
Join our new commenting forum
Join thought-provoking conversations, follow other Independent readers and see their replies