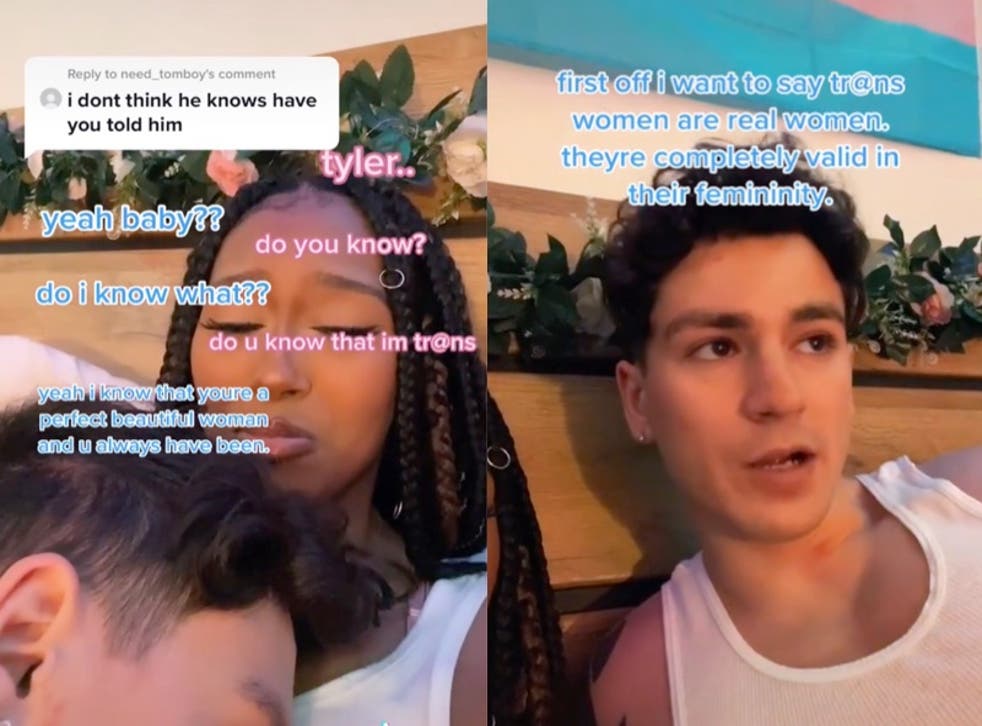 Trans couple shares the 'disgusting' question they want people to stop asking
'First off, I want to say that trans women are real women, they're completely valid in their femininity'
The boyfriend of a transgender woman has called out the "disgusting" question that he wants people to stop asking about the couple's relationship.
Jayde Mcfarlane, who has more than 1.6m followers on TikTok, frequently shares videos about her relationship with her boyfriend Tyler on the platform.
In one video shared this week, Tyler addressed some of the hateful questions and comments that they receive from people implying that he does not know that Mcfarlane is trans.
The emotional clip begins with the couple cuddling as Mcfarlane, replying to a comment that read: "I don't think he knows have you told him?" asks Tyler: "Do you know?"
In response to the question, Tyler asks: "Do I know what?" before Mcfarlane says: "Do you know that I'm trans?"
Read more:
Tyler then replies: "Yeah I know that you're a perfectly beautiful woman and you always have been."
After confirming that the question is one from "TikTok again," Mcfarlane's boyfriend then speaks out on behalf of all trans people to explain why the line of questioning is harmful as well as offensive, with Tyler continuing: "First off, I want to say that trans women are real women, they're completely valid in their femininity.
"And the fact that people think just because someone's trans and that if I found out or if anyone found out that their significant other is trans that would take away or diminish the love that they have for them is just completely disgusting to me."
Tyler then suggested that those who leave comments like this are actually taking their own insecurities and things that they are worried about out on the couple.
"It's disgusting," he continued. "Just because you're unhappy in life doesn't mean we need to be too."
The video, which has since been viewed more than 6m times and liked more than 1.6m times, has prompted an outpouring of support from viewers, who have applauded Tyler for addressing the offensive question.
"This really has me crying. This was said perfectly," one person commented, while another said: "Whew Tyler made me tear up. I love seeing people get the love they deserve."
"This is perfection, thank you for sharing this," someone else wrote.
Speaking to BuzzFeed about the negative comments she receives on "a daily basis," Mcfarlane said that she wishes people would realise the impact of their words.
"I receive negative comments on a daily basis, consisting of people misgendering me and telling me how what I'm doing with my life is wrong and a mistake," she said. "I wish people would realize how one rude comment can stick with someone forever and create new insecurities."
As for why she decided to publicly share her relationship on TikTok, the influencer said that she hopes it shows other trans men and women "we can be loved and cared for too".
"In my community, relationships are such a hard topic for all of us, and I feel like me showing my relationship publicly lets other trans women and men know we can be loved and cared for too," she said.
Join our new commenting forum
Join thought-provoking conversations, follow other Independent readers and see their replies