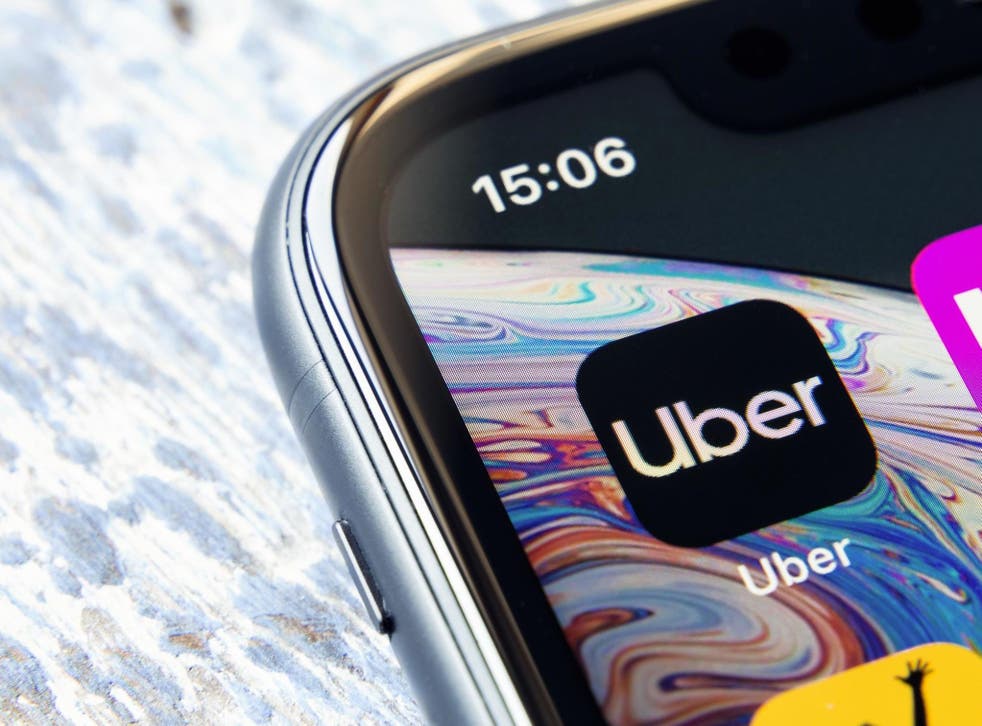 Customer criticises Uber after driver told him to 'stop kissing a man' because of religious beliefs
'I felt very upset that someone would use their religion against me', says rider Finn Davies
Sophie Gallagher
Monday 27 January 2020 16:37 Comments
A man has criticised Uber after a driver reportedly told him to stop kissing another man in the taxi because of her religious beliefs.
On Sunday morning Finn Davies was on his way home from a house party in Marylebone, London, with another man when the pair engaged in a kiss.
The 32-year-old said until that point they had been having a friendly conversation with the female driver who was dropping them at separate destinations.
"About five minutes before we arrived at our first stop, and were due to part ways, we kissed," Davies told The Independent. "We heard the Uber driver say 'stop that please, I'm a Christian'".
Davies says the pair immediately stopped kissing and "went silent". He said: "I felt embarrassed as though I'd done something wrong and I felt guilty that I'd upset the Uber driver."
Top 25 LGBT moments in pop culture since Stonewall

Show all 25
After a couple of minutes he became angry and said he felt "uncomfortable" so didn't want to continue to his destination on his own, so got out with the man in Hackney.
"I asked the Uber driver to cancel the second stop and to end the trip at that point. She agreed and we both said goodbye," he said.
According to the driver's profile she has a 4.93 rating (out of a possible 5) and has driven for the ride-hailing company for two years.
"I wanted to ask her to elaborate but either my British reserve or dislike of confrontation stopped me," he said. "I felt very upset that someone would use their religion against me.
"I wondered if she stoned adulterers in the street, ate shellfish or reprimanded people for braiding their hair. You can't pick and choose what you believe in from the bible. If you are going to take one thing literally you have to take everything literally. Otherwise you are a bigot hiding behind a book."
After the incident Davies tweeted: "Last night, I got an Uber home with a boy and had a smooch in the back, en route. Mid-smooch the @UberUK driver asked us to stop because she was a Christian. That's not acceptable, right?!"
Uber has responded to the tweet saying Davies should message them and later left a voicemail message requesting he phone them back to discuss the incident.
A spokesperson for Uber told The Independent: "What has been described is totally unacceptable. Uber has a zero tolerance policy towards discrimination of any kind and we are currently investigating this incident.
"Any driver found to have violated this policy faces permanent deactivation from the app."
Uber's LGBT+ policy states: "We advocate globally for LGBTQIA+ diversity, inclusion, and allyship, so our employees, partners, and customers feel empowered to be their most authentic selves every day."
Drivers for ride-hailing app services are more likely to cancel journey with LGBT+ customers, a 2019 study suggested.
In a study of 3,200 journeys they found customers with a rainbow flag emoji on their profile were twice as likely to be cancelled on by drivers.
Register for free to continue reading
Registration is a free and easy way to support our truly independent journalism
By registering, you will also enjoy limited access to Premium articles, exclusive newsletters, commenting, and virtual events with our leading journalists
Already have an account? sign in
Join our new commenting forum
Join thought-provoking conversations, follow other Independent readers and see their replies