The Independent's journalism is supported by our readers. When you purchase through links on our site, we may earn commission.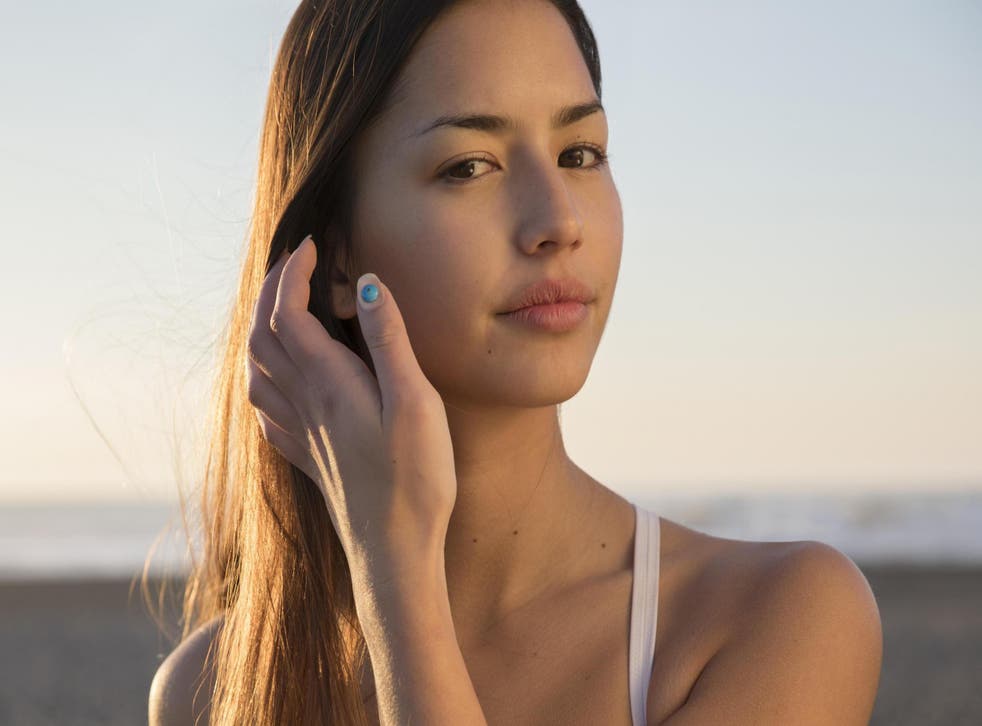 New wearable UV scanner is small enough to wear on your fingernail
Lifesaving and trendy
Chelsea Ritschel
in New York
Tuesday 09 January 2018 17:26 Comments
Although basking in the hot sun may feel good, it is also the leading cause of skin cancer - a very serious but unfortunately, very common, issue.
However, one company is attempting to combat the increasing number of skin cancer diagnoses with their new UV tracker.
La Roche-Posay has created UV Sense, a wearable UV tracker that is so tiny you can wear it on a fingernail. And it looks cool too.
Showing off their new product at the 2018 Consumer Electronics Show, the company's miniature tracker provides a glimpse into the future of skincare - by fulfilling everything one would want out of a UV tracker.
The super small tracker, which measures nine millimetres around and two millimetres thick, is placed on your fingernail - and actually looks like nail art.
Staying put even on top of dry nail polish, the UV tracker stays on for up to two weeks, even while you swim, shower, and work out.
The best part? The new tracker does not require any type of charging - meaning lack of Bluetooth connection won't affect its ability to update you on the environmental factors affecting your skin.
And, in addition to sun exposure, the little sticker is also capable of tracking pollution, humidity, and allergen levels.
Guive Balooch, the brain behind the creation of the tracker at L'Oréal's Technology Incubator, told Allure: "It will last a few months or longer, and is very environmentally clean to dispose of, it doesn't even have a battery."
The tracker, which syncs with a companion app that allows you to measure factors such as UV exposure while you are outside, works by using near-field communication technology - and can store up to three months of data.
With over 15,000 new cases of skin cancer reported in the UK in 2014 alone, UV Sense is the reminder we all need to apply more sunscreen.
The new tracker will be available globally in 2019.
Register for free to continue reading
Registration is a free and easy way to support our truly independent journalism
By registering, you will also enjoy limited access to Premium articles, exclusive newsletters, commenting, and virtual events with our leading journalists
Already have an account? sign in
Join our new commenting forum
Join thought-provoking conversations, follow other Independent readers and see their replies