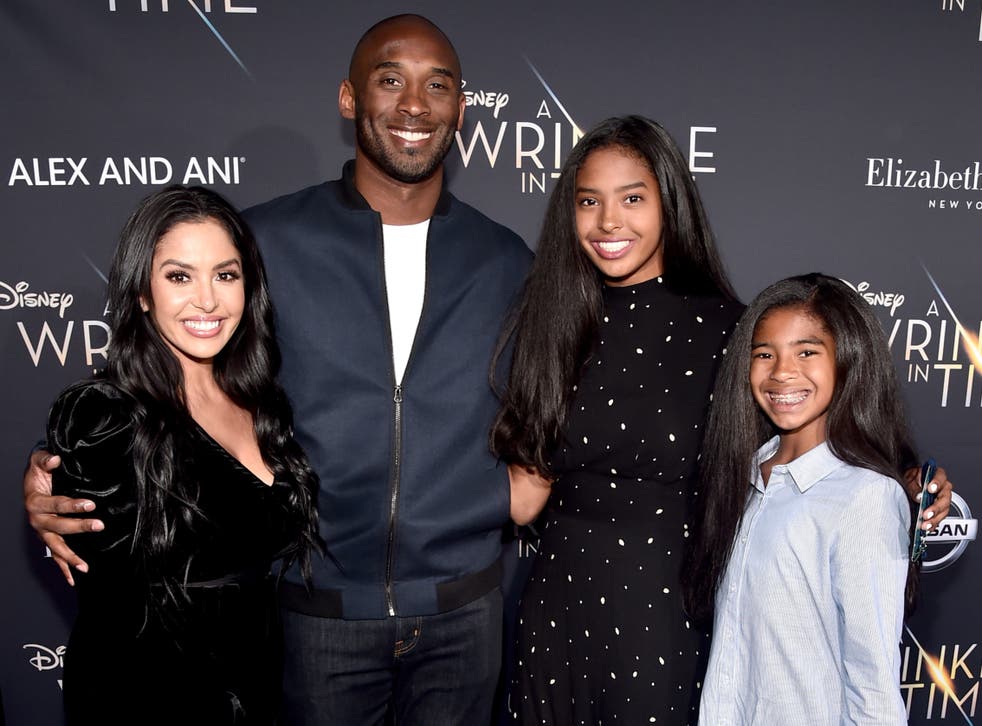 Vanessa Bryant shares tribute to Kobe and Gianna on first anniversary of their deaths: 'Kob, we did it right'
Kobe and Gianna Bryant died along with seven others on 26 January 2020
Leer en Español
Vanessa Bryant has marked the first anniversary of the deaths of her late husband Kobe Bryant and their daughter Gianna Bryant with an emotional tribute shared to social media.
The NBA legend, 13-year-old Gianna and seven others died on 26 January 2020 when the helicopter they were travelling in crashed in Calabasas, California.
On Tuesday, the one-year anniversary of their deaths, Vanessa, who also shares daughters Natalia, 18, Bianka, four, and Capri, one, with the late basketball star, reflected on her grief over the tragic accident while sharing a photo of the "sweet letter" she received from Gianna's friend Aubrey.
"Today I received this sweet letter from one of Gianna's best friends, Aubrey. I love you Aubz (as my Gigi would call you). Thank you so much for beautifully sharing some of your memories of my Gigi with me and allowing me to share them here on my IG," the 38-year-old captioned the post. "My Gigi is INCREDIBLE and I truly appreciate your thoughtful letter. She loves you so much. I miss my baby girl and Kob-Kob so much, too.
"I will never understand why/how this tragedy could've happened to such beautiful, kind and amazing human beings. It still doesn't seem real. Kob, we did it right. Gigi, you still make mommy proud. I love you!"
The mother-of-four concluded the caption adding the hashtags #PlayGigisWay #Mambacita #Mamba #DaddysGirl #GirlDad, in reference to her daughter's nickname as well as her husband's well-documented joy at being a father to four daughters.
In the attached letter, Aubrey reflected on her best friend, who she called "kind, caring and endlessly polite," and the ways in which Gianna encouraged her to be a better version of herself.
"Her love of life is something I will also admire endlessly," Aubrey wrote. "She attacked each day as though it were hers to conquer. She would smile and bring the rest of us up with her."
Aubrey also shared memories of time spent with Gianna playing basketball, in a musical and at school, writing: "She left me notes in my notebook that I cherish. She was incredible."
Ahead of the anniversary of the accident, Aubrey shared her own sadness over the loss of her close friend, before expressing her hope that Vanessa is able to "catch a glimpse of joy in who the daughter you created and raised was".
"You did it right Mrs Bryant and we are all eternally grateful to you," she wrote. "I am so, so blessed I got to have time with your angel of a daughter, and thank you for giving me the chance."
Aubrey concluded the letter: "I love you and am thinking of you as we remember and honour her life," before adding: "If you ever need more stories of her, I am filled to the brim and would be privileged to share them with you."
On the day of the accident, Kobe and Gianna were on their way to a basketball game along with John Altobelli, his wife Keri Altobelli and their daughter, Alyssa Altobelli, as well as Sarah and Payton Chester and Christina Mauser, in a helicopter flown by Ara Zobayan.
In the year since the crash, Vanessa has been open about her experience with grief while sharing numerous tributes to her late husband and daughter.
"God I miss you both so much. Our lives feel so empty without you and Gigi," she wrote in a post celebrating what would have been Kobe's 42nd birthday. "I've been completely broken inside. As much as I want to cry, I put a smile on my face to make our daughters' days shine a little brighter."
Vanessa also said she wished she had died before her husband and daughter as she found it too painful to live without them, writing: "I wish I could wake up from this horrible nightmare. I'm mad I didn't go first."
Join our new commenting forum
Join thought-provoking conversations, follow other Independent readers and see their replies