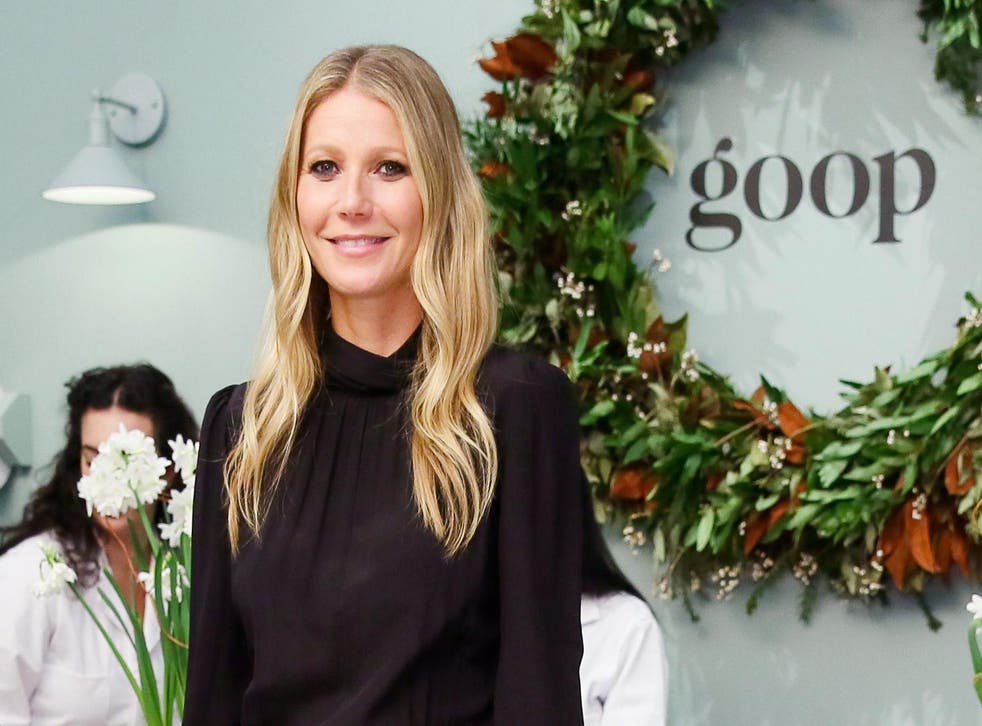 Goop claims 10-day meditation retreat of complete silence is 'life-changing'
The retreat is meant to 'decondition the mind'
Chelsea Ritschel
in New York
Thursday 20 September 2018 19:25 Comments
Questionable wellness website Goop has claimed to have found the key to "better mental health" - 10 days of complete silence.
The latest Goop craze focuses on Vipassana - an ancient form of meditation, which translates to "insight" and encourages focusing on the here and now.
According to a Q&A with Vipassana experts Barry Lapping, founding member of Dhamma Dhara and Lysha Smith, an administrator at Dhama Dhara, the experience is transformative.
Vipassana, which originated in India more than 2,500 years ago by Gotama Buddha, according to Lapping, is the path to "mental purification."
However, to reap the rewards of the practice, "rigorous mental training" is required - including a mandatory 10-day course that involves no speaking.
The point of the intense meditation is to develop one's mind-body connection - and learn to focus on simply observing, rather than reacting.
During the course, meditation makes up the majority of the day, only broken up with regularly interspersed tea and food breaks.
At 9.30pm, students retire to their rooms to sleep - required rest for the 4am wake-up bell.
According to Lapping, the experience and the various techniques taught over the course of the 10-day period "consequently leads to a balanced mind - and happiness.
The 10 Best meditation apps

Show all 10
"We come out of suffering," he said.
And the practice is "for anyone," according to the experts - however, Smith acknowledged that it is a "rigorous experience" and "in that sense, it is not for everyone."
"You have to be of stable physical and mental health to start doing that mental surgery," he said.
In addition to cutting oneself off from the people inside the course, the course also requires no outside communication via phones or computers as well as no killing, stealing, sexual activity, lying, or intoxicants.
Physical contact is prohibited, as is any non-verbal communication between students, according to the Code of Discipline section of the website.
In the spirit of helping people "see things as they really are," and achieve full enlightenment, all Vipassana courses are donation-based - meaning room, board, food and teaching cost students nothing.
With locations all over the country, and more than 185 centres around the world, the basis of the intense Vipassana course is to learn practices that can then be applied in everyday life.
Gwyneth Paltrow's Goop website under fire for telling women to achieve their 'leanest liveable weight'
For the most part, meditation is considered safe for the majority of people, with the practice linked to scientifically-backed benefits such as stress reduction and improved sleep.
However, some studies have found the practice can lead to negative side effects.
One study, conducted by the University of California, Irvine, found seven per cent of people who'd attended a meditation retreat suffered "profound adverse effects" such as panic and depression.
Vipassana mediation is not recommended for people with serious psychiatric disorders, according to the website.
Register for free to continue reading
Registration is a free and easy way to support our truly independent journalism
By registering, you will also enjoy limited access to Premium articles, exclusive newsletters, commenting, and virtual events with our leading journalists
Already have an account? sign in
Join our new commenting forum
Join thought-provoking conversations, follow other Independent readers and see their replies