The Independent's journalism is supported by our readers. When you purchase through links on our site, we may earn commission.
Vogue wedding announcement about California elopement ridiculed as 'tone-deaf': 'Is this a parody?'
The groom wore a custom suit by Thom Browne 'the same colour of Ruby, his newly launched hibiscus water beverage, and hand-signed by Thom himself'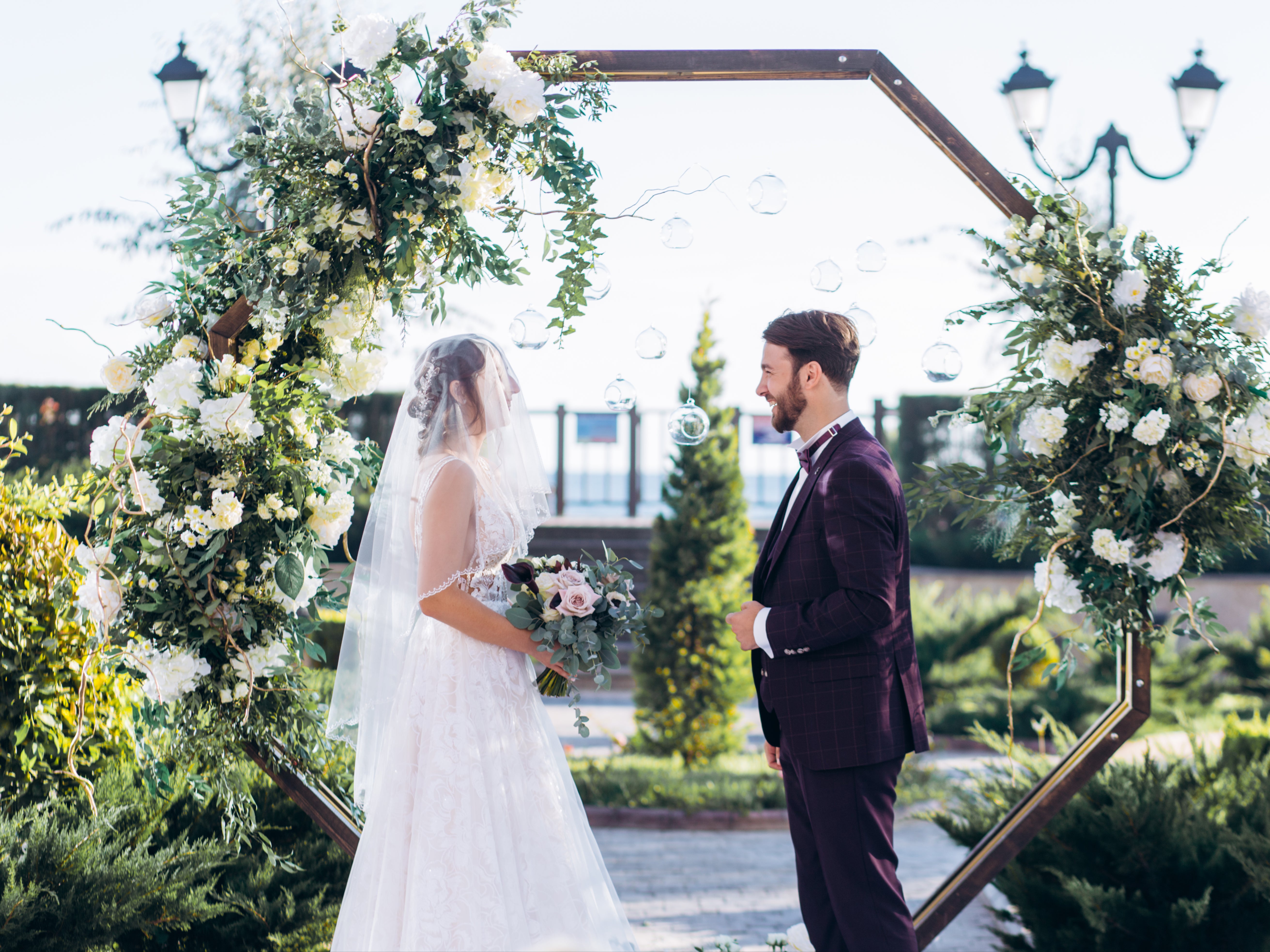 A Vogue wedding announcement detailing the nuptials of two high-flying executives is being widely mocked as "tone-deaf" on social media. 
This week, the fashion magazine published a piece titled: "The Bride and Groom Wore Thom Browne for Their Elopement Overlooking the Cliffs of Big Sur," which shared in-depth details of the wedding between Noah Wunsch and Kelly Connor. 
Wunsch is the CEO of a hibiscus-flavoured water company and Connor is director of brand relations for Thom Browne
However, nearly every detail of the story, from the first time the couple crossed paths to their eventual wedding, which saw Connor require almost every guest to be outfitted "in a specific look from Thom Brown" has been met with amused criticism from readers.
According to the outlet, Wunsch and Connor, who "eloped" on 30 November of last year, first met in 2015 at a party for Levi's, which she was hosting as the "denim editor of Vogue". Unfortunately for Wunsch, Connor was engaged to be married to someone else at the time - so he decided to leave his number with her aunt, who he also met at the party.
The pair eventually reconnected a few years later, at which point Connor was single, and instantly formed a connection. They became engaged shortly after, with the wedding initially planned for March 2020.
Read more:
When the pandemic began, the couple decided to spend their engagement in lockdown with Wunsch's family in wealthy East Hampton, according to the outlet.
By November, they had decided to elope, so they travelled to Big Sur, California, where they "booked one of the best rooms at the aerie-like Post Ranch Inn and invited a small group of West Coast friends".
Despite having to settle for a much smaller wedding, with Wunsch revealing that he personally checked the negative Covid tests of each guest, the couple went all out when it came to "style".
In addition to requiring guests to wear Browne, with Connor stating that the dress code was "don't f*** this up," the bride herself wore a unique "archival" piece from Browne's fall/winter 2018 collection.
Interestingly, her husband's outfit consisted of a "made-to-measure burgundy suit by Browne, the same colour of Ruby, his newly launched hibiscus water beverage, and hand-signed by Thom himself".
As for the wedding itself, the party included a "tablescape that included antique uranium glass that glowed green under her lighting design," and musical entertainment by Sam Harris, the lead singer and guitarist of X Ambassadors.
The meal, which was created by Connor's sister and described as a "plant-based feast," also included a "special tri-tip roast procured from Seaside Market in Cardiff-by-the-sea, California".
The next morning, Vogue states that: "As everyone departed for drives up and down the California coast, and back to the reality of a pandemic, it settled on all the guests how grateful that we were to escape, safely, if only for the night."
On Twitter, the feature about the wedding has been ridiculed since it was published, with people criticising everything from the decision to hold a wedding in the midst of a pandemic to the dress code and the use of the term "eloping".
"Thank you to Vogue's wedding website for so consistently and ably chronicling a society in decline," Eliza Shapiro wrote in a tweet alongside a link to the article, which has since been liked more than 2,900 times. "It's impossible to pick just one line from this one."
"I had to read the first paragraph a few times to figure out that he didn't meet her on her wedding night ... 'engaged to be married by night's end, ok …" one person tweeted.
Another commented: "Does he really love you if he doesn't match his wedding suit to his newly launched hibiscus water beverage?"
"Huh, 'a plant-based feast' ... but also with tri-tip. Idk, kinda seems like not plant-based then? Or maybe tonight I made a plant-based dinner with a side of pork tenderloin," someone else wrote.
Others took offence with the use of the term "eloping" to apply to the nuptials," with another person tweeting: "How is it 'eloping' when you've planned a wedding with family, friends, multiple venues, and curated outfits for the guests."
A photo of the couple blowing out candles on their wedding cake was subjected to criticism as well, as someone else sarcastically said: "Nothing says 'love' like blowing all over a cake in a global pandemic."
The viral tweet also prompted some people to point out that this isn't the first time the couple's wedding was featured in a notable publication, as The New York Times also wrote about the nuptials in a piece published in December 2020.
"I thought I had read this story before. Incredibly. Thanks for making me feel less gaslighted," one person commented in response to the revelation, while someone else said: "AND THEY GOT THE NYT TREATMENT TOO? What is wrong with American journalism? Although this writing is a whole lot better. Why, why do we have to hear about these people?"
Overall, one person summed up the feature with a tweet that read: "I was seriously convinced this was satirical.... and still kind of am."
Join our commenting forum
Join thought-provoking conversations, follow other Independent readers and see their replies