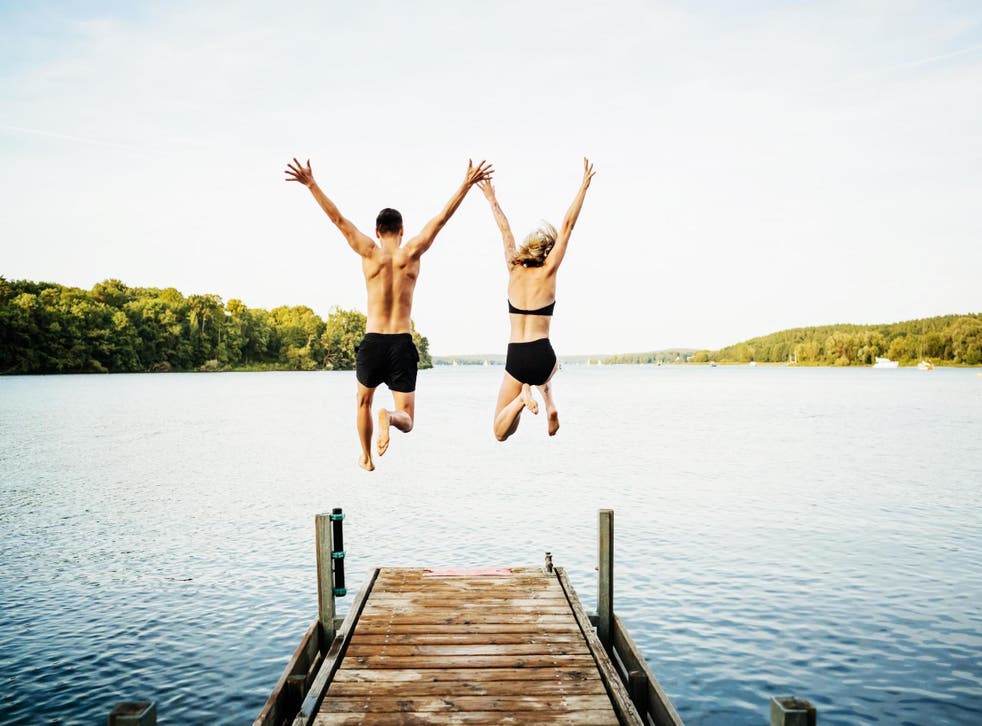 Wild swimming: What is it and what safety precautions should you take?
Wild swimming spots are located all over the UK
Chelsea Ritschel
Thursday 28 June 2018 11:24 Comments
With temperatures rising, going for a dip in a lake or river is the perfect way to cool down.
However, before you strip off your clothes and reconnect with nature, there are a few things to be aware of before you dive in.
What is wild swimming?
Essentially, wild swimming is swimming in any natural bodies of water - whether it be a lake, pond, river, or the ocean.
Wild swimming is appealing because it provides the refreshment of a pool without having to search for one in the summer heat.
Is wild swimming allowed in the UK?
As tempting as it may be to jump into any water, wild swimming is not allowed everywhere in the UK.
In England and Wales, a "right to roam" law means most lakes and rivers are open to swimming but there are some exceptions so it is important to confirm that you have access before you start swimming.
However, you can swim in most public places and open spaces as long as it is not trespassing and unless the law is clarified
In Scotland, all waters are accessible as long as swimmers uphold the Scottish Outdoor Access Code, which states that people must respect the interests of others, care for the environment, and take responsibility for their own actions.
What safety precautions do you need to take before you go wild swimming?
When the proper precautions are taken, wild swimming can be a safe and fun way to enjoy the outdoors. But in order to ensure you don't get hurt and you are properly protected from the elements, some precautions should be taken.
First, you should always swim with a partner, or tell someone where you are going. Even if you have swum in the same spot many times before, accidents happen and it is important that someone else knows where you are.
Second, dressing appropriately for a dip in the outdoors is necessary.
Although it may sound refreshing to wade in naked, swimming outfits are recommended - and sometimes required.
Natural water can be cold and a swimming outfit or a wetsuit can protect you from hypothermia, which can come on gradually.
Always have warm, dry clothes nearby for when you get out of the water.
Goggles are also something to consider as they can protect your eyes in the murky water.
If you are swimming in a new spot, it is important to check the depth of the water and the current before getting in and diving should only be done with great caution, as branches and rocks can be hidden beneath the water.
What are the potential risks associated with wild swimming?
Even if you take the proper precautions before wading into natural waters, insects and water-borne diseases still pose a risk.
When swimming outdoors, you need to be extremely careful to watch out for ticks.
According to the NHS, you may not realise you have been bitten by a tick until you find it on your skin.
If a tick bite goes undetected, there is a risk of developing Lyme disease.
Ticks infected with Lyme disease are all over the UK, according to the NHS, so make sure to do a thorough search of your body after wild swimming.
Cold swimming: Come on in, the water's icy

Show all 2
Leeches also pose a risk to people looking to cool down as they are typically found in freshwater.
Although there is thought to be only one variety of blood-sucking leech in the UK, leeches are found throughout the nation.
To protect open wounds from becoming infected, outdoor swimmers should always cover cuts with plasters.
The UK has an array of swimming spots to choose from that guarantee an enjoyable and refreshing summer - just make sure you take the proper precautions first.
Register for free to continue reading
Registration is a free and easy way to support our truly independent journalism
By registering, you will also enjoy limited access to Premium articles, exclusive newsletters, commenting, and virtual events with our leading journalists
Already have an account? sign in
Join our new commenting forum
Join thought-provoking conversations, follow other Independent readers and see their replies