Lifestyle Opinion
East Asian women in the UK aren't surprised by the Atlanta killings, we're used to this acceptable face of racism
Yes the violence is shocking and tragic, but for East Asian women it also speaks to deep-rooted misogyny and fetishisation that exists on this side of the pond too, says Yuan Ren
Monday 22 March 2021 09:16 Comments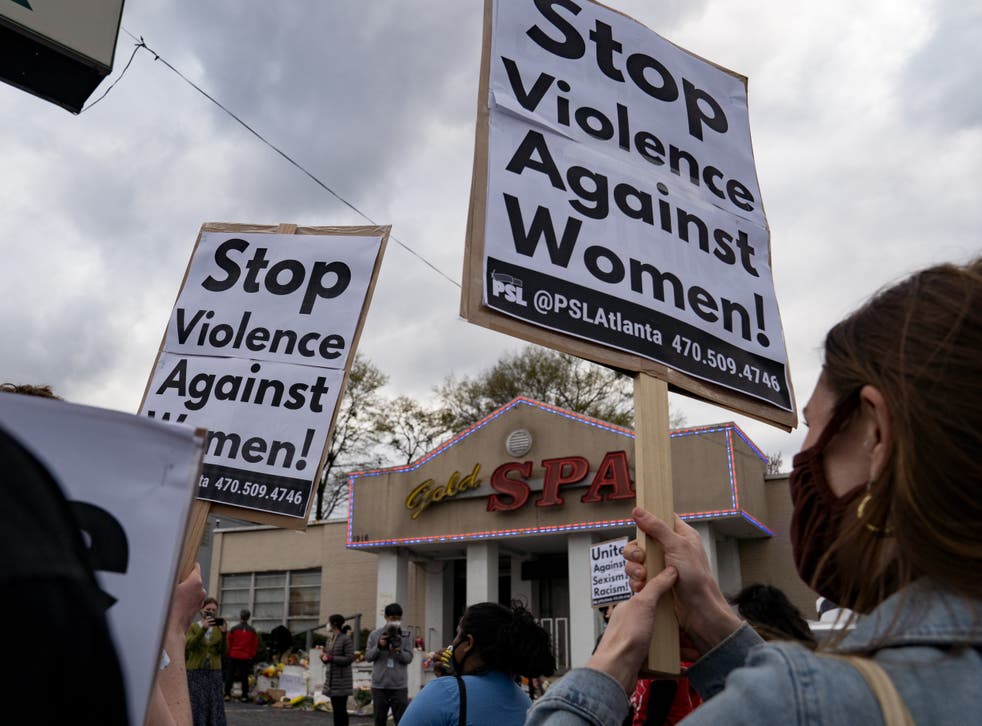 The killing of six East Asian women (and two others) in three massage parlours in Atlanta has prompted an outcry in the USA over what many see as a race and gender-motivated attack. Looking at the facts, there seems little doubt East Asian women were the target - one location was even called Young's Asian Massage - even if officials and the suspect deny race was a motivation.
Instead the 21-year-old suspected perpetrator describes his behaviour (including driving 30 miles between the locations to carry out the attacks) as removing the "temptation" the parlours presented; officials have described him as being a "sex addict". But for me, and many other East Asian women, this intersection of gender and race cannot be untangled.
For the US, the latest mass shooting is a culmination of long-simmering anti-East Asian sentiment that has skyrocketed since the beginning of the coronavirus pandemic, after a year of Donald Trump riling up anti-Chinese sentiment by using terms like "the China virus" and "Kung-Flu". The FBI warned it expected to see a surge in hate crimes in 2020 and later the United Nations issued a report detailing an "alarming level" of violence. Particularly shocking examples, such as an attack on a 91-year-old man, have made headlines.
The problem also has an undeniable additional layer of misogyny to it; a report from Stop AAPI Hate showed the number of Asian American women reporting harassment in the last year was more than double the number of their male counterparts.
But this isn't just an American issue: worldwide we have seen a resurgence of comments playing into stereotypes of dirty markets, smelly food and eating "disease-infested" bats. In the UK, police data suggested a 300 per cent rise in hate crimes towards Chinese, East and South East Asians in the first quarter of 2020. Almost every person of East Asian descent I know has experienced some form of Covid-related racism, myself included.
Read more:
The latest shooting is not just about sex, anger triggered by the pandemic, or having a "really bad day", instead it is a violent manifestation of a racialised misogyny that has deep roots in Western culture, and one that women living in the UK are only too aware of.
A few months ago, Jessica, a 35-year-old marketing executive who lives in Camden, London, was followed on two separate occasions by food delivery drivers while walking home. She says that she felt targeted because of her ethnicity and gender. "I was all masked up, you wouldn't even know what I looked like, besides the fact I have black hair and am an East Asian woman," she says. Both the lockdown and the Atlanta shootings have made Jessica feel less safe than previously.
"I usually don't get this much harassment but the fact it's happening makes me think men are more frustrated - there's pent up anger from lockdown and they're going to direct it at someone, and we're easy targets, it's not a good time to be East Asian," she explains. "[And] there's the impression that Asian women are easier targets."
Centuries of celebrated western writing, art and culture, spanning Marco Polo's Silk Road travels to paintings by Flaubert have exoticised women "of the Orient" as submissive and docile, sexualised but without agency. It has engendered a specific form of fetishisation that Edward W. Said alluded to in his book Orientalism, written in the 1970s. 
Despite many gender tropes - the American Stepford housewife, for example - being seen as outdated, this colonial view of East Asian women persists. It harking back to romanticised war-time stories like Madam Butterfly or Miss Saigon, the latter about a Vietnamese woman "saved" by an American soldier but is ultimately abandoned. More recently, films like Austin Powers show two Japanese schoolgirls called "Fook Mi" and "Fook Yu" - the archetypal crossroad between highly sexualised and deferential or submissive. And who can forget the oft-cited stereotype of the mail-order bride?
These pop cultural references exist alongside a dark reality for east Asian women. For 31-year-old Yili, she has long experienced this type of fetishisation: "I can't tell you how often I hear 'I've never f***ed an Asian girl before', 'Let me see that Asian p****', or been called a 'chink', – even by Asian men", she says. Yili has joined OnlyFans and says there are distinct racial expectations from her online clients . "In the context of [performing online], or perhaps sex work in general, it's not unexpected to have to play on racial stereotypes."
Sex tourism in countries like Vietnam and Thailand continue to see the exploitation of both young women and men of lower socio-economic classes, and Chinese women make up the highest percentage of illegally trafficked women into the UK. Many of these women are made to work in massage parlours, like those in the Atlanta shooting.
This culmination of factors - longstanding racism, fetishisation, and the catalyst of the coronavirus - has come together to create a toxic and hostile landscape for East Asian women around the world, and in the UK, that continues to be overlooked in many discussions about race.
Karlie Wu, a 25-year-old Chinese Glaswegian, and one of six women founders of Besea.n, an organisation aiming to highlight East and South-East Asians causes in the UK, says the racism she has experienced her entire life has in fact become so ingrained and normalised that she finds it hard to unpick. Although admits it has become "worse in Covid".   
Helping out in her parents' take away much  of her life, she has heard customers refer to her as a "Ch**k" on the phone while ordering food. In 2020, someone jokingly said they'll only eat the food "as long as it's not got bat in it". In her love life, Karlie says she has "internalised" so much of the expectation on her by non-Asian men that  she has played up to it in the past.
"When guys tell me 'I've never dated an Asian before' I used to joke about its advantages, to rationalise it [to myself], but I realised it's coming from an internalised shame," she says. "I'm very aware that it's rooted in fetishisation, and all the talk of it's just a 'preference', or that slurs are just a joke, is an excuse".
The shootings in America this week may have been on a scale not seen elsewhere, but it's rooted in the same sentiment, says Karlie. "I don't think the UK is any different to the US - we don't have guns but the aggression it stems from is the same. I'm now at a point where I think it's only a matter of time before something similar happens here."
For East Asian women in the UK the Atlanta shootings were tragic and shocking, but the violence it shone a spotlight on was not surprising. The last year of the coronavirus outbreak has only served to amplify previously unspoken anti-East-Asian racism that has consistently bubbled away under the surface - and in our everyday lives - for decades if not centuries.
*Some names have been changed
Register for free to continue reading
Registration is a free and easy way to support our truly independent journalism
By registering, you will also enjoy limited access to Premium articles, exclusive newsletters, commenting, and virtual events with our leading journalists
Already have an account? sign in
Join our new commenting forum
Join thought-provoking conversations, follow other Independent readers and see their replies