Lifestyle opinion
More police won't make women safe, they're part of the problem
Women will never truly be safe until we address a system that enables male violence, says Jessie Williams
Sunday 21 March 2021 12:37 Comments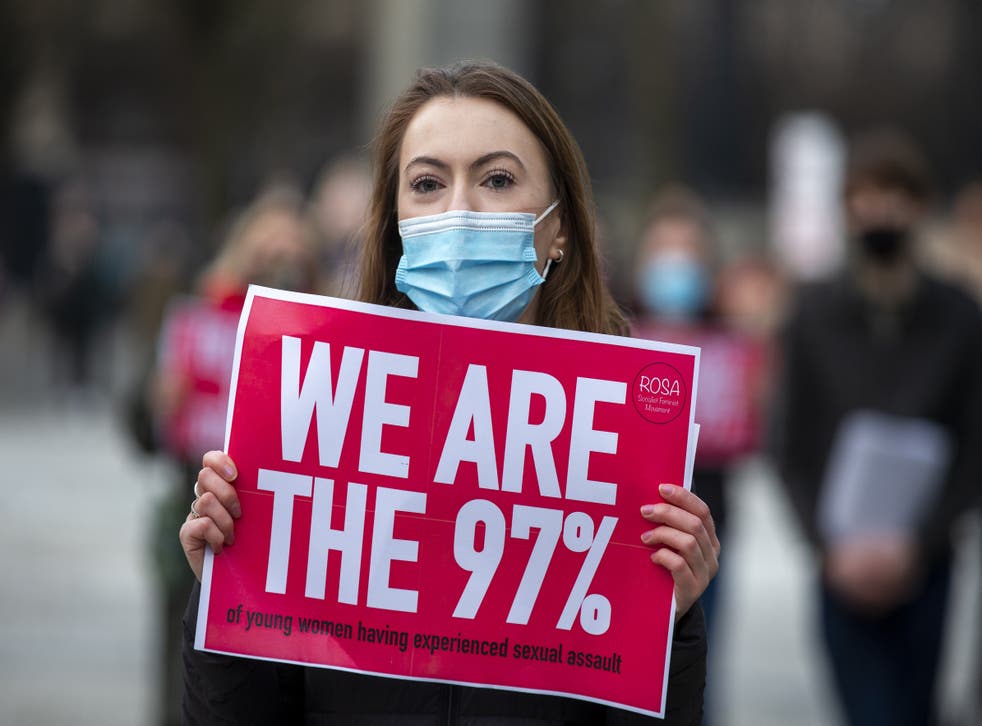 Like many, I've been horrified by the recent news about Sarah Everard's death and the arrest of Metropolitan Police officer Wayne Couzens. Everard walked through Clapham before she went missing on 3 March, and we have since seen an outpouring of collective grief. Clapham's flower shops have been emptied, rows and rows of bouquets still surround the bandstand on Clapham Common, which has turned into a makeshift shrine to the 33-year-old a short walk from the spot where the marketing executive was last seen.
Everard's death has sparked a long-overdue cultural reckoning in the UK on women's safety on a scale unseen in recent years, with many women now sharing their own experiences of harassment and gender-based violence.
The government has been quick to reassure women that they are listening by announcing several safety measures, including increased spending on streetlights and CCTV, and plans for plainclothes police officers in bars and clubs to protect women from predatory offenders. But increased surveillance (even if to better protect women) is a worrying prospect – particularly for Black, Asian, and minority ethnic people who are disproportionately targeted by the police. 
The government cannot simply paint over cracks in the system, it is failing to address the very problem that many women have been shouting about for years. As one woman tweeted in response to the announcement: "Who will protect us from the plainclothes police?"
Such suggestions also fail to acknowledge that women are harassed, abused and assaulted at all times of the day, from their morning run to lunchtime stroll – not just after dark.
Read more: Social media gives female celebrities a platform - but it didn't stop the torture
The police's handling of the Everard case has been at the centre of much controversy. An independent probe was launched into whether officers appropriately responded to a report of indecent exposure by Couzens days before Everard's disappearance, and the Metropolitan Police were again criticised for their unnecessary intervention at the vigil held on Clapham Common on Saturday, leading to calls for Metropolitan Police commissioner Cressida Dick to resign.
There is a pattern of women not being listened to or taken seriously by authorities, leading many women not to report harassment – a recent UN survey revealed that only 4 per cent of women reported sexual harassment. And it matters. Because, when left unpunished and unmonitored, harassment can lead to more serious crimes.
Sisters Uncut, the direct action feminist group that held last Saturday's vigil for Everard, has long been vocal about police violence and the need to kerb the power police have. A statement from the group released last weekend said: "Police abuse the powers that they already have [...] the police are institutionally violent against women. Handing them more powers will increase violence against women."
Radical change is needed. According to freedom of information responses obtained by the Bureau of Investigative Journalism, police officers across the UK were reported for alleged domestic abuse almost 700 times in the three years to April 2018. Furthermore, proper accountability in abuse cases against the police is lacking: only 3.9 per cent in England and Wales ended in a conviction, compared with 6.2 per cent among the general population. An investigation by The Independent in 2019 found that between the beginning of 2012 and June 2018, 562 police officers had been accused of sexual assault and only 43 of them faced disciplinary proceedings.
Read more:
In the Met, just one in every 18 officers accused of sexual assault is subject to formal action. Last year, the same police force was under fire when two officers allegedly took selfies with the dead bodies of two murdered Black women, Nicole Smallman and her sister Bibaa Henry, who had been found in a park in northwest London. The officers were said to have shared the images in a WhatsApp group chat and were later suspended. The sisters' mother told the BBC:  "It speaks volumes of the ethos that runs through the Metropolitan Police." She also said authorities didn't immediately respond when the sisters were reported missing and believes racial stereotyping played a part in this.
There have been some positive outcomes from the activism of the past week, including plans to make a national database to monitor men who harass or are violent towards women, similar to the sex offenders register, which could act as an early warning system. Misogyny will also be made a hate crime in England and Wales on an "experimental basis" from autumn, with police forces recording crimes caused by "hostility" based on sex or gender, such as stalking and sexual offences. 
However, this will only be part of the solution – with rape prosecutions and convictions at a record low, there is a distinct lack of trust in the criminal justice system.
What's needed is an overhaul of the whole system, from the police to the Crown Prosecution Service; increased funding of frontline services like domestic abuse refuges,  ​improved sex and consent education in schools; more police accountability, and better training for the police on how to support victims of sexual harassment, abuse and assault. ​Campaigners have been saying this for years. First and foremost, women need to be listened to and taken seriously.
Ultimately, until we address the systemic ways in which male violence is being enabled, women will never truly be safe. And no amount of police will change that.
Register for free to continue reading
Registration is a free and easy way to support our truly independent journalism
By registering, you will also enjoy limited access to Premium articles, exclusive newsletters, commenting, and virtual events with our leading journalists
Already have an account? sign in
Join our new commenting forum
Join thought-provoking conversations, follow other Independent readers and see their replies