Women and Brexit
Why we need to talk about what Brexit means for survivors of domestic abuse
Since 2010, one in six women's refuges has closed as funding has been cut by almost £7m. Ellie Fry investigates how things could get a lot worse for women's services when the UK leaves the EU
Friday 31 January 2020 11:26 Comments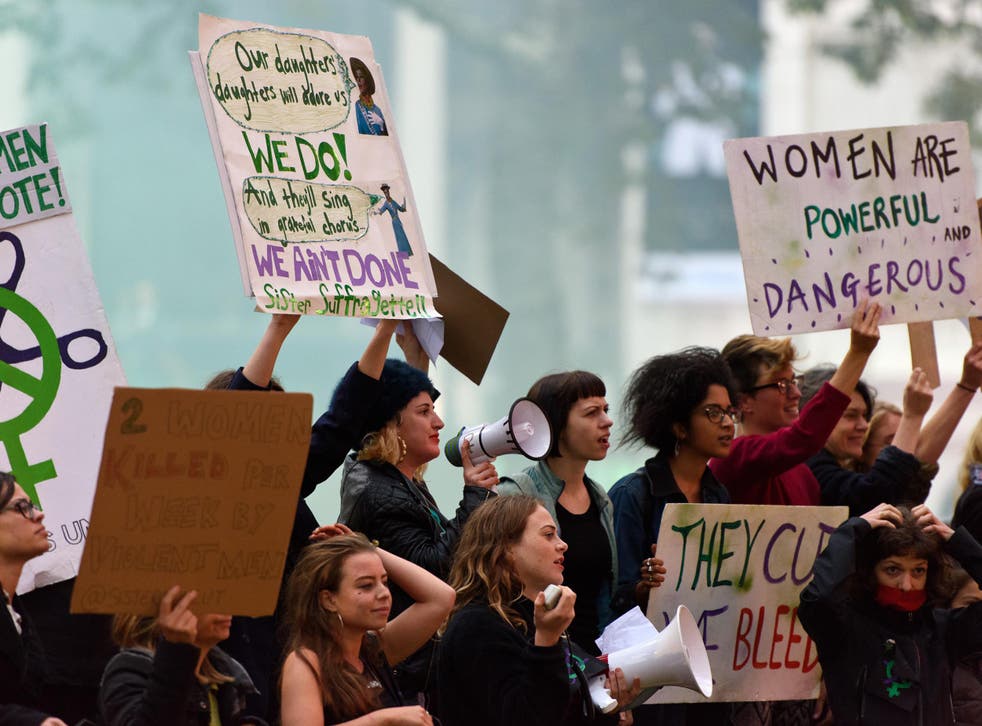 At 11pm on 31 January 2020, the UK will leave the European Union after three-and-a-half-years of political turmoil following the landmark Brexit referendum. But the official departure is the only unequivocal part of a process that is still riddled with uncertainty. As we move into the Brexit transition period, EU rules and regulations will continue to apply to the UK until 31 December 2020. However, a no-deal Brexit is still very much on the table, leaving little certainty around what leaving the EU actually means in real terms. But what we do know is that women are likely to fare worst after Brexit.
Feminist discussions around leaving the EU have warned that a predicted economic downturn after Brexit will hit women hardest, as they are more likely to be on the lowest incomes. Along with the threat of job losses and increased trade barriers for female-dominated industries like clothing and textiles, losing protections under EU law could cause a rollback in workplace rights, particularly around maternity leave and part-time work.
But this only paints a small part of the picture for women after Brexit. The national uncertainty comes at a time when many domestic abuse services are already struggling: national figures show that under the current government, demand for women's services has risen by 83 per cent while funding has fallen by 50 per cent. And experts warn that things could get worse, as a potential loss of EU grants and cuts to welfare spending could have life-threatening consequences for women suffering domestic abuse.
This, paired with the continued delays to the domestic abuse bill, raises serious concerns among charities. The bill will define domestic abuse for the first time in British law, but was sidelined once again due to the general election in December last year. Campaigners have warned that once it does pass, it will only be effective with the necessary funding, which the government has not yet guaranteed.
Additionally, the government's commitment to protecting vulnerable women has been put under further scrutiny as it drags its heels regarding the ratification of the Istanbul convention, a legal framework that outlines the minimum standards for a state response to violence against women and girls. Implementing it would require the government to protect funding for a sufficient number of domestic violence shelters, as well as rape crisis or sexual violence referral centres.
Here, The Independent looks at what a post-Brexit UK could mean for survivors of domestic abuse.
Inside a Women's Refuge

Show all 34
Services could lose vital EU funding
A very real possibility after Brexit, according to most charities, is that UK women's organisations could lose vital EU funding. Financial support from the EU has long provided a lifeline for small specialist domestic abuse services that struggle to access government funding. It also provides grants for research into violence against women (VAGW) and training to support survivors of domestic abuse.
The Equality and Human Rights Commission (EHRC) specifically warned in a recent report that women's rights could be under threat after Brexit. It tells The Independent: "The government must mitigate any negative impact of Brexit on equality, including women's rights. This means making sure its funding, to replace what the EU currently provides, protects the scarce resources available to support women survivors of violence and domestic abuse."
At the moment, the Rights, Equality and Citizenship programme (REC) is one of the main EU funds that supports domestic abuse services. It has a budget of £343m for the whole of the EU, more than a third of which directly supports people in the UK. The Home Office has confirmed that in the event of no deal, projects currently funded by the REC will be protected. But no such promises have been made in reference to Johnson's deal – making funding prospects uncertain.
One charity already struggling with the impact of Brexit is the London-based Iranian and Kurdish Women's Rights Organisation (IKWRO), which helps to protect Middle Eastern and Afghan women living in the UK at risk of domestic violence. The service provider has lost 40 per cent of its funding since the 2016 referendum after its EU funding was not renewed.
The grants helped IKWRO work with other women's organisations across Europe, which the charities' executive director Diana Nammi says is vital in sharing important ideas to tackle VAGW at an international level. The charity also helps women fleeing domestic violence from other EU countries, which it may not be able to do after Brexit.
"The lack of certainty and fears about keeping the organisation going are tremendously worrying," says Nammi. "With a lot of cases we work with, the consequences can be extreme. Honour killing is a reality that these women are facing unless they have proper protection."
Support free-thinking journalism and attend Independent events
Thousands of EU nationals could lose access to refuges
Following the referendum, the EU settlement scheme was introduced to allow citizens from the bloc who have lived in the UK for five years to apply to continue living in the UK post-Brexit.
But frontline domestic abuse services have warned that there are many barriers in place for migrant survivors of domestic abuse when it comes to the application process. As a result, thousands of EU nationals could lose their place in refuges after Brexit.
"We are worried that a lot of survivors won't have the forms of ID or evidence that they need to prove they have lived in the UK for five years because perpetrators frequently use insecure status as a form of control." says Lucy Hadley, campaigns and public affairs manager at Women's Aid. "The settlement scheme is not an effective solution as it stands."
EU nationals already struggle to access the public funds that are often essential to securing a place at a refuge, leaving many women without any services to turn to when fleeing domestic abuse. Those who do not apply for settled status are at risk of becoming undocumented, which could result in a loss of access to public funds, support from refuge services and even deportation.
Despite these concerns, a Home Office spokesperson assured The Independent: "Where someone has reasonable grounds for not having applied [to the EU settlement scheme] by the [end of 2020] deadline, such as if they were involved in an abusive relationship, they will be offered more time and support to make an application.
"We are providing up to £9m in grant funding for community organisations, including those who support victims of domestic abuse, to ensure they receive additional help if needed," the Home Office said.
A post-Brexit recession could result in further funding cuts
The Bank of England has warned that GDP could shrink by 5.5 per cent in the event of a no-deal Brexit, despite preparations for the worst-case scenario. Britain's private sector also contracted last August, raising fears that the UK is on course for a Brexit-induced recession. An economic downturn could cause the government's purse strings to tighten, which could result in further cuts to funding for women's services.
In its 2018 report on funding for the women's sector, the Women's Budget Group said: "There is a widespread concern that leaving the EU and its funding programmes will increase the competition for national funding pots." The group also warned that domestic violence increases in periods of economic crisis, meaning that women's services could be in even more demand with less funding.
Fiona Dwyer, CEO of Solace Women's Aid, a charity that provides refuge for hundreds of women across London, said: "Solace has serious concerns about the post-Brexit funding landscape. With such a poor economic outlook following the UK's departure from the EU, we are worried that already stretched local authorities will be forced to make even more difficult funding decisions about vital services like ours and this will result in fewer women and children accessing life-saving support when they need it most."
Ahead of the general election last year, chancellor Sajid Javid announced "the end of austerity" with the largest rise in public spending for more than 15 years, pledging an extra £13.8bn of public expenditure for 2020-21 – an increase worth 4.1 per cent in real terms.
But the shadow Treasury minister, Anneliese Dodds, criticised the chancellor's "rushed" spending review, warning it does not do enough to repair the damage that years of austerity have inflicted on women and services.
In a letter to the chancellor, Dodds said: "Domestic violence organisations and shelters need to know where their funding is coming from, not just for the next year, but for years to come. The uncertainty your department's approach has created risks derailing efforts to make progress in this area."
Sajid Javid has already been accused of abandoning his pledge to end austerity. On 29 January, he ordered all cabinet ministers to identify cuts to their departmental budgets, after promising just months ago that no department would have to shrink their budgets in 2020.
EU regulation will no longer protect domestic abuse survivors
Alongside other EU protections, the EU Charter of Fundamental Rights has been a contentious topic in the Brexit negotiations so far. Essentially, it outlines certain political, economic and social rights that EU countries have to recognise when implementing EU law into national law.
As the government plans to scrap the charter after Brexit, some organisations like the EHRC are concerned that losing its protections will leave significant gaps in basic human rights in the UK. This is particularly troubling for women in the UK, as it could remove current avenues of protection that support women fleeing domestic violence.
The EHRC has also warned that the government's proposal to replace the Human Rights Act (HRA) with the British Bill of Rights Act could lead to a regression in women's rights if current protections are not upheld in new legislation.
Women's Aid tells The Independent: "EU law has significantly strengthened the rights of victims of domestic abuse and VAWG offences – including the rights of referral to victim services, access to specialist support and the provision of shelters."
Survivors of domestic abuse could also be less protected when travelling or moving to other EU countries after Brexit, as the EU protection order (EPO) currently safeguards them from perpetrators in Europe. It is currently unclear whether EPOs will continue when the UK leaves the EU.
But Brexit could be an opportunity to protect small domestic abuse services
Though there are significant concerns about the impact Brexit could have on women's organisations, leaving the EU could actually give smaller services a better chance at receiving government funding.
Since 2010, council funding for women's refuges across England, Wales and Scotland has been cut by nearly £7m. These austerity measures hit small, specialist women's organisations the hardest, such as refuges for Bame women, as they struggle to compete against larger charities for contracts, therefore losing out on vital government funding. In the past 12 years, 22 Bame refuges across Britain have experienced funding cuts or have been taken over by larger organisations.
Austerity measures "fundamentally disadvantage local specialist women's organisations," explains the Women's Budget Group. "Large generalist organisations, with a broader user base, can offer cheaper services per user as a result of economies of scale," it says.
Brexit could potentially provide an opportunity for the government to ensure that every domestic abuse service has a fair chance at receiving funding.
"Leaving the EU will enable us to take a different approach to procurement policy," says Women's Aid. "We could make clear, as other EU states have, that no one should competitively tender for domestic abuse services. We hope the government will use this as an opportunity to create a policy that values expertise and specialists over cost."
Register for free to continue reading
Registration is a free and easy way to support our truly independent journalism
By registering, you will also enjoy limited access to Premium articles, exclusive newsletters, commenting, and virtual events with our leading journalists
Already have an account? sign in
Join our new commenting forum
Join thought-provoking conversations, follow other Independent readers and see their replies