Celebrities who have opened up about endometriosis, from Alexa Chung to Gabrielle Union
Endometriosis affects roughly one in 10 women in the UK, but most people don't know what it is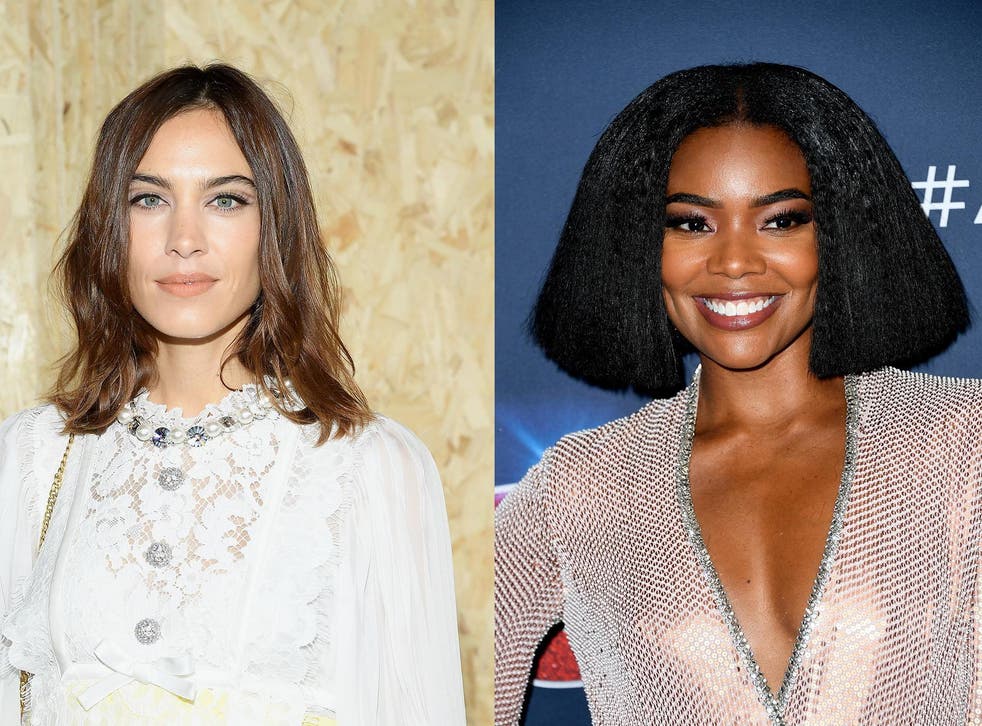 Endometriosis is a condition that causes a person's uterine lining to form outside the uterus, resulting in symptoms like severe abdominal pain, constipation and in some cases, difficulty getting pregnant.
According to the charity Endometriosis UK, one in 10 women in the UK suffer from endometriosis.
But despite how common it is, research from the charity shows that more than half of the British population (54 per cent) do not know what endometriosis is, with this figure increasing to 74 per cent of men.
Because of the lack of research into the condition and how easily the symptoms can be confused with those for other illnesses, it takes an average of 7.5 years to get diagnosed with endometriosis.
The cause is unknown and there is currently no cure.
To mark Endometriosis Awareness Month, which takes place every year in March, we've rounded up some of the most powerful comments on the disease from celebrities who suffer from it.
Alexa Chung
Alexa Chung first opened up about suffering from endometriosis in July 2019.
The TV presenter-turned-fashion designer shared a photograph of herself on the social media platform standing in a hospital corridor with a cotton wool ball taped to her hand.
Chung captioned the post: "I don't want to belong to any club that would accept me as a member, but here I am" and added a series of hashtags referencing endometriosis.
On Monday, the 36-year-old shared a photograph from a recent @allontheboard tube poster that featured statistics about the condition.
Chung suggested that a "gender healthcare bias" could be to blame for the lack of information surrounding endometriosis.
"Also probably doesn't help that 'endometriosis' is the longest and most boring word to read," she added.
Lena Dunham
Lena Dunham has been vocal about her struggles with endometriosis for years, writing an essay about her life with the condition for Lenny Letter in 2015.
But it was when the Girls star and writer penned an essay for American Vogue about the illness that she revealed just how serious it was, explaining how she had to undergo a hysterectomy.
Dunham has previously described the pain she experienced from endometriosis as a "fire slashing through [my] uterus".
Last year, for Endometriosis Awareness Month, the 33-year-old shared a photograph of her stomach revealing she had undergone 12 surgeries in total to treat her endometriosis.
In the caption, Dunham wrote that endometriosis is "so often ignored or dismissed as a mental health issue" and urged her followers to "make some noise" about the condition.
Gabrielle Union
In August 2018, Gabrielle Union revealed she suffers from a form of endometriosis called adenomyosis and explained that it has caused problems with her fertility.
Speaking at a conference in New York City last year, the actor explained how she and her husband, NBA star Dwayne Wade, have struggled to conceive.
"Towards the end of my fertility journey I finally got some answers, because everyone said 'You're a career woman, you've prioritised your career, you waited too long and now you're just too old to have a kid – and that's on you for wanting a career.
"The reality is I actually have adenomyosis," she said.
Union went on to explain that she started experiencing symptoms in her early 20s but was not diagnosed until years later.
"The gag is I had it in my early 20s, and instead of someone diagnosing me they were like 'Oh you have periods that last nine or 10 days and you're bleeding through overnight pads? Not a mere inconvenience perhaps there's something more there,'" she explained.
Daisy Ridley
Daisy Ridley has been very open with her endometriosis struggles, posting about it on Instagram in 2016 prior to deleting her account due to online trolling.
In a post that the actor shared, featuring a photograph of herself wearing a face mask, she explained that she had suffered severe pain due to endometriosis.
"[T]o any of you who are suffering with anything, go to a doctor; pay for a specialist; get your hormones tested, get allergy testing; keep on top of how your body is feeling and don't worry about sounding like a hypochondriac," she wrote.
"From your head to the tips of your toes we only have one body, let us all make sure ours our working in tip top condition, and take help if it's needed."
Sarah Hyland
Sarah Hyland has been open about her various health struggles over the years due to kidney dysplasia, a condition that means fluid-filled cysts develop in the body as opposed to regular kidney tissue.
In 2018, though, the Modern Family star also had to undergo laproscopic surgery to treat her endometriosis, which she was diagnosed with aged 21.
The actor opened up about the treatment in a recent interview with Self magazine.
"Laparoscopic [surgery is] one of the most painful things I've ever been through in my life," Hyland told the publication before discussing a recent "flare-up" of symptoms.
"[This week] I've had a flare-up with my endo," she said. "It has been hard to stand up straight, let alone work."
Register for free to continue reading
Registration is a free and easy way to support our truly independent journalism
By registering, you will also enjoy limited access to Premium articles, exclusive newsletters, commenting, and virtual events with our leading journalists
Already have an account? sign in
Register for free to continue reading
Registration is a free and easy way to support our truly independent journalism
By registering, you will also enjoy limited access to Premium articles, exclusive newsletters, commenting, and virtual events with our leading journalists
Already have an account? sign in
Join our new commenting forum
Join thought-provoking conversations, follow other Independent readers and see their replies