The Independent's journalism is supported by our readers. When you purchase through links on our site, we may earn commission.
Lupita Nyong'o interview: 'It is not time to congratulate ourselves' over MeToo movement
The actor spoke to The Independent about the Me Too movement, colourism and racism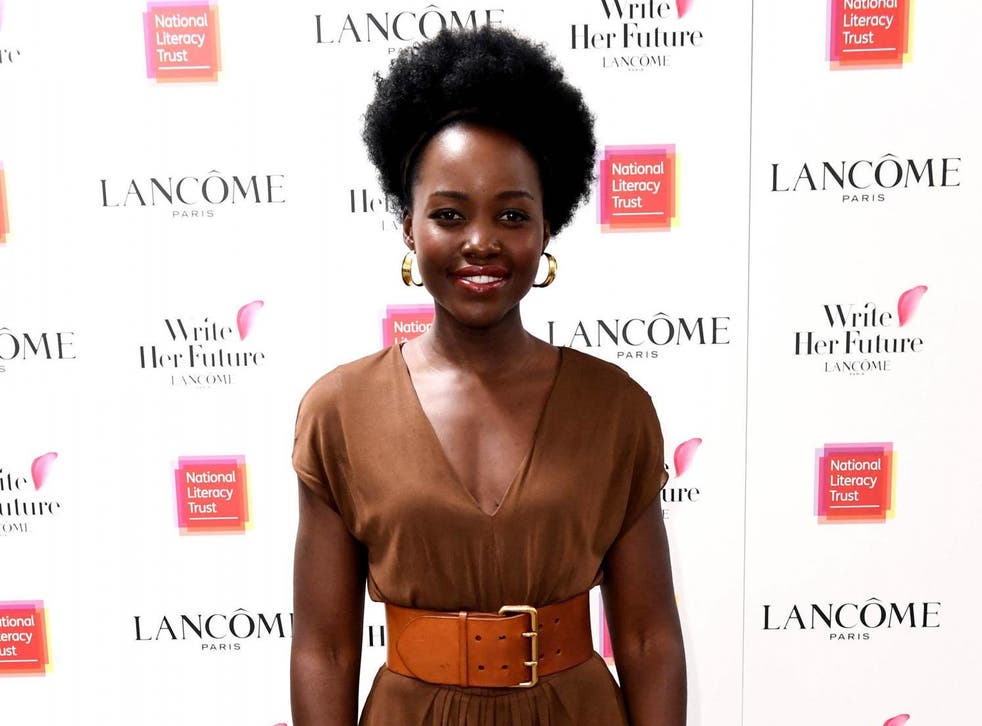 Actor Lupita Nyong'o has said it is not "time to congratulate ourselves" or begin to talk "in the past tense" about the MeToo movement as it is still a work in progress.
The Oscar winner told The Independent: "It is not time to take stock, to sit down and rest [on our laurels]. The work is being done, and women are ensuring that we change our circumstances, and we have male allies who are joining, but it is very much still in process."
In 2017 the 36-year-old wrote an article for The New York Times in which she accused producer Harvey Weinstein of sexual misconduct. She recalled being invited to his home under the premise of watching a film before he took her to a private room and asked for a massage.
Weinstein, who is currently on trial in New York, issued a direct response to the article denying the claims.
#MeToo movement – In pictures

Show all 24
On Monday the Black Panther star appeared at the Harris Westminster school in London as part of her work with the National Literacy Trust and Lancôme on their 'Words for Work' programme.
In a speech she revealed one of the "hardest things" in her career so far was winning an Oscar for her appearance in 12 Years A Slave.
She said: "One of the hardest things for me was winning an Oscar for my first film. Because the world has said to me 'you're amazing' – but where do you go from there?"
At school Nyong'o, who was raised between Nairobi in Kenya and Mexico, says she felt like she was "going to be a failure" because she had different skills to those of her classmates.
"My school was so focused on literacy and reading, which I did not enjoy. I felt doomed.
"When I was [a teenager] and they asked what I wanted to do I felt pretty lost and confused," she said. "Acting wasn't a realistic dream for me".
In October 2019 Nyong'o published her first book – Sulwe – a children's book that focuses on the theme of colourism [prejudice against individuals with a darker skin tone, typically among people of the same ethnic or racial group] and feeling "other" to those around you.
It is based on her own childhood where she compared the colour of her skin to that of her family and siblings.
"The feeling of being 'other than' or out of place is something a lot of people feel," she said.
She acknowledged that lots of people still don't even know that colourism exists. "Ignorance is part of the crime, when you don't know something is going on you can perpetuate it further," she said.
"When you don't know someone is capable of suffering in a certain way, you can't ensure that you don't say that."
She says she also has "nothing to say" to people who continue to deny racism exists. "I choose to accept reality as it is. I'm not trying to be revisionist," she said.
Nyong'o is currently working on an HBO version of Chimamanda Ngozi Adichie's best-selling novel Americanah.
Register for free to continue reading
Registration is a free and easy way to support our truly independent journalism
By registering, you will also enjoy limited access to Premium articles, exclusive newsletters, commenting, and virtual events with our leading journalists
Already have an account? sign in
Register for free to continue reading
Registration is a free and easy way to support our truly independent journalism
By registering, you will also enjoy limited access to Premium articles, exclusive newsletters, commenting, and virtual events with our leading journalists
Already have an account? sign in
Join our new commenting forum
Join thought-provoking conversations, follow other Independent readers and see their replies