Bean bags and slides: What is the most productive workplace environment?
It's time to ditch the pool tables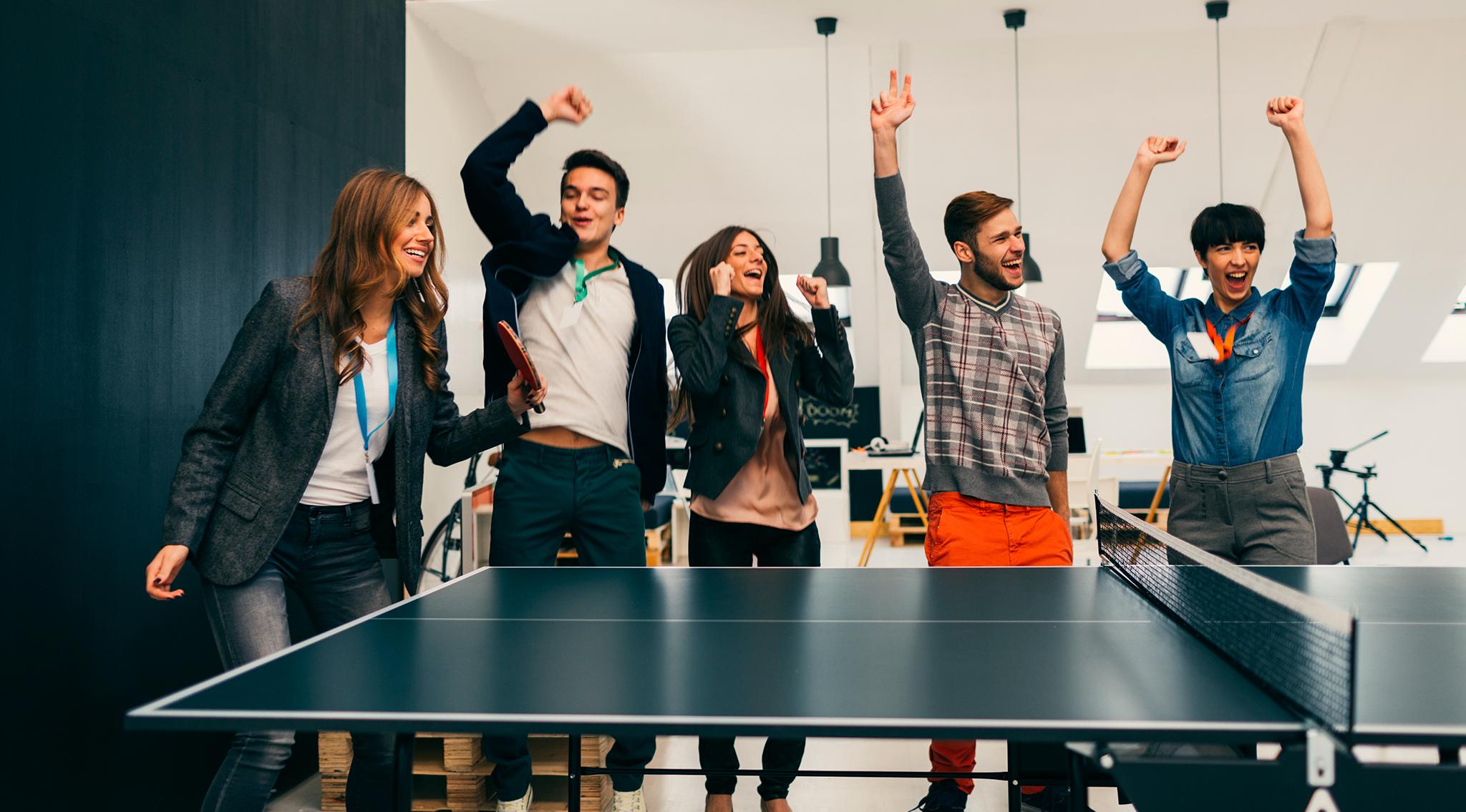 The ideal office space has become a topic in itself. Should we be hot-desking, standing up to work or taking regular breaks in a 'chillout zone' complete with table football, a drinks trolley and bean bags?
These new, hipster offices have come to be associated with both Silicon Valley and start-up tech firms. Think Youtube's California headquarters which has made headlines for its putting green, encouragement of staff to get around with scooters, nap pods and – wait for it – a slide.
These features have been replicated in offices across the world as the association with some of the biggest and most influential worldwide companies is that it must be the way to go.
The Independent spoke to a range of experts about what makes both a happy and productive workplace.
First things first, workplace environment is really important
"A really poor aesthetic working environment can have an negative effect on employees psychologically, because it conveys indirectly to the individual that the organisation doesn't care about them. It says that they are just 'worker bees' or disposable assets," Sir Cary Cooper, professor of organisational psychology and health at Alliance Manchester Business School, says.
8 well paid jobs that don't require a degree
Show all 8
More seriously, before the tightening of health and safety regulations in UK workspaces there was an issue called 'sick building syndrome'. Estzer Gulacsy, sustainable materials leader at Mott MacDonald, says this can be caused by poor ventilation, a localised lack of mixing of air, chemical reactions inside the building from cleaning products and aerosols, or inadequate lighting.
"Poorly ventilated and inadequately cleaned buildings can be a source of compromised health and productivity in workers," she says. "If you think about it, many office buildings are essentially closed boxes with controlled mechanical ventilation - the inadequate amount or quality of fresh air, distributed ineffectively or pollutants generated inside the building can all cause adverse health effects and workers generally have little control over their workplace environments. Inadequate lighting can also cause headaches, eye strain as well as poor ergonomics.'
The ideal work environment depends upon the type of business you do. Robert Wolstenholme, an urban developer who oversaw the new Republic office space in East London, said for creatives, for instance, "there's a complete blur between personal and work life" so workers need somewhere they can be productive, but also keep fit, listen to a talk and be online 24/7.
Ceri Davis, associate director of Allford Hall Monaghan Morris architects, believes the ideal is to have a balance 'me-space' (quiet solitude) and 'we-space' (lively collaboration) "with the ability to flow between such spaces spontaneously".
Sir Cary says it is also important for employees to have a say in the design and layout of their workplace as when they feel a part ownership of it, they will thrive.
Plants, location and outside areas are key
Across industries, there is a theme of common office features which are associated with increased productivity and happiness, according to the experts, namely plants, outside areas and a good location.
Sir Cary says plants and greenery can create "a sense of calm in frenetic offices"
The location of a workplace is normally decided upon by access: how easy it is for the majority of employees to commute to work as well as access to infrastructure and other parts of the country where workers may need to travel to or regularly visit.
Claire Cockerton, the CEO of new London working space Plexal and who previously consulted for Level 39 in Canary Wharf, says it is also important to pick a location full of "inspiring" neighbours such as competitors.
"Looking across the high street to see a fast-growing company, a potential big client, a desired investor, can provoke ambition," she says.
Finally, outside areas are important. Sir Cary recommends employers create a vegetable or flower garden close to the office, "This has the advantage that there is an indirect team building activity among staff that may not normally relate to one another on a daily basis".
However, despite a company's best intention rising rent prices in office space can be a deterrent to achieving exactly the workplace they desire.
"Many of these businesses start out in bedrooms or in makeshift accelerator spaces, so a young creative company needs an office be flexible – both in terms of time and space – and affordable. We have seen West End and Shoreditch offices go to great lengths to emulate a warehouse vibe to feel a bit edgy and cool, but that 'hipster' aesthetic is now completely mainstream," Mr Wolstenholme says.
Quirky features do not equate to a productive workforce
The techy/creative/edgy office has long been a source of envy for workers who go to work in a standard, run-of-the-mill workspace. This combined with the fact the features and perks are mostly associated with some of the best start-up companies in the world has led many to take a leaf out of their books, but several experts told The Independent the perks do not necessarily increase productivity,
'The quirky features of the Silicon Valley type offices with slides, massages at your desk, pool tables and so on can relieve some of the tension of a high-pressure office but they are not sustainable in the medium to long term in improving productivity. How people are managed is by far the most significant factor," Sir Cary says.
Ms Davis, who recently consulted on Google's new offices in London's Kings Cross agrees: "Bean bags, football tables, slides in their infancy were novel, inspiring and a relatively easy, immediate way of improving happiness and by association employee retention; which certainly with Tech companies was arguably more important than productivity. However, as the trend spread, it seems to have deluged the working 'me-space'; to such an extent that it can be a distraction or even an irritant and hence counterproductive."
Join our commenting forum
Join thought-provoking conversations, follow other Independent readers and see their replies