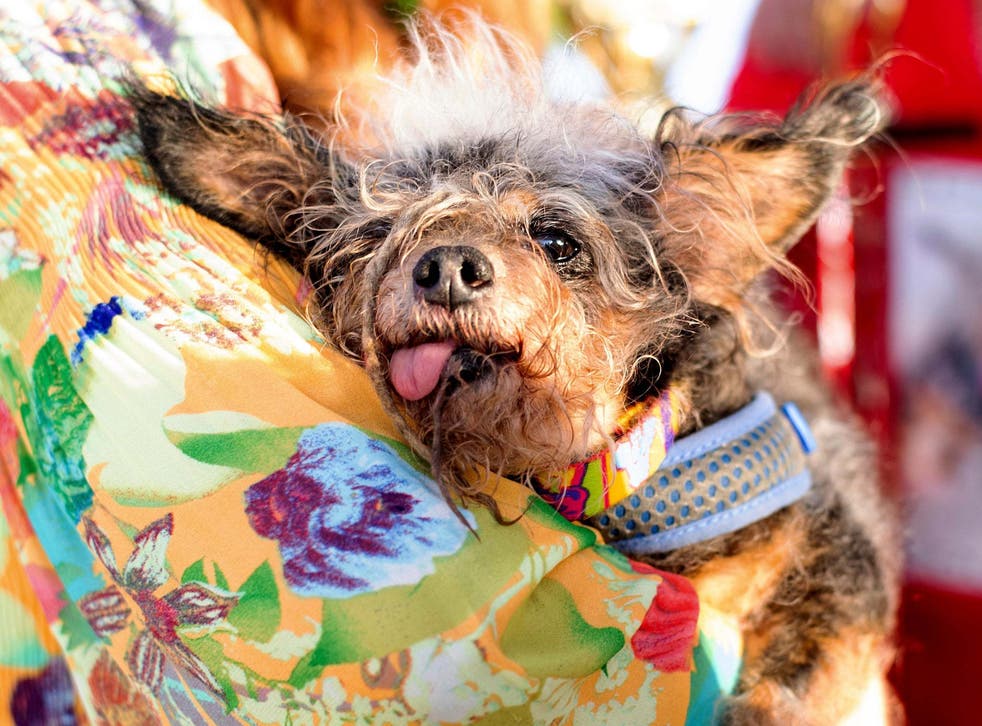 World's Ugliest Dog 2019 title awarded to Scamp the Tramp
'I think the audience saw his beautiful spirit and everything he's given back to the community,' says owner
Sabrina Barr
Monday 24 June 2019 15:05 Comments
With grey, uncontrollable, matted fur and a permanently dozy expression, Scamp the Tramp makes an unlikely champion.
On Friday, the small mutt was named the World's Ugliest Dog at the annual contest held at the Sonoma-Marin Fair in Petaluma, California.
Of unspecified breed, the dog found as a stray on the streets of Compton in 2014 beat 16 other contestants to clinch the top prize.
His owner, Yvonne Morones, was awarded $1,500 in cash, $1,500 to donate to an animal shelter and a trip to New York with Scamp to appear on the Today show.
"He's Scamp the Champ, no longer Scamp the Tramp," Ms Morones told The Press Democrat.
"I think the audience saw his beautiful spirit and everything he's given back to the community."
Ms Morones discovered Scamp after spotting him on Petfinder, an online pet adoption website which operates in North America.
"It was on the way home that I knew I made the right choice," she said.
"There we were, two strangers in a car on the way home to a new start. Bob Marley was playing 'One Love' and I looked over and little Scamp was bobbing his head. It was like he knew he had found his forever home."
After being discovered and adopted by Morones, Scamp became a "pet therapist" at an elderly care home and a "reading dog" for first-grade children.
The dog also represents the Humane Society of Sonoma County at public events, making appearances to promote animal shelter adoptions.
Second place at the World's Ugliest Dog contest went to Wild Thang, a Pekinese with slight paralysis of the jaw, while third place went to Tostito, a Chihuahua with no teeth or lower jaw.
Support free-thinking journalism and attend Independent events
The organisers of the competition state that the aim of the event is to bring "visibility to the many pups who end up rescuing the families that have adopted them rather than the other way around".
They explain that many of the dogs who have taken part in the contest in the past have been rescued from animal shelters and puppy mills.
"The goal of the contest is to continue to advocate for pet adoption as a reminder that all dogs are lovable," they say.
Register for free to continue reading
Registration is a free and easy way to support our truly independent journalism
By registering, you will also enjoy limited access to Premium articles, exclusive newsletters, commenting, and virtual events with our leading journalists
Already have an account? sign in
Join our new commenting forum
Join thought-provoking conversations, follow other Independent readers and see their replies