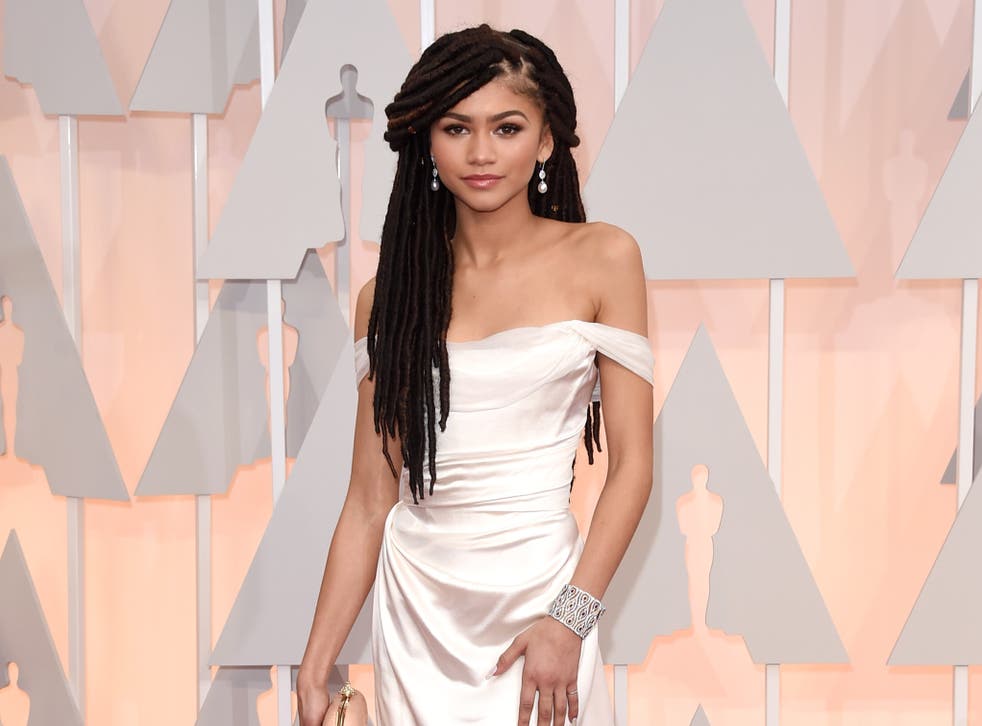 'That's how change happens': Zendaya stands by decision to speak out following Giuliana Rancic's 'ignorant' comments about her dreadlocks
At the time, Zendaya said remarks about her dreadlocks were 'outrageously offensive'
Chelsea Ritschel
New York
Wednesday 17 March 2021 18:15 Comments
Leer en Español
Zendaya has reflected on her decision to respond after Giuliana Rancic made "ignorant" comments about her dreadlocks at the 2015 Oscars, explaining that that is how "change happens".
In February 2015, Rancic, who was then hosting E!'s Fashion Police, made a racially stereotypical comment alleging Zendaya's hairstyle "smells like patchouli oil or weed" after the actress arrived on the red carpet wearing dreadlocks and a Vivienne Westwood gown.
The Euphoria star, who was 18, responded to the comments on Instagram at the time, where she called them "outrageously offensive".
"There is a fine line between what is funny and disrespectful," Zendaya wrote. "To say that an 18 year old young woman with locs must smell of patchouli oil or 'weed' is not only a large stereotype but outrageously offensive."
In the statement, the actress then explained that numerous members of her family wear their hair in the traditional African hairstyle, as do countless other notable individuals, such as filmmaker Ava DuVernay and Harvard professor Vincent Brown, and "none of which smell of marijuana".
"There is already harsh criticism of African American hair in society without the help of ignorant people who choose to judge others based on the curl of their hair," Zendaya continued. "My wearing my hair in locs on an Oscars red carpet was to showcase them in a positive light, to remind people of colour that our hair is good enough."
Read more:
In a new interview with W Magazine for the cover story, the 24-year-old reflected on her decision to speak up, telling the outlet: "That's how change happens."
"And it made me think, How could I always have a lasting impact on what people saw and associated with people of colour?"
When the Malcolm & Marie star was first addressing the comments, she had concluded her statement encouraging people to listen to "India Arie's I Am Not My Hair and contemplate a little before opening your mouth so quickly to judge".
At the time, Rancic had addressed her comments on Twitter, where she said that she was "referring to a bohemian chic look" and that it "had NOTHING to do with race and NEVER would!!!"
The E! News host then issued an on-air apology to Zendaya and "anyone else out there that I have hurt" the following day, where she said that the backlash over her remarks had been a "learning experience".
"This incident has taught me to be a lot more aware of clichés and stereotypes, how much damage they can do. And that I am responsible, as we all are, to not perpetuate them further," she said.
This is not the first time Zendaya has addressed Rancic's comments. In April of 2015, she told Good Morning America that she had wanted her response to encourage other young people to stand up for themselves.
"Whether it be a little girl out there or a young man out there that was able to read that and see positive change and stand up for themselves in any kind of incident in their life, then I did what I'm supposed to do," she said.
Register for free to continue reading
Registration is a free and easy way to support our truly independent journalism
By registering, you will also enjoy limited access to Premium articles, exclusive newsletters, commenting, and virtual events with our leading journalists
Already have an account? sign in
Join our new commenting forum
Join thought-provoking conversations, follow other Independent readers and see their replies