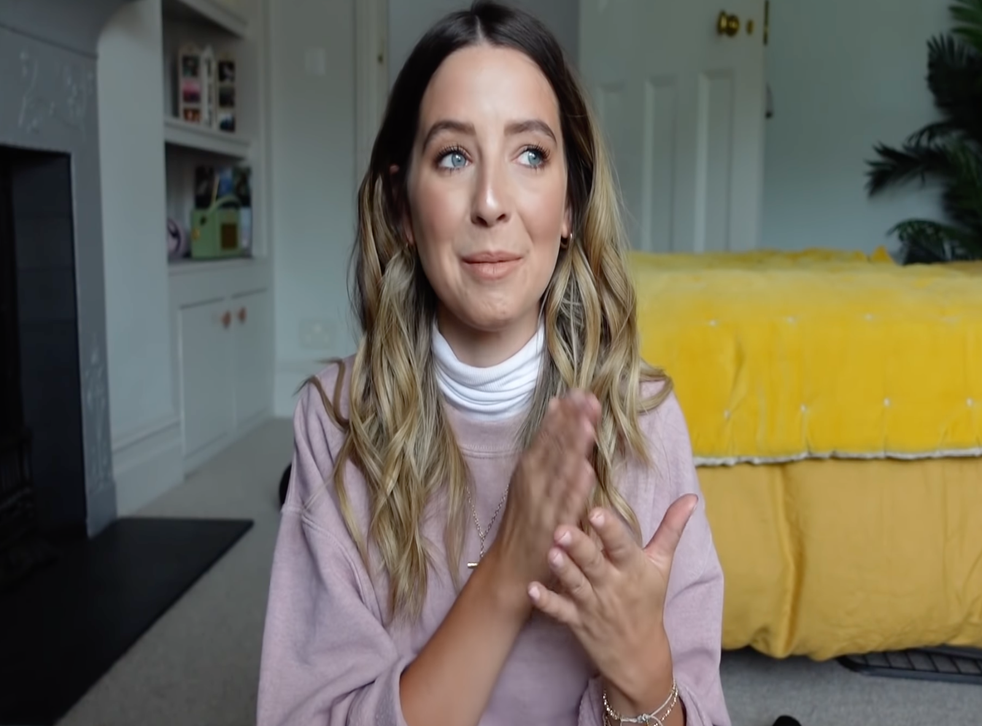 Zoe Sugg responds to exam board dropping Zoella from GCSE syllabus over 'sexual' content
YouTuber says decision to remove website 'clearly shows there is still a long way to go'
Leer en Español
Zoe Sugg has spoken out after an exam board dropped her brand Zoella from its GCSE syllabus because the website posted a review of sex toys among other mature topics.
According to UK-based AQA Media Studies, it decided to pull the Zoella website from its syllabus after content on the website was deemed "unsuitable," with a spokesperson for the exam board explaining that its students are as young as 14.
The YouTube star, whose website had been on AQA Media Studies syllabus since 2017, addressed the decision on Instagram, where she criticised the exam board for censoring "taboo" topics and contributing to the idea that female pleasure is "something that we should feel ashamed of".
"Well, where do I even start? Today has been... interesting to say the least," Sugg said, before revealing that she did not know her brand had been on the syllabus until reports that AQA had decided to remove it.
"I discovered that a GCSE syllabus was using the @zoella website as part of their curriculum. I was then told it had been 'dropped' (not sure how one is dropped when one didn't know they were ever involved...) as some parents complained as we had posted an article listing the best sex toys for 2021 & apparently this is absolutely disgusting that 16 year olds should even be graced with such horror," Sugg continued.
In the post, Sugg then explained the purpose of the Zoella website, which is made up of "a team of women who all share a joint passion for other women" and who aim to "talk about taboo subjects, have conversations with experts, ask those less heard to use their voice and try and have a really varied range of topics to help, inspire or make people feel less alone".
"Things I wish I'd known as a teen myself," she added.
While Sugg acknowledged that her website's target audience is women aged 25 to 35 and that the website covers mature topics such as revenge porn, masturbation, period sex and fertility, she said the exam board's decision to remove Zoella was worrisome - as the topics can all be useful to teens.
"It worries me that they think 16 year olds aren't exploring their own bodies, doing this with someone else or know what a sex toy is," she wrote. "Although we don't aim our content at teens, I don't think it's a bad thing that it's there for them to read at all and these media articles are just perpetuating the fact that female pleasure is something that we should feel ashamed of.
"THE VERY REASON WE WRITE ABOUT IT IN THE FIRST PLACE!"
The social media star concluded the post writing that the exam board's decision "clearly shows there is still a long way to go," before promising her followers that Zoella will continue writing about topics for women.
"So we will continue to write about these things on @zoella and prove that WOMEN DO MASTURBATE AND FEMALE PLEASURE IS A THING (even if we're shamed and 'dropped' for speaking about it)," she added.
The 30-year-old's post was met with support from many of her more than 9m followers, who applauded her decision to speak out against the exam board.
"Love that you're not backing down from this and sticking to what's right. The education system certainly needs to modernise their curriculum and personally I think that your blog posts would be a wonderful way to do this," one person wrote.
Another commented: "I personally love the website and think it's amazing that you're talking about these topics to educate people. I don't understand how anyone can have a problem with it, it's 2021."
"You are absolutely right! It is vital to educate teens quickly about certain topics that were once called 'taboo' ESPECIALLY in the age of the internet," someone else wrote. "They see this all the time and are curious about it.
"It is okay to want your children to stay children but it's not okay to use it as an excuse to keep them in the dark."
In a statement to The Independent, a spokesperson for AQA said the exam board made the "difficult" decision to remove a section about Sugg from its GCSE Media Studies course last week.
The statement reads: "Since then, there have been some misunderstandings in the media and on social media about the reasons and context behind this decision.
"We added Zoella to our course in 2017 as an example of online and social media. In 2017, her website was a personal blog with content that was all suitable for the children as young as 14 who take our two-year GCSE course. Since then, the Zoella website has evolved and now includes a range of articles of a sexual nature – alongside many other topics – aimed at adults aged over 25."
According to the company, the decision was not based on one specific article, nor was it made with just 16 year olds in mind.
"In fact, our decision was due to the whole range of adult-focused content that the website has started publishing since we added it for in-depth study in 2017. And the question isn't whether this is suitable for 16 year-olds taking their exams, but whether it's suitable for children who start their GCSE course at 14 – and occasionally younger," the statement continues. "Our belief – which is shared by many teachers and parents who have contacted us – is that it isn't appropriate for us to ask children as young as 14 to study a website that includes sexual content aimed at adults."
In the statement, AQA said the decision was not a judgement on Sugg or her work, "or the suitability of her material for her target audience," and that she had been used in the syllabus without her knowledge.
"Effective Relationships and Sex Education in schools is vitally important and we completely support it. All we're saying is that we don't think studying adult-focused lifestyle websites in GCSE Media Studies is the best way to do it," the statement concluded. "We respect the right of anyone to disagree with our decision, but we believe that it's the right one."
This article has been updated to include a statement from AQA.
Join our new commenting forum
Join thought-provoking conversations, follow other Independent readers and see their replies