How to get a refund for your cancelled Christmas
Trains, turkeys, tourism – here's how to get your money back now your plans have changed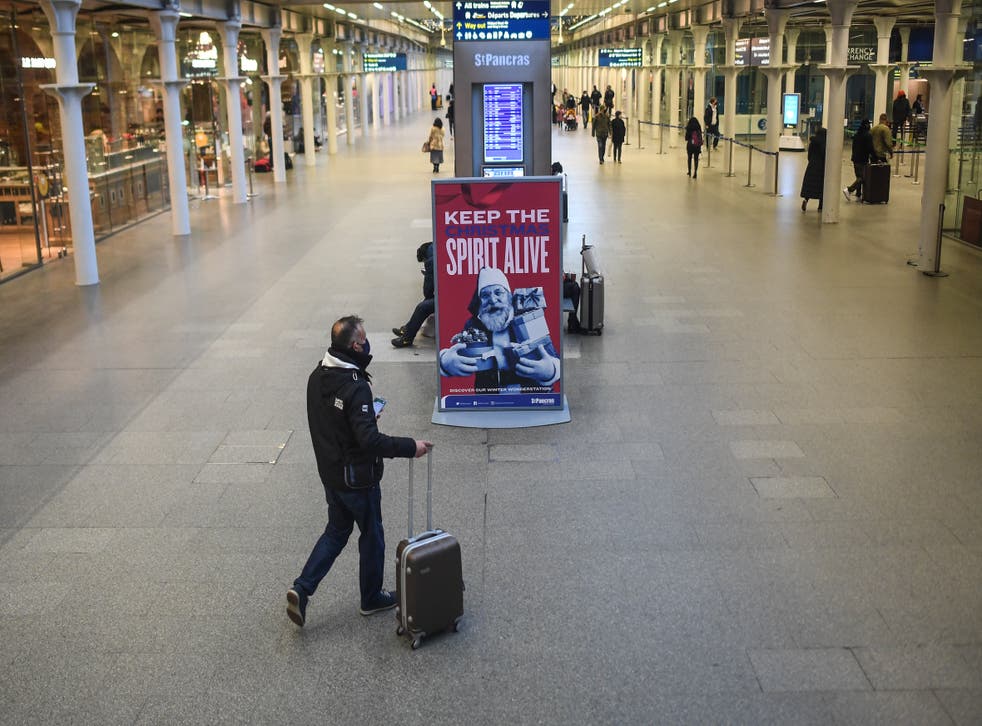 Christmas is not cancelled. No really. There's still good telly and, for many of us, time off and good food.
But that doesn't mean that lots of plans haven't been scrapped as the nation scrambles to postpone visits to loved ones and large parts of the country take on the reality of tier 4.
So what refunds are available? What are your cancellation rights? Can you get your money back for that pricey train journey and can you cancel that monster turkey now it's just you and the cat?
Here's what you need to know.
Can I get a refund on my travel?
We were told to book early because there would be a lot of demand for travel in the original five-day window, so many, many people did just that.
In England, this has been addressed specifically by the government. Any passengers in England who booked domestic rail or coach travel for the Christmas window and who did so on or after November 24th, when the travel window was announced, will be refunded.
The cost will be met by the government but the refunds will be processed by the operators, who should have shared details on making the claims on their websites. And demand is likely to be significant, so it might require some patience.
At the time of writing, there's no news on whether people in Scotland, Wales and Northern Ireland will get similar refunds for the disruption they face. However, if you visit the website of the operator you booked with, many are being far more flexible than in more normal times.
ScotRail, for example, states that following the new travel restrictions "we have revised our refund policies. We are removing the administration fee for ScotRail ticket refunds and we are making non-refundable ScotRail tickets, such as Advance, temporarily refundable."
Will my travel company refund my holiday?
If you had booked a Christmas overseas or a spot of winter sun then the chances of that are looking pretty slim, even if you aren't in a tier 4 or locked down part of the UK.
A growing number of countries are banning UK visitors as a result of the new variant of potentially more infectious Covid.
If you have a visit abroad booked and the airline or travel company cancels it as a result of bans then you should automatically be refunded, although you may have to insist on a cash refund rather than vouchers.
Cancelled flights ought to be refunded within seven days, although there have been some delays this year with the extent of the pandemic. Package holidays are due a refund within two weeks but, again, there have been delays.
For future travel, you may be able to ask your operator to postpone your trip but you mustn't just cancel it yourself – then you won't have an automatic right to a refund. It's better to wait and see what the company decides to do closer to the time.
If non-essential shops are closed, how can I return unwanted presents?
Refunds on trains are one thing but what if you want to make a return but you're in tier 4 and non-essential retail is closed? Or what if you can't get to the shops because you're isolating or just shielding?
The most important thing to say is that many retailers have extended or changed their returns policies because of lockdown so it's a good idea to check the company's website for the most up-to-date information.
If you risk losing the right to return an item because you can't make a return in time then you could try contacting them to ask for an extension. Lots of businesses will want to show forbearance in this difficult time.
Beyond that, your statutory rights don't change. You don't have an automatic right to return an item unless it's faulty but most retailers offer the right to return an item within a fixed number of days.
If you've bought something online or by the phone, you actually have additional rights. They mean that you have the right to cancel an order as soon as you place it or return an item up to 14 days from the day you receive the goods in the post.
So all that online shopping does actually make it easier to return items.
And if you don't want to go and queue up to post a parcel, don't forget that the Royal Mail's new Parcel Collect service, where you can pay an extra fee to have up to five items collected from your door.
Can I cancel my food orders?
If you have ordered a massive turkey, fit to feed 20 people, for collection on Christmas eve then you might be anxiously hoping you can cancel it.
There's no hard and fast rule on this. If you have booked a supermarket delivery for Christmas Eve then you may still be able to amend your order.
However, if you have arranged to collect a turkey or joint from a smaller butcher or retailer then you may be contractually obliged to collect it regardless – or you may just not want to mess a small business around.
So, if you have more food than you can use, you have options. You could offer it to a family who needs it via your social media's local pages or using an app like Olio. There are even more options in this guide.
Another option is to keep anything that won't go off. We will all deserve some treats in the next few weeks.
Register for free to continue reading
Registration is a free and easy way to support our truly independent journalism
By registering, you will also enjoy limited access to Premium articles, exclusive newsletters, commenting, and virtual events with our leading journalists
Already have an account? sign in
Register for free to continue reading
Registration is a free and easy way to support our truly independent journalism
By registering, you will also enjoy limited access to Premium articles, exclusive newsletters, commenting, and virtual events with our leading journalists
Already have an account? sign in
Join our new commenting forum
Join thought-provoking conversations, follow other Independent readers and see their replies