Minimum repayments ramp up as persistent debt risks grow
Nine million people have had to borrow money over the past year, ONS says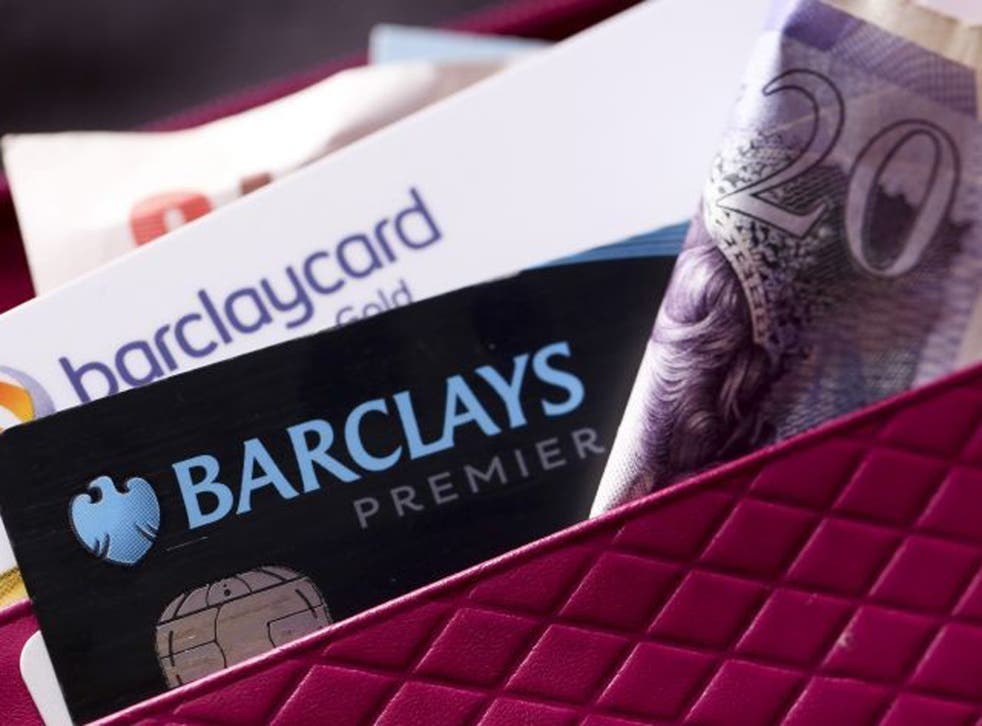 Millions of credit card customers face the growing prospect of minimum payment hikes as increases for Barclaycard holders kick in.
The changes, announced in November, come in the days after the Office for National Statistics (ONS) revealed nine million people had to borrow more money to deal with the financial impact of the pandemic last year.
The number of adults borrowing more than £1,000 is up from 35 per cent in June last year to 45 per cent by December 2020.
Earlier last year, before the coronavirus prompted radical restrictions across the country, the Financial Conduct Authority (FCA) toughened its position on credit card firms with orders to review their approach to borrowers who are stuck in persistent debt, particularly when they are paying more in interest, fees and charges than they are paying on their balance.
It followed years of work by the regulator and other stakeholders to address the problem of those in persistent debt facing high levels of interest on their borrowing, a vicious cycle that further lengthens the amount of time these customers owe money, which itself adds to their bills.
The latest data from The Money Charity shows that the average adult in the UK now has £1,145 credit card debt. Making only the legal minimum repayments every month, borrowers would take a staggering 25 years to clear their debt.
The move by Barclaycard, which calculates the changes on an individual basis, affects customers differently depending on when they took out the card, and affects all but Premier and Woolwich cards.
Customers will see their minimum monthly repayments increase to whichever calculation is higher between 2 to 5 per cent of the full balance, £5 or 1 to 3 per cent of the balance plus interest. However other charges, including fees for late payments will be removed.
Those starting 2021 with persistent credit card balances that haven't been cleared fully in several months are being encouraged to address them as a matter of urgency.
Advice includes tighter budgeting and cost cutting to help increase repayments of debts starting with the most expensive first, including any overdrafts.
The cost of living, which has already nudged up slightly in recent months as transport costs rise in response to a brief easing of Covid restrictions, are likely to increase again as a range of influences from EU imports and freight costs as a result of Brexit to the return to VAT at 20 per cent and energy price rises filter through to consumer level.
Those who cannot pay off their debts should move expensive debts to lower cost borrowing where possible.
However, tightening lending eligibility criteria and the removal of balance transfer deals from the market as a result of the economic turmoil are rapidly narrowing the window of opportunity for those keen to reduce the cost of their borrowing.
Recent data from Defaqto, which suggests those with credit card debt consider transferring their debt to a card that does not charge interest on lending for a fixed period, shows there are 25 per cent fewer interest-free balance transfer deals this year than there were at this point in 2020.
The longest balance transfer deal without a fee is now only 18 months, compared with 20 months a year ago.
The longest 0 per cent balance transfer options with no fee imposed on the transfer are currently Sainsbury's Bank's Low Balance Transfer Fee Credit Card and, for existing customers, the NatWest/RBS Balance Transfer Credit Card.
Those who owe a larger balance may wish to opt for a deal that offers a longer repayment period, however most of these cards charge a fee.
The average fee for transferring a balance to a fee-charging card is 2.26 per cent, which can add substantially to outstanding debt and is only really worth considering should you need a longer repayment period. There are now only 21 cards available that have a 20 month interest-free period or longer compared with 36 a year.
Among the best deals are Sainsbury's Bank Balance Transfer Credit card with a 29 month interest-free window and a 3 per cent fee and Virgin Money's Balance Transfer Credit Card for 28 months for a fee of 2.7 per cent.
The Santander All in One card also offers 26 months interest-free. It has no introductory balance transfer fee, but it does have a £3 monthly fee, which may be a good option for those with larger balances.
Katie Brain, consumer banking specialist at Defaqto, adds: "Where there is the option to check your eligibility before applying, this is worth doing as the best deals on the market tend to only be available to those with an excellent credit rating.
"It is also important to check if there is a fee with the card as that could eat into any introductory offer. Start by looking at the bank you have a current account with as sometimes there are lower fees for balance transfer cards with your existing bank.
"For anyone who is struggling with debt and is not sure what is right for them, it is worth talking to the Money Advice Service, for free and independent guidance," she says.
Join our new commenting forum
Join thought-provoking conversations, follow other Independent readers and see their replies