Half of renters fear for the future despite eviction ban extension
Rent increases, landlords selling up, and unemployment top housing worries as 120,000 renters with families fall behind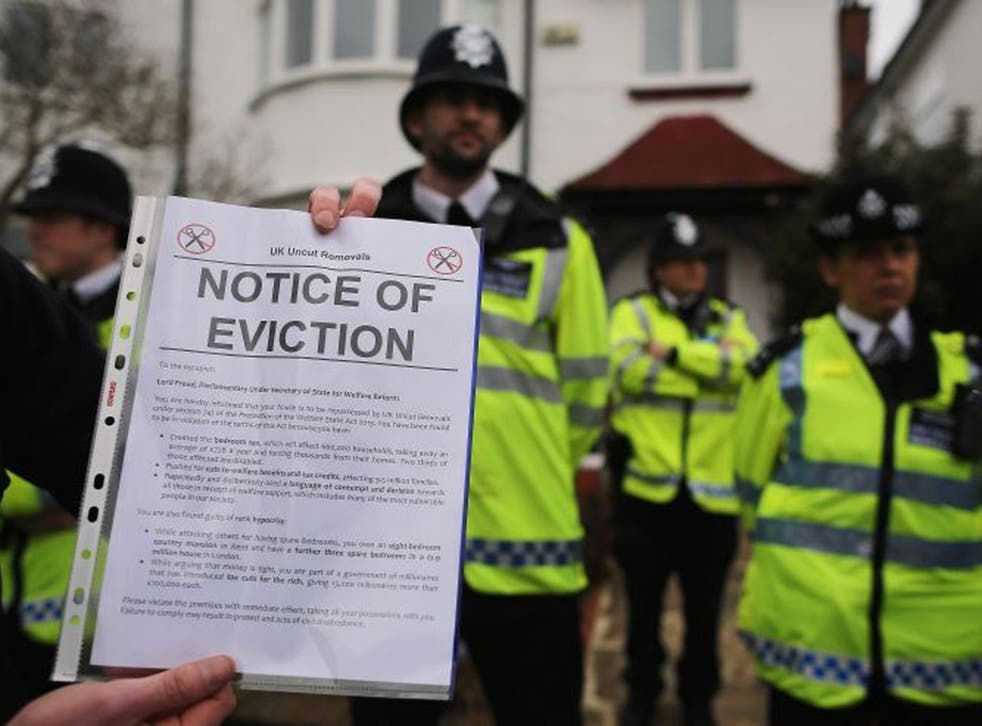 Half of all UK renters worry that their housing circumstances are now unstable, despite moves by the government to prevent evictions during lockdown.
Earlier this month, just three days before the existing eviction ban was due to end and in response to public pressure, ministers announced that landlords would be unable to evict tenants until at least 21 February.
The emergency measure means that courts can still process eviction cases and issue notices of eviction but bailiffs won't be able to enact them until after the current extension ends on 22 February – unless the case is extreme such as that involving anti-social behaviour.
But new research from Aldermore bank shows the latest extension has done little ease the fears of half of all renters, including one in 10 who have struggled to pay their rent since last March and one in five who have seen their rent increase unexpectedly.
Two thirds of renters under the age of 34 are especially worried about issues including that threat of rent increases, alongside unemployment risks and landlords selling up as the property market peaks ahead of the stamp duty holiday coming to an end – itself a matter of continued discussion.
A third of this age group has been furloughed, while a fifth has experienced a rent hike.
Jon Cooper, head of mortgage distribution at Aldermore, says: "The impact of the pandemic has been as much financial as it has been on health in the UK. It is concerning that so many renters are feeling anxious about their housing situation, especially as the home has become an even more significant and important part of people's lives this year than ever before."
Homelessness charity Shelter is now warning that almost 445,000 adults who rent privately in England have either fallen behind on their rent, putting them at risk of eviction, or received some kind of eviction notice from their landlord or letting agent in the past month. But the pandemic and its disproportionate effect on renters comes at a time when not only are there far more renters compared with the 1980s and 1990s, but these increasingly older tenants are more likely to be trying to keep a roof over an entire family's heads.
With the private rental sector accounting for 4.4 million, or a fifth of households by 2019/20, the percentage of 35-44 year olds in private rental accommodation has risen from 17 per cent 27 per cent in just 10 years, according to the latest English Housing Survey. A third of all renters have children.
In Germany, for example, only around half of the population owns their own home. And in France there are strict rules around providing the security of long-term lets to all renters and keeping a lid on rental increases.
The Shelter figures for December show that almost 120,000 renting families are falling behind with payments or have received some kind of eviction notice in the past month.
"For tenants, accruing arrears cannot be ignored," says Oli Sherlock, head of insurance at lettings software and service provider Goodlord. "These debts will eventually catch up with them and the small proportion who aren't engaging proactively with their landlords will eventually find themselves facing county court judgements, which can have a long-term impact on their credit ratings.
"The more debt individuals get into now, the more serious the consequences. We must ensure that systems, potentially similar to those in Scotland and Wales, are in place so tenants stay on top of their rental payments and keep arrears low, or are supported to move to cheaper properties if needed."
Meanwhile, he warns that some landlords too are near breaking point.
"Scores are facing financial difficulties as a result of unpaid rent and ongoing mortgage costs. Unless more support is put in place for those struggling, we can expect to see a large number of landlords withdraw their lets from the housing market over the next year.
"This will put pressure on a vital source of housing at a time of critical need. Decision makers must start thinking about how tenants and landlords alike can recover from these challenges during and following the stay on evictions."
Join our new commenting forum
Join thought-provoking conversations, follow other Independent readers and see their replies