How grandparents saved 2020
From bailouts to birthdays, the older generation has propped up family finances like never before after half of all families asked for help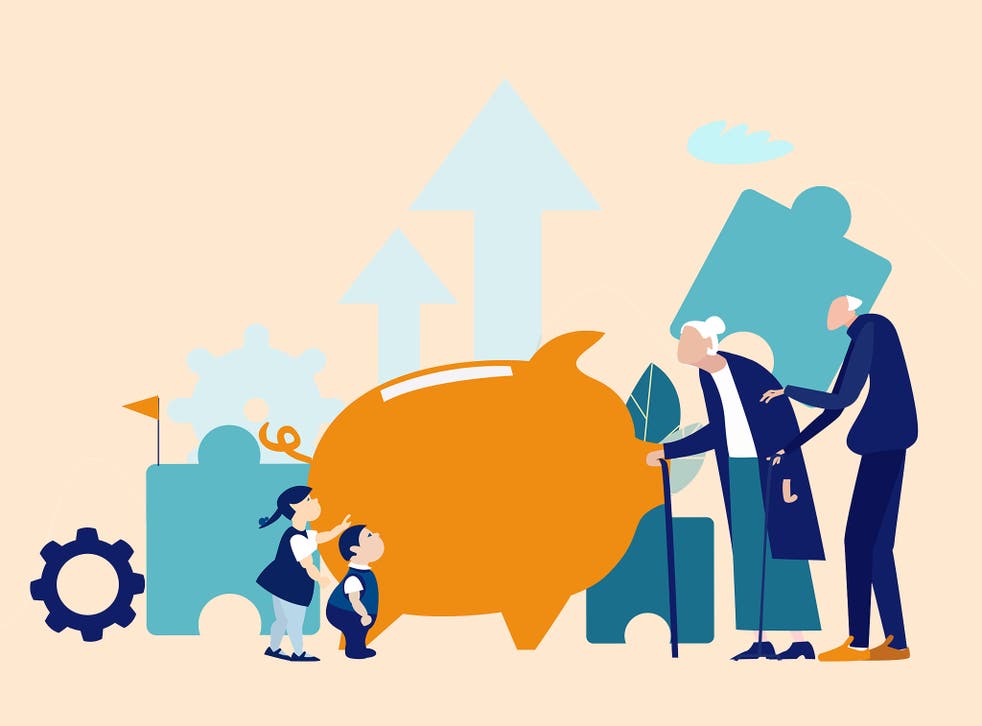 Much has been written about the deep unfairness of inter-generational spread of cash in modern Britain. Headlines in recent years have either crowed or complained about the disproportionate concentration of wealth – between 70-80 per cent of it as a general rule – among older UK residents.
But while this gap hasn't gone away in 2020, the movement of cash – necessary or otherwise – down the generations has accelerated this Covid year.
All in, grandparents have given an estimated £12bn in financial support to their children and grandchildren since the pandemic really started making its presence felt on our shores in March. That's the equivalent of more than £2,820 per household over the nine months to the end of November, research from Direct Line Life Insurance suggests after almost half of all families asked parents and grandparents for help.
They have stepped in when family has had pay cuts, reduced working hours or been furloughed, gifting in excess of £2,100 more than the average £713 they would normally hand over in an entire year after more than four million households asked for cash.  
New stresses on family life have placed budgets in peril in specific areas though and while grandparents have bought £2.2bn of essential food for their children and grandchildren since March, another £1.9bn – more than £450 per family – paid for extra childcare items like school books as schools remained closed.
Around 3.3 million grandparents have stepped up to offer free childcare too – and not just during the day. Ten per cent were asked to move in and 7 per cent were asked if family could move in with them.
The older generation were already handing more cash straight to children though – especially those who couldn't see them in person over birthdays or as regularly as normal.
Data from children's pocket money card nimbl showed a massive rise in the overall amount of money given by absent grandparents to children during lockdown, rising by 186 per cent over the past 12 months as birthdays and regular visits fell by the wayside.
Children who had been slipped £20 a month by doting grandparents in 2019 have received an average of £34 this year in pocket money alone.
And the bailouts aren't over yet. With a frugal Christmas on the horizon for many households, more than two million parents will turn to their own parents to buy their under 18s gifts, with the majority already going without essentials for themselves to cover the cost of the season.
But in addition to these funds, grandparents will up their own gift-giving to the under 18s in their lives, parting with almost £2.4bn this Christmas – up by £608m.
On average, grandparents have four grandchildren, and they will spend £104 on each. But is it too much? Almost half of parents think so, warns research from SunLife.
And while more than half of those parents admit that "it's their money, they can do what they like", a quarter wish their parents wouldn't "spoil" their kids so much, while one in ten have concerns that their parents can't really afford to spend as much as they do.
For those without a regular assured income coming in, particularly the over 55s nearing retirement, the pandemic has impacted their own financial affairs.
A new study by Standard Life suggests a quarter of the over 55s worry particularly about value lost from their savings and investments as a direct result of Covid, and another quarter cite the impact on their pension as their biggest financial concern at the end of 2020.
And yet SunLife has found that while a fifth of older adults were still paying into their pensions before the pandemic – around 2.4 million people – there's now £40m a month less going into funds to secure old age.
A quarter of a million people have stopped paying into long-term savings in a bid to make ends meet.
At the same time, many have made early pension withdrawals to support loved ones and almost 70 per cent of the older generation has handed over cash from their savings, research from Saga suggests.
"The pandemic has brought about a whole host of new financial pressures for families. It's only natural then, for parents who may be more secure than their children to want to offer their support through these challenging times," says Alex Edmans at Saga Equity Release Advice Services.
"It's vitally important that parents seek advice on the best route forward before committing to accessing their pensions early, gift money or using equity release – what is right for one family may not be appropriate for everyone. Decisions should be made based on individual needs and circumstances, to avoid jeopardising their financial future."
Join our new commenting forum
Join thought-provoking conversations, follow other Independent readers and see their replies