Tickets, money, passport – and travel cover
Holidaymakers are failing to insure themselves when they go abroad, which could turn a dream trip into a nightmare. Chiara Cavaglieri reports
Sunday 16 January 2011 01:00 GMT
Comments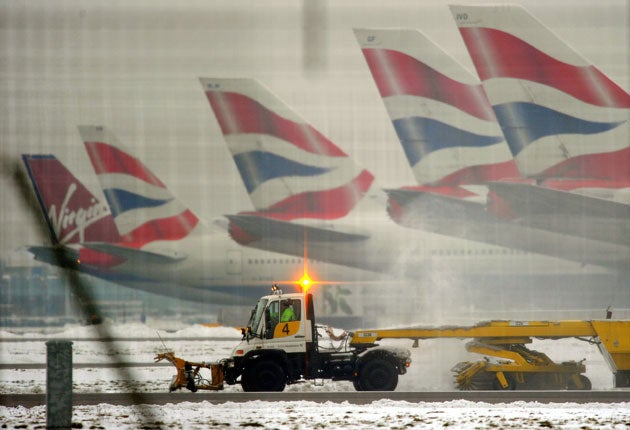 If the sight of aluminium-coloured skies on the walk to work is driving you to dream of sunnier climes, rest assured, you are not alone.
More than seven million Britons are expected to book their summer holiday getaways in the coming weeks – representing more than a 10th of the UK's entire population.
But while foreign holidays have become more affordable, many travellers are neglecting to insure themselves adequately, if at all.
New research by travel insurance provider AXA estimates that as many as nine in 10 holidaymakers will be uninsured or wrongly insured this year, leaving them at risk of a potential collective bill it calculates at £130m.
Findings from the research show that nearly one in three travellers do not take out any insurance, with a quarter of this number saying they "don't need it" and 21 per cent labelling it a "waste of money". Meanwhile, 35 per cent of those that do buy insurance leave it until the last minute, risking missing out on cancellation cover, if for example, a family member falls ill, or an airline goes on strike.
While package holidays come under the Air Travel Organisers' Licensing (Atol) and Association of British Travel Agents (Abta) protection, those who book flights and accommodation separately have no such cover. This means that if an airline goes under, a claim may be made only for flights, but not for any money lost on accommodation.
For those who want peace of mind when travelling abroad, a wide variety of insurance products are available to choose from, making it essential to identify which type of insurance best suits their individual needs.
Types of travel insurance
Travel insurance is usually sold as either a single trip or annual/multi-trip policy, although backpackers and other travellers can also take out long-stay insurance if they want continuous cover for anywhere between three and 18 months.
You can tailor policies to suit your specific needs and cut costs. If you have home contents insurance, for example, you may already have protection in place for your personal belongings abroad and can remove baggage cover for a discounted premium. Equally, you can customise your policy by adding top-up cover often relatively cheaply if you want extra protection for personal accidents, particular sports such as skiing, or your airline going bankrupt before or during your trip.
"Extra cover for winter sports, personal documents, flight cancellation, specialist equipment like golf clubs and weddings can commonly be added to travel insurance policies for an additional fee," says Joanne Garcia, the head of financial services at consumer website Confused.com.
"For example, adding golf club cover to a week's insurance policy with Greatcover.com for a single adult in Europe would be about £10 and winter sports about £12."
Covering travel disruption
Since the media backlash last year when some insurance providers refused to pay out on travel claims related to the volcanic ash debacle, many policies now offer cover for disruption caused by natural disasters and unexpected meteorological events.
Aviva, for example, has an add-on protection if your travel plans are affected by UK airspace or airport closure. The feature costs an extra £10 per person for annual insurance and provides cover for up to £5,000 if you are unable to take your holiday because airspace or an airport is closed for more than 24 hours. Claimants will also receive £100 for every 24-hour delay to returning home and up to £1,000 for expenses incurred making alternative arrangements to get home.
Specialist insurance
If you are travelling to more dangerous destinations, it may be worth considering more unusual insurance. Multinational companies often take out kidnap, ransom and extortion (KRE) insurance to protect their employees in high-risk countries such as Pakistan, Mexico and Nigeria.
Specialist policies also exist for families, those with pre-existing medical conditions, people aged over 65 as well as the standard comprehensive cover which protects for medical costs, cancellation and curtailment of your holiday, lost or stolen baggage and personal liability, in case you're sued.
Insurer Sheila's Wheels offers travel insurance just for women, which includes an excess waiver if your bag is snatched, as well as optional wedding cover costing an extra £30 per couple to cover theft of wedding rings up to £500, gifts up to £1,000, outfits up to £1,500 and photographs and videos up to £750. As an added benefit, six children up to age 16, or 22 if in full-time education, can be added to the policy for free.
Caveat emptor
Whatever level of cover you decide to go for, however, it is vital to read all the policy exclusions and excesses. This is time consuming but essential if you want to avoid handing over your money for an inadequate or inappropriate policy. Typical drawbacks to look out for are low levels of cover and high excesses, particularly on cheaper policies. "Some providers will offer two different levels of cover with different premiums, but you may find that the only difference is the level of excess that is paid on each," says Andrew Hagger, an analyst at Moneynet.co.uk.
Common exclusions
Many policies will exclude cover for cash claims and insist on written police reports for theft of goods or claims of violent assault. Some will make deductions for wear and tear on baggage claims, rather than offering "new for old" cover. And don't bank on your insurer paying out if you get stuck in a traffic jam or your car breaks down on the way to the airport – many providers will cover only proven public transport delays.
With all this to worry about, it is perhaps understandable that so many of us risk travelling without insurance altogether. AXA's own research shows that the claims rate for travel insurance is only 5 per cent, which raises the question of whether enough people benefit from it to make it worthwhile.
The biggest danger when travelling without insurance is that you might have a medical emergency, particularly in countries such as the US where treatment and repatriation costs can be sky high. Last year, for example, the Association of British Insurers (ABI) reported a £49,000 claim to cover the cost of a coronary artery bypass and an emergency flight home for a holidaymaker taken ill in the US.
Many Britons holidaying in Europe believe that an EHIC card negates the need for travel insurance. However, this card entitles you only to state-provided emergency medical treatment in EEA countries and will not cover rescue services, private hospital treatment, additional travel costs or repatriation costs to get you back to Britain.
Expert View
Andrew Hagger, Moneynet.co.uk
Some people may question whether it's worth paying £10 or £20 for travel insurance. But, if you were to become ill while away and require medical treatment, or if you were to have to cancel or cut short your holiday, that £10 or £20 could be recouped at least 50 times over. It's useful to be able to customise your policy so as to pay only for the cover you need. A middle-aged couple off cruising for a couple of weeks will have lots of expensive clothes, jewellery, etc, whereas a teenager going to Corfu for a week might have a beach towel, pair of shorts and flip flops, so baggage is perhaps not really worth it for the latter.
Join our commenting forum
Join thought-provoking conversations, follow other Independent readers and see their replies