Archbishop of Canterbury Justin Welby rows back on war on Wonga: 'Loan sharks are worse'
Archbishop embarrassed over revelation Church  of England invests in payday lender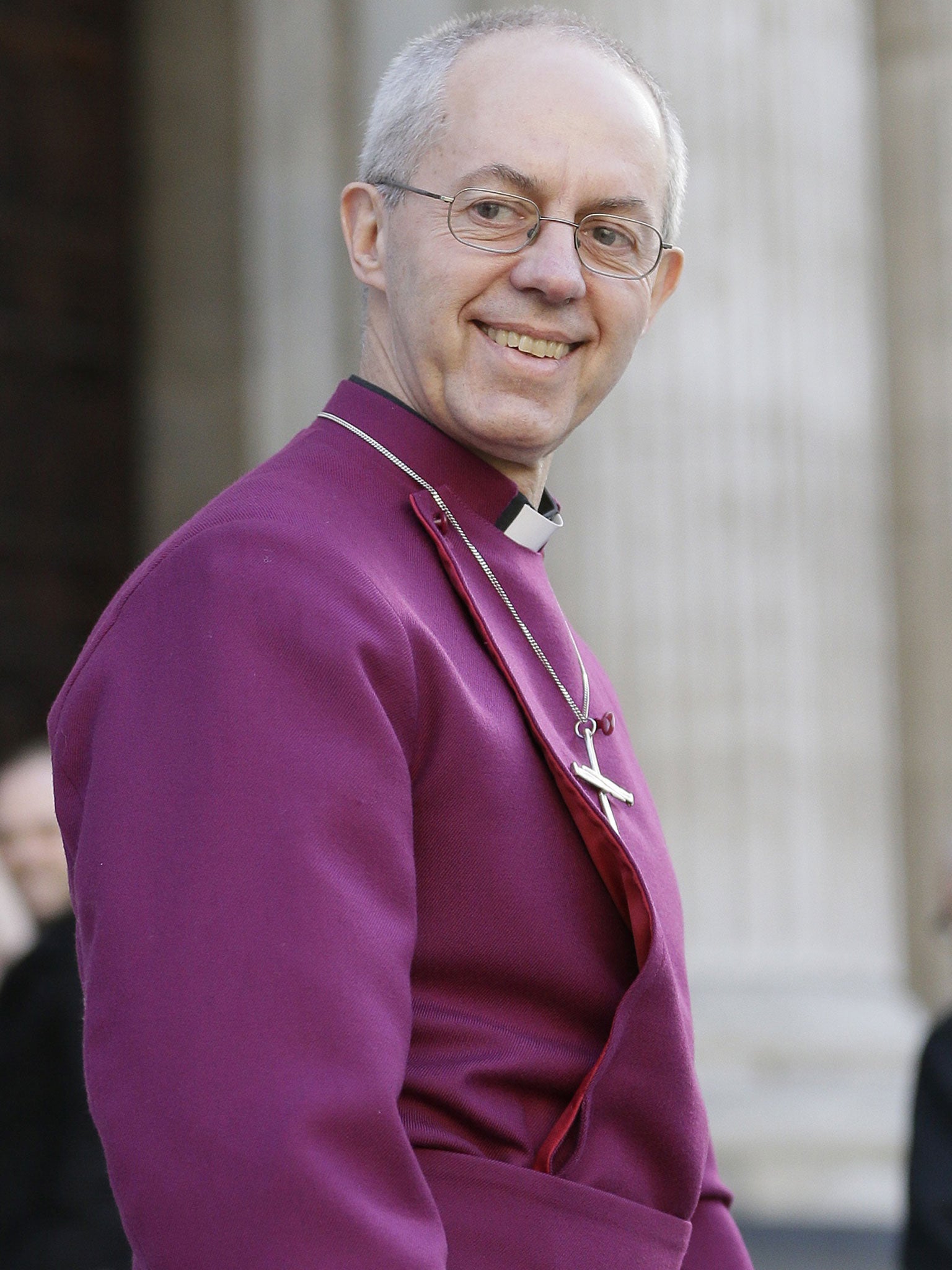 The Archbishop of Canterbury has backtracked on claims he intended to "compete" Wonga out of business, saying that there are plenty of others working in the sector which are "much worse".
In an interview on BBC radio, the Most Rev Justin Welby instead praised Wonga, saying that it "is actually a very professionally managed company. Errol Damelin, the chief executive, is a very clever man, runs it extremely well."
But he admitted his embarrassment after being told that the Church of England invests in the payday lender – albeit indirectly through its pension fund and just £75,000 out of a total investment fund of £5.2bn.
"These things do happen," he said. "We have to find out why and make sure it doesn't happen again."
He said he was unhappy that Church funds were being funnelled into Wonga. "They shouldn't be investing in Wonga. We don't think that's a good thing," he said. According to Church policy, no such investments should be made, he added. However he told Today: "I don't think capitalism is necessarily amoral." This paves the way for the Church to get more heavily involved in finance.
The Archbishop spoke out against the introduction of a cap on loan charges, as proposed by many anti-payday loan campaigners.
He said: "If we try and cap interest rates and drive the legal payday lenders through regulation, people – because they're desperate and there's no consumer choice in a lot of deprived areas – will end up with the loan sharks, which are just a totally different kettle of fish, very much worse."
But Rev Welby admitted that the current restrictive rules that credit unions work under would have to be changed to allow them to compete with payday lenders. He suggested that the Church's research showed that a workable interest rate would be around 80 per cent, much higher than the existing rates credit unions are allowed to charge to borrowers.
The Archbishop said: "We think you can probably do it [loan cash to hard-up people] for an equivalent annual rate of about 70 or 80 per cent. It's a huge sum of money but it's better than 5,500 per cent."
Credit unions are currently only allowed to charge 2 per cent interest per month – the equivalent of 26.8 per cent APR. But the Government last month proposed to increase the interest rate cap to 3 per cent a month, to allow credit unions to offer affordable credit to those who otherwise may turn to rip-off deals.
The change – which is planned for next April – will mean the APR on credit union loans could climb as high as 42.6 per cent. But that's still far below the figure proposed by the Archbishop, which suggests any plans he has are still in the putative stage and some years off.
However, credit unions welcomed the focus on the sector. Mark Lyonette, chief executive of the Association of British Credit Unions, said: "Many credit unions help members to escape from the high-cost trap of payday lending, repay over a more affordable period of time and get their finances back in order."
He also embraced the opportunity to get the support of the Church. "The wide community reach of the organisation and the skills within its congregations mean it is one of many groups that can help raise awareness of the benefits of credit unions and help them to grow."
He revealed that the credit union industry is talking to the Church of England about how the two organisations can work together.
"The more people who use credit unions, the more successful they will be," he said.
Credit unions: How they work
The Church is the latest organisation to suggest that credit unions could be boosted to help tackle the rise of predatory payday lenders. The last to do so was the Government itself, which handed the sector £36m earlier this year to help them become more competitive.
Credit unions are non-profit co-operatives run by and for the benefit of members. They aren't specifically loan companies – they lend money to members who have already saved with them.
The financial figures for the sector in the UK show that £807m is saved in British credit unions while £627.5m is out on loan to members. Membership is usually limited to people who share a common link like living in the same area, working for the same employer, or, indeed, belonging to the same church.
Credit unions, currently used by about one million people, offer a range of products from current accounts to life insurance - but it is their ability to provide low-interest loans to members that is attracting all the attention at the moment.
Join our commenting forum
Join thought-provoking conversations, follow other Independent readers and see their replies