Leaseholders take on the managing agents
Flat-owners have had enough of excessive service charges and are setting up their own management companies. Chiara Cavaglieri explains how
Sunday 30 January 2011 01:00 GMT
Comments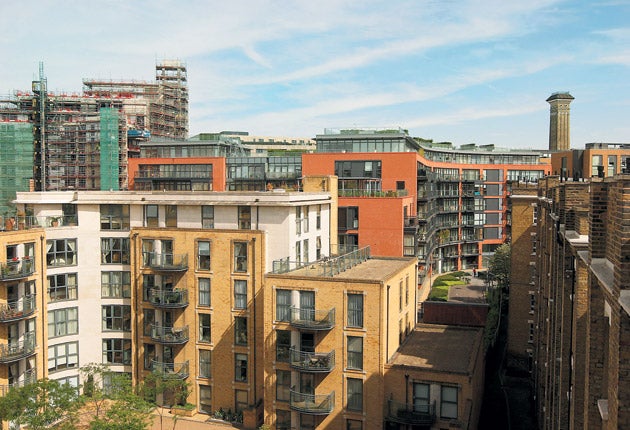 Dissatisfied British leaseholders are handing over thousands of pounds in excessive service fees to managing agents without realising that they have the power to do something about it.
Stories of overcharging, unexpected fee increases and failures to explain how these charges are broken down are common. But a recent survey by block management specialist Urban Owners shows that seven in 10 leaseholders are unaware of their legal right to take control over the management of their properties. This ignorance is costing them dearly, with Urban Owners estimating that by avoiding hidden costs and backhanders due to crooked managing agents, leaseholders could save hundreds of pounds per year.
"We've found that on average they are missing out on savings of £400 per year, purely because of commissions, unnecessary contracts and the fact that landlords are never going to be incentivised to get good value for money for their tenants," says Steve Wylie, a director of Urban Owners.
Leaseholders pay annual service charges to the freeholder or landlord to cover insurance and maintenance costs for communal areas, but a large chunk of this is made up of the managing agent's fee. The problem is that managing agents are largely unregulated and can therefore get away with increasing their service charges at will.
The Association of Residential Managing Agents sets standards of practice for its members. Disputes for specific charges can also be taken to the Leasehold Valuation Tribunal. This offers some legal recourse for leaseholders who face unreasonable charges from freeholders, but this route entails covering fees for lawyers and the tribunal itself which can cost £300 to £500.
Another solution lies in exercising the Right to Manage (RTM) which allows leaseholders to take control of their blocks from the freeholder under the 2002 Commonhold and Leasehold Reform Act.
"Under the RTM, leaseholders can remove the managing agent and the freeholder's right to dictate who replaces them," says Tony Essien, chief executive of Lease, a leasehold advisory service. This isn't about proving incompetency on behalf of the freeholder or managing agent, and it isn't necessary to gain the landlord's consent. "It's a no-fault right to manage so you don't have to prove incompetence."
Before this can be set in motion, at least half of a block's leaseholders must be in support, and once the ball is rolling, the process can be boiled down to key steps. First, leaseholders must ensure their block qualifies for RTM; for example, at least 75 per cent of the block must be residential. Secondly, the relevant leaseholders must form their own company, which is the legal entity taking on the responsibility. The next step is to inform all other owners and give them the opportunity to join the company. Step four is to serve the landlord with a notice of claim, then transfer can take place.
The whole process takes 22 weeks. Once the transfer has been made, leaseholders are free to pick their own managing agent, this time making sure they are totally transparent about any fees and commissions.
Bob Suvan was so fed up with paying exorbitant service charges that he set up his own management company, BlocNet. Both BlocNet and Urban Owners help leaseholders through the RTM process, as well as offering a management service without referral fees and excessive charges.
Urban Owners helped Deborah Maloney, 38, and her neighbours acquire the right to manage their four-block development in Salford, Manchester. Service charges are now lower, after years of increases, and Ms Maloney says: "Everyone is telling me they are seeing that things are getting done."
BlocNet's Mr Suvan says: "We as founders sat on the other side of the fence as frustrated owners. The traditional managing agents have got relationships with a number of suppliers and probably quite cosy ones. Kickbacks are endemic in this industry and that is really the nub of the problem."
Residents using BlocNet have a far more transparent alternative, with owners able to log on to the company's system to track every piece of work. "We set up an intranet for every property under our management and provide proactive information so that every owner can see copies of every charge. You cannot get more transparent."
For leaseholders wanting even more control over their homes, another option is to set up a company and buy the freehold of the block from the landlord – a process known as enfranchisement. This is a far more complex, lengthy process costing thousands, rather than hundreds of pounds per flat. But it does mean that ground rent payments are reduced to a nominal level and owners could potentially increase the value of their properties. And, as with the RTM, the landlord is relatively powerless to prevent this process as long as the relevant legal steps have been taken.
Another important benefit is that, as owners of the freehold, leaseholders are free to extend their leases once the block has been enfranchised. Properties become more difficult to sell or remortgage in line with the time left on the lease, so it is advisable to renew as early as possible. Renewal costs start to soar too because of the "marriage value" which measures the potential increase in the value of the property once a lease extension is granted.
"Leaseholders must be wary of 80 years and under, as that's when the marriage value kicks in; it will add to the price significantly," says Mr Essien.
Join our commenting forum
Join thought-provoking conversations, follow other Independent readers and see their replies