Women's retirement savings hit by crisis
Gender gap opens up in pension contributions as household bills rocket and wages stall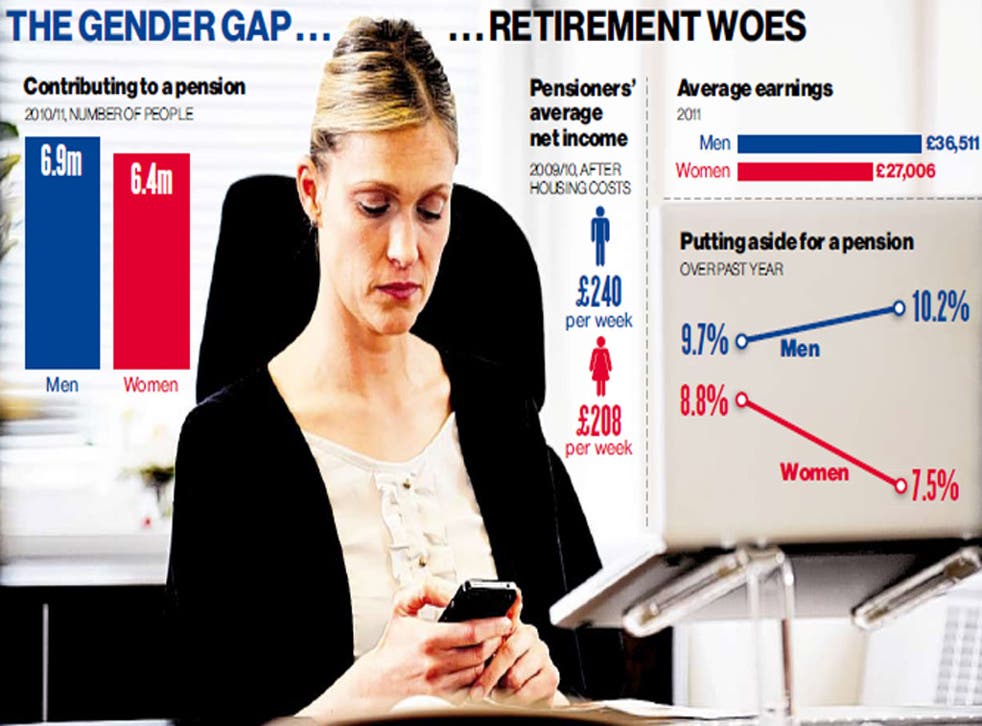 The downturn and subsequent squeeze on household budgets has forced women to stash smaller amounts into their pensions – meanwhile men are squirreling away more than ever.
The gender gap has widened over the past year, with the average amount men are putting aside after tax increasing from 9.7 per cent to 10.2 per cent, but for women there has been a reduction from 8.8 per cent to 7.5 per cent, according to new research from the Halifax.
Figures published by the Department for Work and Pensions (DWP) earlier this month in its 2012 Family Resources Survey, showed that the number of men saving for retirement through a pension scheme remained much higher – almost 50 per cent more – than the number of women.
In 2010-11, some 6.9 million men were contributing to a pension, compared to just 6.4 million women. Outside of workplace schemes, twice as many men than women have pensions savings.
The DWP survey points out that it is partly because "self-employment is more prevalent for men, and inactivity is more prevalent for women".
But even taking that into account, there is still a disturbing gender gap which suggests women will suffer financially in retirement.
Tom McPhail, pension expert at Hargreaves Lansdown, said the gap is due to two things.
"Women save less for retirement because they spend fewer hours in paid employment and on average they earn less than men," he said.
Official figures back up this view. They show that in 2011, average male earnings were £36,511 – 35 per cent higher than average female earnings of £27,006.
"You can't pay pension contributions if you don't have the money," pointed out Mr McPhail. "Of course, there is nothing to stop their spouse from making pension contributions into a private pension in their name on their behalf."
However, Leeds-based Independent financial adviser Yvonne Goodwin thinks that for some women it's a lifestyle choice.
"Many women have engineered their work into something that they really enjoy and therefore don't necessarily have any plans to retire anytime soon," she said. "By not saving as much as men they are creating a balance between enjoying life now and what to do in the future."
But the Halifax research suggests the age of austerity is hitting women harder, partly because they are spending proportionately more on household groceries than men. Some 14 per cent of women claim to spend a lot more on groceries than a year ago, compared to just eight per cent of men.
Women are also spending less than men on going out and treating themselves, as well as less on clothes, than they were a year ago.
Male pensioners already tend to have higher incomes than femaleretirees, and the new survey suggests this is set to continue.
Recent official figures show single male pensioners had an average net income – after housing costs – of £240 per week in 2009/10 compared with just £208 for single women pensioners.
Martin Ellis, Halifax economist, said: "The fall in the amount women save towards a pension reflects the finding that fewer women than men are comfortable in their current financial circumstances."
He said 49 per cent of men save adequately for retirement compared with 42 per cent of women.
Register for free to continue reading
Registration is a free and easy way to support our truly independent journalism
By registering, you will also enjoy limited access to Premium articles, exclusive newsletters, commenting, and virtual events with our leading journalists
Already have an account? sign in
Register for free to continue reading
Registration is a free and easy way to support our truly independent journalism
By registering, you will also enjoy limited access to Premium articles, exclusive newsletters, commenting, and virtual events with our leading journalists
Already have an account? sign in
Join our new commenting forum
Join thought-provoking conversations, follow other Independent readers and see their replies