Shop smart: How to make sure your Christmas buying isn't harming others
As major brands are accused of using child labour and exploitative practice, we ask how shoppers can make responsible choices when buying
Felicity Hannah
Wednesday 07 December 2016 12:24 Comments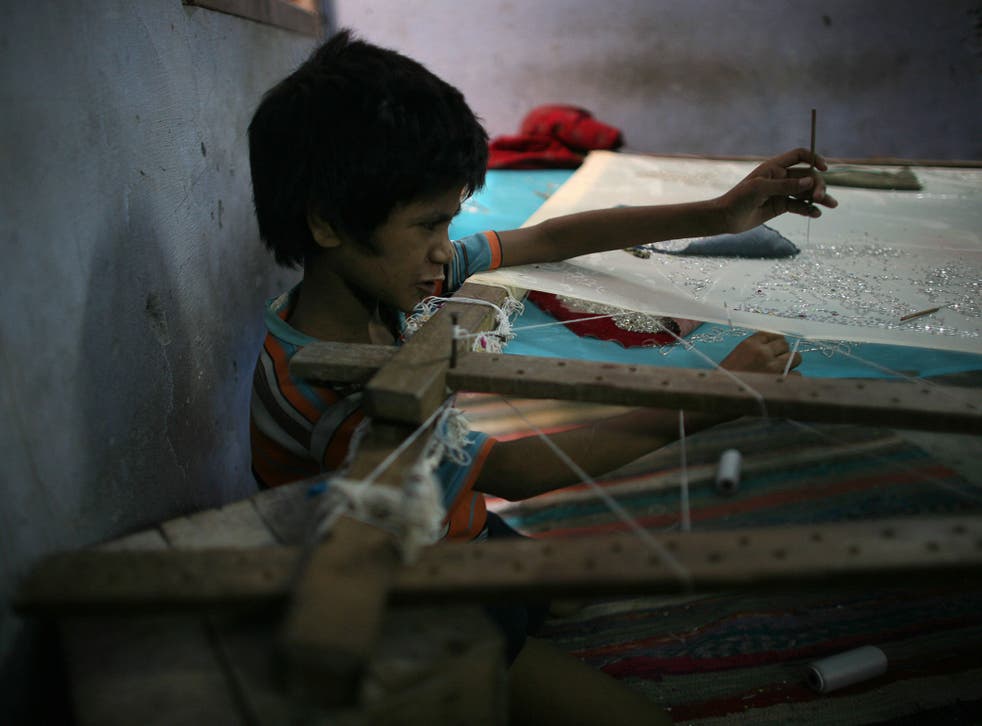 Shelves are crammed, the Christmas music is blasting and across the country, busy shoppers are stocking up on presents, food and outfits for the festive season. But in the past month alone shocking revelations have come to light about just how many of our consumer goods are produced.
Last month, Amnesty International accused major brands – including Nestlé and Kellogg's – of selling products containing palm oil, produced using child labour. An investigation by The Sun found confectionery group Ferrero allegedly using Romanian child labour in the production of Kinder Egg toys.
There are regular reports of garment and gadget factories exploiting staff to produce cheap products and it is easy for consumers to feel overwhelmed. These stories can make it appear as if malpractice and exploitation are endemic, making it seem almost impossible to avoid without limiting purchases to a handful of specialist ethical websites.
However, there are some straightforward steps you can take to stop paying for items that have been produced using unacceptable business practices such as child labour, slave labour and the exploitation of workers.
Fair, transparent, environmentally friendly
This really matters to a sizable number of consumers, especially younger shoppers. Recent research carried out by YouGov, for cloud-based supply chain management firm GT Nexus, suggests 28 per cent of 18- to 34-year-olds would shun any brand revealed not to treat its workers fairly. And 22 per cent would switch brands if the product were not environmentally friendly.
"Millennials are sending a very clear message to their favourite brands here," says Guy Courtin, a spokesperson for GT Nexus. "If you don't 'respect the workers creating your goods – either inside your organisation or in your supply chains – we will turn on you'. Same goes for the environment. Manufacturers and retailers should heed this warning and strive for fair, transparent and environmentally friendly supply chains."
However, despite Courtin's comments, the fact remains that the shoppers questioned listed quality and availability as bigger concerns than corporate responsibility.
Yet it could be argued that more consumers would express concern, if it was easier to access the relevant information. Marianne Hughes, an entrepreneur who has spent three years researching how retailers can be more transparent about production, says: "Consumers are asking brands for information and to be transparent but no one is doing that as well as they could be.
"Some companies tell me that consumers don't care – but I think that's wrong. I always say that consumers don't have the option to care yet, we don't have the access to information."
While the full details of an item might yet be impossible to discover by individual shoppers, there are steps they can take to ensure the company they are buying from takes its responsibilities seriously.
One option is to download a plug-in for internet browsers called aVOID, which tells customers whether products are associated with child labour as they browse websites including Amazon and Asos.
GoodGuide.com has rated 25,000 different products based on their safety, health and environmental factors. And the global grassroots organisation Fashion Revolution provides a wealth of information to clothing shoppers about how to steer clear of worker exploitation.
There is also far more information available online, thanks both to consumer activists and changes to the law.
Modern slavery
More information is available now, thanks to new legislation, but more could be done. Last year, the Modern Slavery Act came into force, requiring large companies to produce a statement each year outlining the steps they have taken to ensure there is no modern slavery in their own business and supply chains.
In theory, this means that worried customers can simply check a company's information and understand clearly what steps have been taken. In practice, there is a wide gulf between the most transparent businesses and those treating it as a box-ticking exercise.
Steve Wickham is supplier relationship manager – and head of corporate social responsibility – at Matrix, a design and procurement company that serves many leading retailers and airlines. His organisation maintains a focus on ethics, working with 40 factories regularly and up to 100 on a more occasional basis.
He says: "Some [companies] have done really well, others not so much. Oxfam, for example, has a fantastic statement. Marks & Spencer too. It shows the due diligence and what they do to monitor the risks of excessive hours, wages below the minimum, child labour. However some retailers just accept an annual audit carried out by the factory itself and that's lazy and definitely less effective.
"Requesting an audit just gives you a snapshot, you need to know what is happening in each factory on a day-to-day basis."
Interestingly, Wickham suggests that instantly dropping a supplier for using child labour or other exploitative methods is not necessarily the most responsible action.
"That's not always great because workers will instantly lose their income, which is important to them no matter how small, so a sensitive approach is best. If we suspect a child labour issue, for example, we work with the factory to improve their processes – were they shown fraudulent ID, and so on. We work with them to improve standards, looking at productivity and efficiency so that workers don't need to work such lengthy hours. That can become a win-win. The factories can increase capacity and increase the pay for the worker, and we can get good prices."
Transparent futures
There are more websites than ever before dedicated to providing information to ethical consumers. Statements on anti-slavery measures at least indicate how seriously a company takes the issue. But we live in an age of information and that information could potentially explode a light on to the production processes behind our favourite goods.
Some companies are working on barcode scanners that would open up more information to consumers than is currently available when they are buying. There is growing corporate interest in telling the stories behind products to shoppers as company bosses recognise that the ethics of items can be a real selling point.
Interestingly, the information can flow both ways – both to consumers and back to the workers who created the goods, creating a far greater sense of connection between producers and shoppers, and potentially increasing consumer concern.
Wickham adds: "We're starting to use technology more [at Matrix], we're using social media proactively. We've just launched our Weechat – that's instant messaging a bit like Twitter, and it's used by about 80 per cent of people in China to communicate with colleagues and families. For a business like ours it's a great way of reaching out to workers for feedback."
Register for free to continue reading
Registration is a free and easy way to support our truly independent journalism
By registering, you will also enjoy limited access to Premium articles, exclusive newsletters, commenting, and virtual events with our leading journalists
Already have an account? sign in
Join our new commenting forum
Join thought-provoking conversations, follow other Independent readers and see their replies