Anger at DECC as fuel poverty hits millions
As more vulnerable people are forced to choose whether to eat or heat, protesters take to the streets.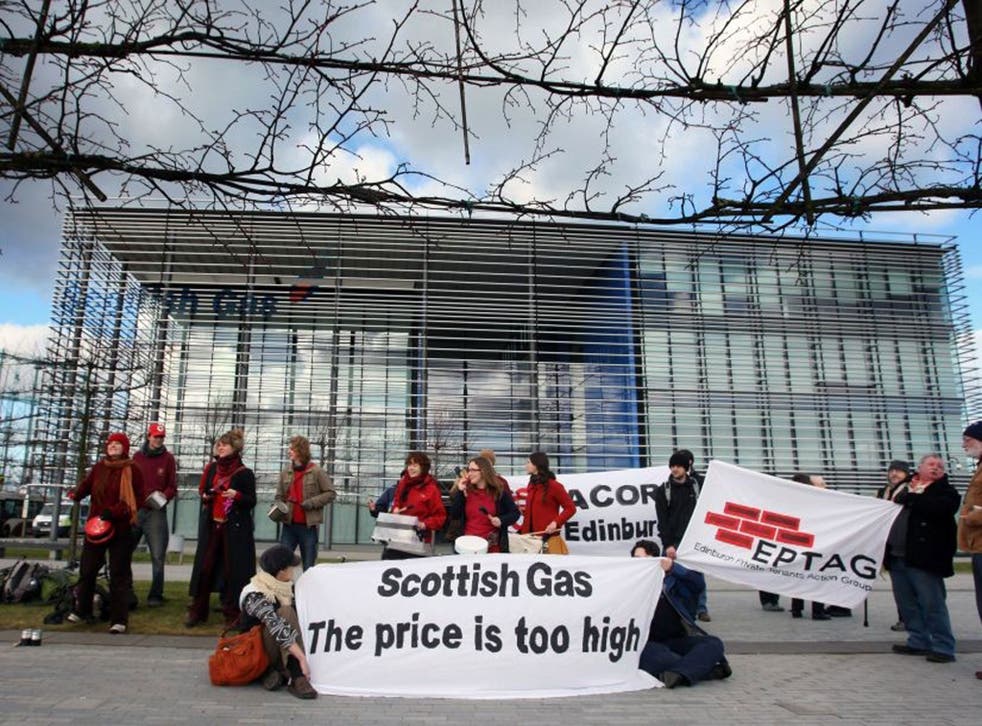 Campaigners will today take their anger to the offices of Department of Energy & Climate Change to express their dissatisfaction with rising energy bills and increased fuel poverty.
The demonstrations are part of a UK-wide week of action on fuel poverty entitled Stop the Great Fuel Robbery, called by direct action-group Fuel Poverty Action. Yesterday, demonstrators targeted the Edinburgh headquarters of Scottish Gas. Other protests will take place in Nottingham, Lewisham, Haringey, Hackney and Southwark.
Campaigners will present Energy & Climate Change Secretary Ed Davey with giant mock fuel bills, bearing the slogan "Can't Pay, Won't Pay."
The protesters are angered at evidence of collusion between DECC and the Big Six energy firms after recent Freedom of Information requests revealed that Big Six staff were being loaned to work on energy policy within the government department.
Elizabeth Ziga of Fuel Poverty Action, who last year took part in a day-long occupation of British Gas offices, said: "The Department of Energy & Climate Change is at the heart of the Big Six energy companies' toxic sphere of influence on government energy policy.
"Far from clamping down on their profiteering, DECC are in bed with the Big Six. The result is mammoth fuel bills, millions forced to choose between heating and eating and a 'dash for gas' that will send fuel bills through the roof and contribute to rising food prices through climate change."
The protesters will hold a Fuel Bill Assembly to discuss solutions and action on the growing problem of millions being unable to afford to pay their home heating bill.
Ellen Clifford of Disabled People Against Cuts, one of the groups taking part in today's Whitehall protest, said: "I can't afford to heat where I live any more. I have a severe mental health condition that limits my employment options, and just working the hours I do is a struggle. Last year, I couldn't afford my rocketing fuel bills and I got put on a payment meter, which is more expensive. If I wasn't well because of my mental health, I couldn't leave the house to top it up so I didn't use it.
"Now I live with my partner who is also disabled and we have to choose eating over heating. I know lots of other disabled people in the same situation, and some have physical impairments that get aggravated by the cold."
The protest against DECC comes after the government's flagship Green Deal scheme came in for criticism for its high interest rates and potential for banks and the Big Six energy companies to profit from it.
DECC has also been criticised for its role in pushing ahead a so-called dash for gas despite the fact that some experts predict that increasing the UK's dependence on gas would increase energy bills and exacerbate climate change.
Meanwhile, campaigners warn that the government has cut fuel poverty budgets by 26 per cent and slashed energy efficiency measures for the fuel poor by 44 per cent.
Using carbon taxes to help fuel poverty could solve the problem said Ed Matthew, director of the Energy Bill Revolution.
"The Treasury will rake in almost £2bn in carbon tax this year and £60bn over the next 15 years," he pointed out. "This is enough revenue to rebuild Britain and super- insulate all the homes of the fuel poor."
Register for free to continue reading
Registration is a free and easy way to support our truly independent journalism
By registering, you will also enjoy limited access to Premium articles, exclusive newsletters, commenting, and virtual events with our leading journalists
Already have an account? sign in
Register for free to continue reading
Registration is a free and easy way to support our truly independent journalism
By registering, you will also enjoy limited access to Premium articles, exclusive newsletters, commenting, and virtual events with our leading journalists
Already have an account? sign in
Join our new commenting forum
Join thought-provoking conversations, follow other Independent readers and see their replies