Black Friday: 90% of deals are cheaper at other times
Next weekend is gearing up to be the biggest spending marathon of the year yet again. Here's how to make sure you and your wallet come out alive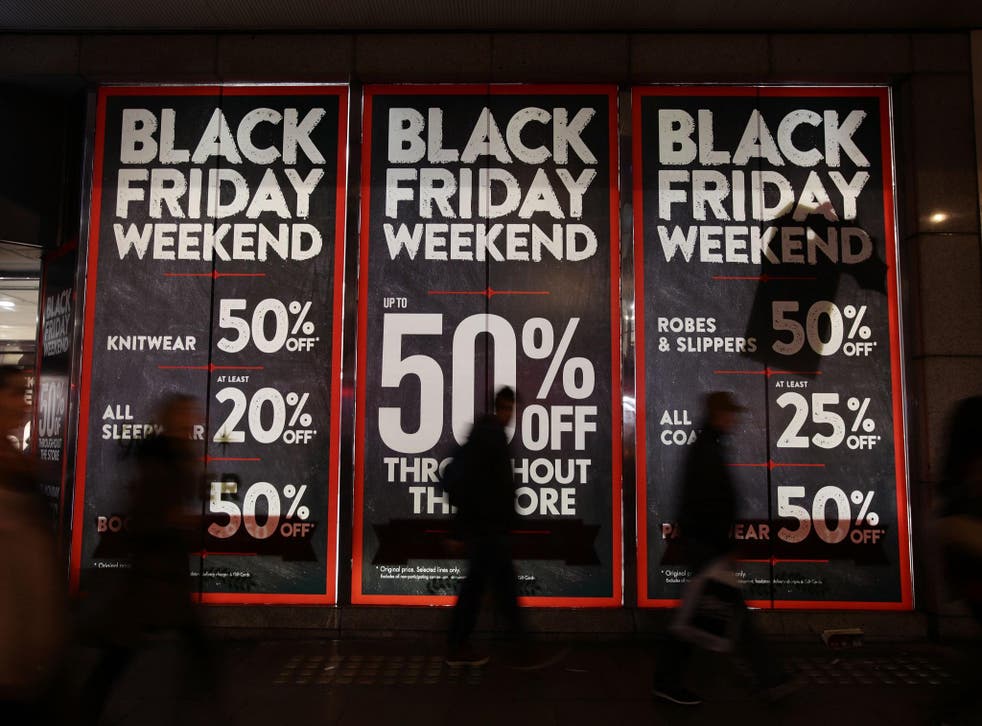 You're nobody's fool. You won't get sucked into the Black Friday hype.
You've got plans to purchase one or two particular items and then you'll get the hell out of those online or high street stores as fast as humanly possible.
Except that even someone like you could still be duped by the consumer phenomenon that threatens to overshadow long-standing discount events like the Boxing Day sales. (Remember those? The ones that actually started on Boxing Day?)
The numbers involved are astonishing.
We'll spend an average of £165 per household on Black Friday alone this year – around £4.5bn nationwide.
With spending plans up by 53 per cent compared with this time only last year, we're especially looking for clothes, toys, games, small electrical items like food processors and coffee machines, and smartphones and tablets, according to research from GoCompare.
But if you add in Cyber Monday – the traditionally 'online only' sales day that has lost its distinction now that only a fifth of sales hunters will go to physical shops next weekend – our spending could reach almost £430 each over the four day sales weekend, according to a study by digital commerce platform Koomo. This year, with so many sales starting a week early, more than half of that will be spent before Black Friday even dawns.
Things have become so intense that half of those who plan to shop on Black Friday and Cyber Monday will take some time off work to do it. A quarter of shoppers are opting for a long weekend, and even those of us who are at our desks will still steal 20 minutes of company time deal searching.
Planned purchases
With a fifth of British consumers delaying a major purchase until next week's sales events, half of us will shop Black Friday with a list, but a third admit they will 'simply buy whatever deal seems the best, regardless of what the item is', according to Koomo's data.
Men are most committed to Black Friday, parting with £532 compared with only £312 for the average woman. By age group, millennials – splashing out an average of £650 each – will spend the most.
"Anyone who has seen news footage featuring someone with a trolley full of TVs and no real idea of what they're going to do with them has seen what Black Friday can do to even the most sensible of shoppers," says Sarah Coles, personal finance analyst for Hargreaves Lansdown, who notes that almost 60 per cent of us will overspend on Christmas this year.
"Most of us will overspend on Christmas, and for many people it starts with poor decision-making on Black Friday. It offers the perfect conditions to ensure we spend more than we want or need – creating a sense of urgency that leads us into poor decisions that cost a fortune.
"More than one in four people will put some of their overspending on a credit card. And while this may shield us from the true horror of our overspending for a month, when it eventually bites, we're unlikely to be glad we spent more than we intended on things we didn't really want.
"If your Christmas overspending gives you a £1,000 credit card bill (at 18.5 per cent) and you repaid at £50 a month, it would take two years to repay, and cost £185.
"If you fall into the credit card trap on Black Friday, there's a good chance you'll be ready to upgrade your technology purchases long before you've paid for them."
Psychology of the spend
The more figures that emerge, the more ridiculous Black Friday spending becomes. In fact, we're sucked in by five key features of this consumer event.
First, the hype surrounding Black Friday makes us predisposed to make a purchase. According to McKinsey, even before we have any idea of what's on offer, 30% of us plan to buy something on the day. It means we're more likely to spend money, even when there's nothing really suitable on offer.
Then there's the pressure inflicted by the artificial sense of urgency, limited deals that psychologically encourage us to place a higher value on a seemingly scarce item, and the fact that many items are 'luxury goods'.
By having an expensive item on offer, and no cheaper discounted alternative, shoppers will persuade themselves that for a little extra cash they can trade up. This leaves them spending more than they intended, so they don't actually save any money at all, according to Coles.
Above all, the time limit involved prevents us from shopping around to gauge whether the price on offer really constitutes a good deal or not.
In fact, what retailers really don't want you to realise is that a staggering nine out of 10 of the most popular types of products are cheaper at other times of year.
A year-long investigation into pricing data and consumer demand across more than 21,000 products by shopping comparison site Idealo suggests that if shoppers can wait until Christmas Eve, more than four in 10 products will be cheaper than they are during the late November rush.
Of the top 10 product categories, Idealo found that only laptops were cheapest on Black Friday.
1. Drones – £149 cheaper on 26 September
2. Headphones – £37 cheaper on 17 August
3. Lego – £31 cheaper on 17 July
4. Laptops – lowest price on Black Friday
5. Smartphones – £72 cheaper on 5 August
6. DSLR cameras – £160 cheaper on 5 September
7. Games consoles – £65 cheaper on 25 October
8. Vacuum cleaners – £29 cheaper on 23 April
9. Tablets – £70 cheaper on 24 May
10. Washing machines – £60 cheaper on 27 October
Source: idealo.co.uk
And in the four-week run-up to Black Friday, 58 per cent of categories including Lego and games consoles are at their most expensive.
The average adult with children forks out £2,795 for Christmas – and a typical Briton puts in 75 hours of overtime to afford it all – according to myvouchercodes. So being in the know on Black Friday is "make or break" in more ways than one.
Join our new commenting forum
Join thought-provoking conversations, follow other Independent readers and see their replies