Have yourself a cashback Christmas
Credit cards and discount websites can keep costs down if you look carefully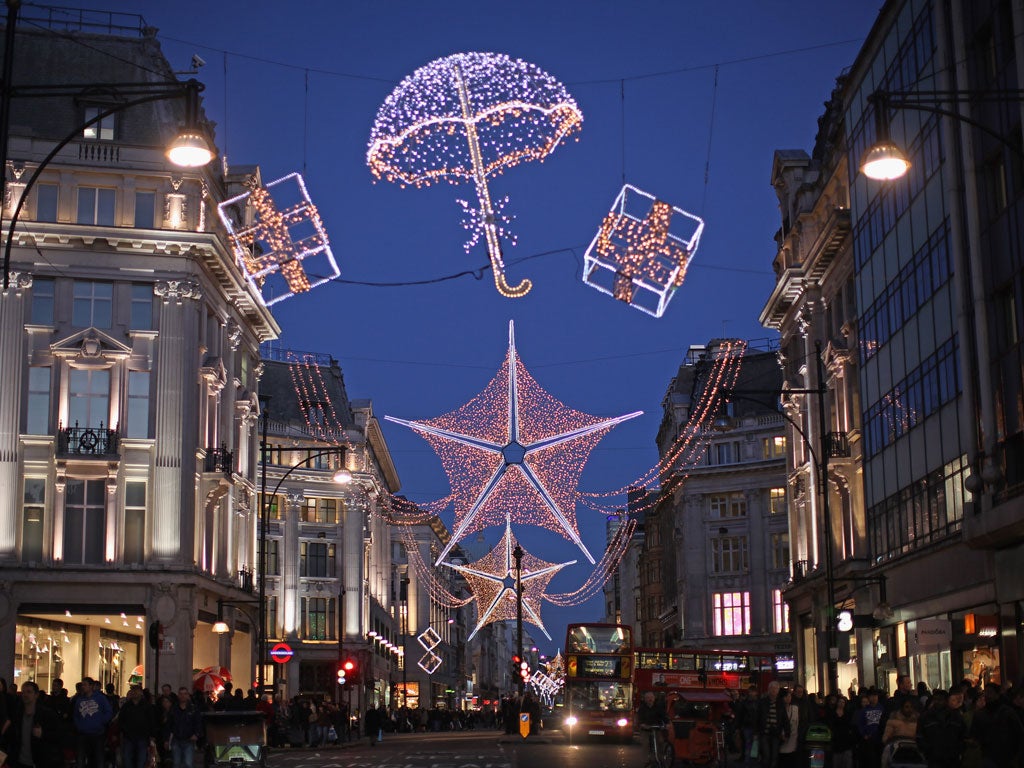 If you're making your way through your Christmas list, make sure those purchases are working hard for you too.
Whether you're using a reward credit card to earn as you shop, making money through a cashback site or hunting down the best bargains using voucher codes, there are lots of ways to boost your spending.
If you're spending your money on presents for other people you can secure a reward for yourself too by using a cashback card and earning a percentage back as cash.
But not all things in the cashback world are rosy; some offers disappear in the blink of an eye. Barclaycard has been accused of being Scrooge this Christmas after pulling its new cashback offer. The Platinum credit card, which was launched on 15 November, offered a generous 11 per cent cashback on Christmas spending until the end of December (with a maximum payout of £100), but it was withdrawn after just three days. But there are still good cards to choose from.
Capital One World MasterCard pays the top rate of 5 per cent cashback on all spending for the first 99 days, with a cap of £100. (You would need to spend £2,000 to reach this.) After the three months are up you earn a tiered amount of cashback: 0.5 per cent for £0-£5,999 over the year, 1 per cent for £6,000-£9,999 and 1.5 per cent for an annual spend over £10,000. To give you an idea of how much you might reasonably earn, if you spent £5,000 on the card (£1,500 in the first three months) you would earn £92.50.
The American Express Platinum card is similar, but there is an annual fee of £25 and it pays only 2.5 per cent for the first three months, although it is a more generous ongoing card with 1.25 per cent cashback thereafter, again up to a maximum £100. Also if you spend over £10,000 on the Amex card in a year you earn an uncapped 2.5 per cent bonus. Another card worth looking into is Santander's 123 Cashback MasterCard which offers 1 per cent cashback for supermarket shopping, 2 per cent in department stores and 3 per cent in petrol stations (capped at £300 per month). Again, however, you are charged an annual fee of £24.
But, be warned that reward cards aren't for everyone. With APRs of about 20 per cent, the interest will easily wipe out any cashback earned if you don't pay off the card in full. Set up a direct debit to pay in full each month. If you are at all concerned that you won't be able to do this, then steer clear and either don't use a credit card at all, or apply for one with a 0 per cent promotional deal on spending so that you can put off being charged any interest. "If you can pay on your credit card, clear the balance in full every month and get cashback, it's a good deal – and money for nothing. But you're unlikely to earn a fortune from it," said Sarah Pennells from financial advice site Savvywoman.com.
Cashback websites are great for any online spending and work in a similar way to the cards offering a percentage of the price you pay back as cash. Quidco is one of the biggest cashback and voucher sites with about 1,200 retailers on the site, although it does charge a £5 annual fee.
"With cashback offers and voucher codes available on nearly every retailer, there is really no excuse for paying full price for your online Christmas shopping. The case is the same on the high street where consumers can use printable vouchers," says Hannah Green from Quidco.
Cashback on financial products such as breakdown cover can be impressive, but make a quick calculation first. You could get a better deal elsewhere that could save you more money in the long run. There are also voucher sites (such as Myvouchercodes.co.uk and Vouchercodes.co.uk) which list discount codes for various retailers, for example, for 10 per cent off your order or free delivery. You may prefer to use Hotukdeals.com which works slightly differently as all the deals are voted for by members. Most of these sites also have mobile phone apps so that you can save money on the go.
"We know that about a third of smartphone owners will be using their phones to shop online this Christmas. There's a great selection of apps that can help with everything from organising your Christmas gift list to comparing prices. To make full use of apps on your smartphones 3's all-you-can-eat data plan offers all the internet you'll ever need from £18 a month," says Richard Leonard from mobile phone company 3.
There are some basic rules for using these sites and number one is never to pay to sign up. All the best sites are free to register with (although some sites take a fee from your earnings). Secondly, once you've reached the minimum payout level, cash it in immediately in case your site goes bust. And check the terms and conditions.
You can snap up some heavily discounted items on group buying sites such as Groupon, Crowdity and Wahanda, although Groupon has recently been in trouble for allegedly exaggerating potential savings. "Groupon has had some adverts pulled by the Advertising Standards Authority so savings may not be as good as they look. Also, go direct to the company to see if they'll match the deal," Ms Pennells said.
Join our commenting forum
Join thought-provoking conversations, follow other Independent readers and see their replies