What a global trade war could mean for you
If you thought a spat between the Canadian and American premiers couldn't possiblly affect your money, guess again.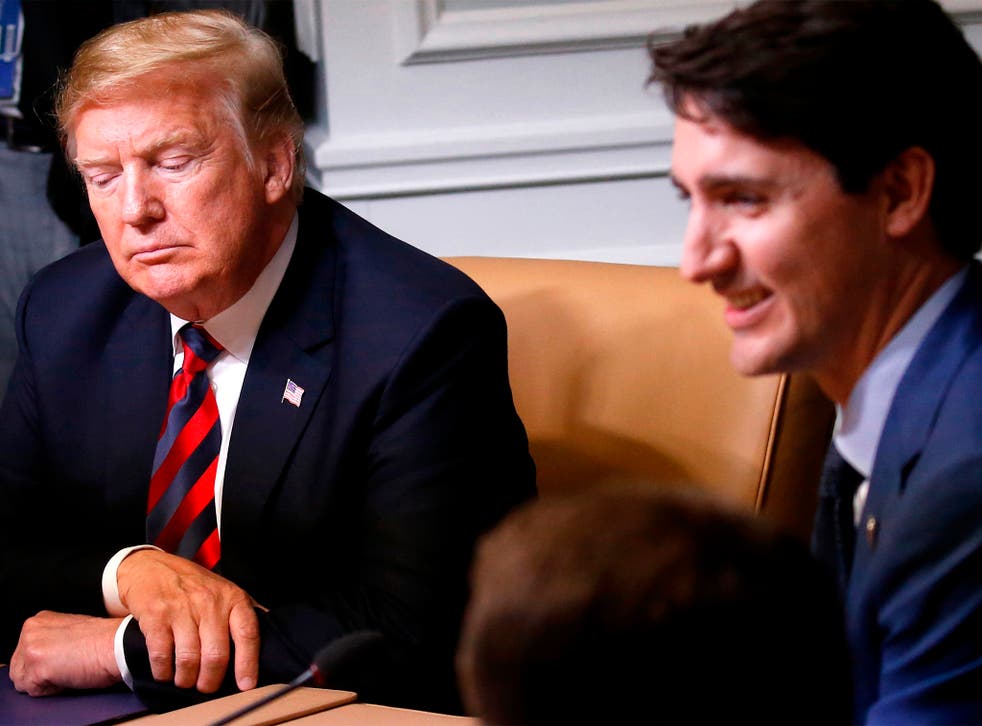 The G7 came together this month but in location rather than spirit. US president Donald Trump complained about levels of trade before leaving early and then tweeting an attack on the Canadian prime minister Justin Trudeau.
For many, the headlines were quickly forgotten; it was just another week in the new normal for the US's international relations. But the fallout could affect us all.
At the start of June, Trump imposed tariffs on EU, Canadian and Mexican steel and aluminium imports, of 25 per cent and 10 per cent, overturning the exemptions he had initially granted in March.
The EU has responded by promising to impose its own additional tariffs against €2.8bn of US products, including whiskey and even playing cards. Yet that ignored Trump's warning that he intends to further retaliate against any countermeasures, widely believed to mean he might impose tariffs on automobiles.
Tit for tat, with the stakes for every country rising. On top of that, trade tensions with Canada look to be escalating as an angry war of words erupts between them and the US.
So far, so geopolitical meta-economic machinations. But these actions and reactions can have a direct impact on the personal finances of the people in the affected countries and the wider world.
While tariffs on various ingredients sound like distant, international affairs, it's likely to be countries' individual citizens who end up shouldering the cost.
Nigel Driffield, professor of international business at the Warwick Business School, says: "One has to remember who pays tariffs: it's the final consumer, who of course may switch away from one product to another. We stop buying Californian wine and buy French or Chilean, say.
"However, importing agents often make these decisions, so they may judge that if Californian wine goes up by 20 per cent, then people won't buy it, so they don't import any. As such we will see different goods on supermarket shelves.
"Most likely products to see price rises in the UK are things like cereals – which feed into lots of food products, so I would expect food prices to go up a bit."
David Slater, director of trade at KPMG, agrees that consumers are going to suffer if matters continue to escalate, warning there are "never any winners in a trade war, it's a race to the bottom which invariably has repercussions on jobs and the global economy as competition decreases, investment and innovation are stifled and costs for consumers increase."
"In today's global economy many everyday commodities are produced using complex international supply chains which are designed to ensure competitiveness. Once these are disrupted, for example during a trade war, the additional costs of production and of doing business have to be passed onto customers."
One additional concern is that a trade war could force up the price of borrowing for consumers. Obviously loans aren't subject to international tariffs, but a possible trade war could have a far wider fallout.
Slater says: "The increase in the cost of goods in our shopping baskets will likely drive inflation beyond the government's target for the economy. In these circumstances the Bank of England has few options but to raise interest rates and that has a knock on effect for people with loans and mortgages."
And, of course, the current trading upheaval comes at a time when the UK is undergoing some upheaval of its own.
"The risk for the UK consumer is that this comes at a particularly bad time," warns Ian Kenny, fund manager at Smith & Williamson. "The UK's trading arrangements are already very uncertain as there is no real clarity on what our trading relationships will look like when we leave the largest trading bloc in the world, real incomes are barely growing positively, the savings ratio is at 10-year lows, and trade wars would be likely to boost inflation a little.
"Exactly how much a trade war boosted UK consumer prices would depend on the range of tariffs, the pass-through effects and sterling's reaction.
"At the moment, the list of industries affected by tariffs is relatively short, but after a fractious G7 summit a widening of protectionism cannot be ruled out, if only because President Trump will be keen to show that he believes he holds all the cards even as the EU, rather ironically, intends to retaliate with a 10 per cent tariff on playing cards!"
This is a developing situation and so there are steps households can take to protect themselves from a potential trade war and its fallout. You may not have the opportunity to talk sense to national leaders but there are steps you can take to limit the potential risk to your household finances.
Slater says: "While there is no need to panic, and I remain hopeful that good sense will prevail and a trade war will be avoided, in terms of preparation households should prioritise paying down loans and mortgages as far as possible, not take on any new debt until the situation is clearer and review household budgets to be clear where savings can be made should prices increase."
Register for free to continue reading
Registration is a free and easy way to support our truly independent journalism
By registering, you will also enjoy limited access to Premium articles, exclusive newsletters, commenting, and virtual events with our leading journalists
Already have an account? sign in
Register for free to continue reading
Registration is a free and easy way to support our truly independent journalism
By registering, you will also enjoy limited access to Premium articles, exclusive newsletters, commenting, and virtual events with our leading journalists
Already have an account? sign in
Join our new commenting forum
Join thought-provoking conversations, follow other Independent readers and see their replies