Treat your wallet to a cheaper Christmas
Chiara Cavaglieri offers some handy tips to help you bag a bargain while you're hunting for presents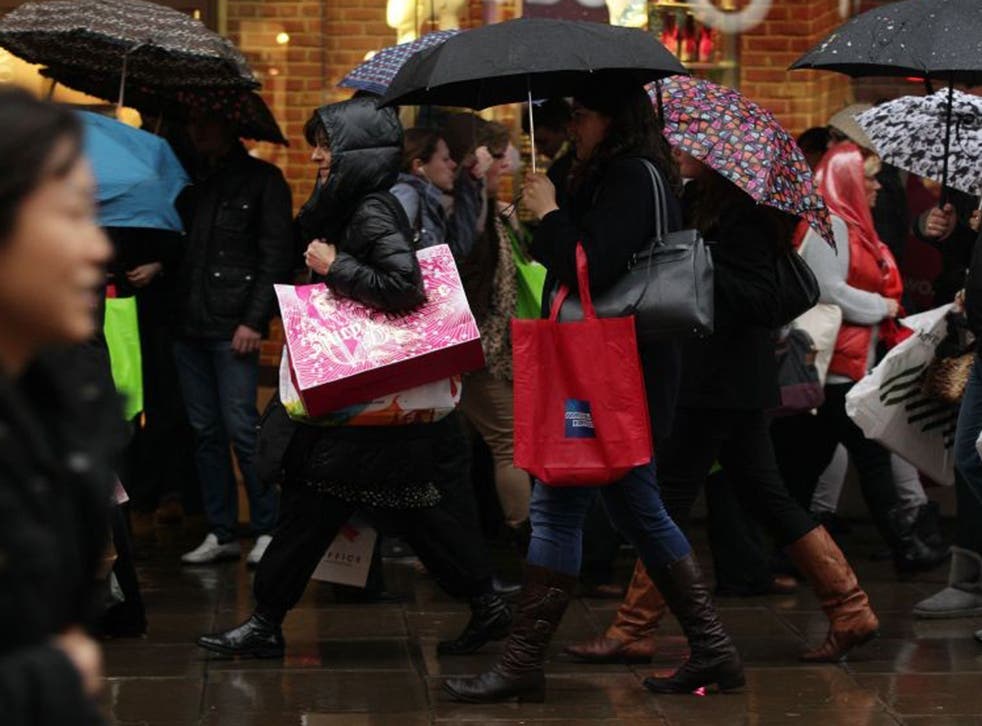 With only a few weeks to go until the big day, the Christmas shopping starts in earnest now and whether you're bagging a bargain online, or braving the high street, there are lots of clever ways to save money, earn rewards and stay safe.
Earning money while you shop is a good start to clever Christmas shopping so look into using a cashback credit card.
This only works if you can easily afford to set up a direct debit paying it off in full every month, otherwise you'll be paying interest and cancelling out any cashback.
For the most credit-worthy shoppers, cards such as Capital One's Aspire World and the Amex Platinum Everyday offer 5 per cent cashback (up to a maximum of £100) for the first three months and up to 1.25 per cent thereafter. The Aqua Reward card is less generous, paying 3 per cent cashback up to £100 maximum a year, but with no minimum income you are more likely to be accepted. Again, don't bother if you cannot repay in full as the APR is a colossal 34.9 per cent.
"Every reward or cashback card offers cardholders something different. As such, anyone looking to use one of these cards needs to work out what sort of rewards suit their personal circumstances and shop around for the best deal," says Kevin Mountford, the head of banking at MoneySupermarket.com.
"Many schemes are tied in to certain retailers and purchase types, and if you don't use them regularly in the right place your card may not provide such a good deal after all."
Loyalty cards are handy too, allowing you to collect points when you shop in particular stores, but use them carefully – the rewards aren't worth paying over the odds in the first place. Buy things that you actually want and at the best price you can find, leaving any points as a welcome bonus.
"That said, it does pay to look out for special offers, for example, every Christmas Boots holds various events for its Advantage Card customers with extra points up for grabs and up until 5 December you can exchange £5 of Tesco Clubcard points for £10 to spend in particular departments, including toys, decorations and Tesco Finest wine.
There are countless websites and tools helping you to save money when you're shopping online too.
In fact, there are so many that you can get bogged down trying to save a few pence, but the big ones are comparison sites, cashback sites and voucher codes.
Instead of checking all of the individual comparison sites (Kelkoo, Pricerunner, Twenga) save time with MoneySavingExpert's tool (megashopbot.com) which searches a dozen of them at once.
This still isn't the whole of the market so you aren't guaranteed the lowest price, but it's worth a punt and you can still use dedicated sites for specific items such as perfume (Cheapperfumeexpert.com), food (MySupermarket.com) and DVDs (find-dvd.co.uk) on top. If you don't want to put the legwork in, InvisibleHand (getinvisiblehand.com) is a free browser plug-in which automatically compares prices, alerting you to the best offers as you surf the net.
Before you head to the online checkout try a few voucher code sites such as MyVoucherCodes.co.uk, VoucherCodesPro.co.uk and HotUKDeals.com to see if you can cut costs even further. Then see if you can get some of the money you've spent back via a specialist cashback site such as Quidco.com, although remember that most sites have a minimum payout level so you may have to wait a while until you can cash it in.
"Every major brand now uses voucher codes because they know that consumers are getting more and more savvy when it comes to spending online," says George Charles from VoucherCodesPro.
Always read the terms of any codes or cashback deals carefully. There may be more than one code to choose from, for example, and you can usually only use one so do your sums to work out which is the better deal. There is often a minimum spend for discount codes too so don't be tempted to spend more than you need just to shave a few quid off.
Online outlet shops offer clearance deals from high street brands; some shops have their own discount eBay shops, including Argos and Tesco (remember you cannot return items to the high street shops), while others have separate websites including Marks & Spencer (outlet.marksandspencer.com) and Net-A-Porter (theoutnet.com). Online flash sales are yet another weapon in the online shopper's armoury, offering members access to sales lasting for a limited period of time. Popular sites include Achica, Secret Sales, Brand Alley and Cocosa, but new sites are popping up all the time such Casabu and HushHush (from the team behind MyVoucherCodes).
Membership sites aren't necessarily as exclusive as they seem and you shouldn't assume they are always cheapest, but they usually beat the high street and as they often sell old stock that needs shifting, you can secure hefty discounts. Similarly, if you use a group buying website such as Groupon or Wahanda, do check the small print – the deals aren't always as good as they seem and you can go directly to the companies concerned to see if they'll match them.
If you don't mind being elbowed out of the way by other bargain hunters, you can hit the high streets and make the most of modern technology instead.
With a quarter of the UK now owning a smartphone, apps are big business, enabling you to continue cutting costs when you're out and about. Use RedLaser to instantly compare prices on the internet and the high street by scanning barcodes, or check free cashback app Quidco to see if you can earn money buying online rather than in-store.
Some stores also have price-match policies so you can use your mobile to show them that you've found a cheaper price elsewhere and see if they will match it for you.
"It seems that more and more of us in the UK are waking up to the financial benefits of having access to the internet wherever we are," says Sylvia Chind at Three Mobile.
Your shopping rights
Under the Sale of Goods act 1979, goods must be of satisfactory quality, as described, fit for purpose and last for a reasonable length of time.
Take faulty items back to the retailer (not the manufacturer) as soon as possible – you may only get an exchange, repair or part refund after four weeks. After six months, the onus is on you to prove that the item was faulty when you bought it.
Online you have more rights under the Distance Selling Rules which state that you can send goods back within one week for a full refund, whether there is a fault or not (although you may need to pay for the delivery).
For big ticket items, paying with a credit card offers extra protection. As long as the item costs between £100 and £30,000, the card company is jointly liable for the whole amount so you can turn to them if a firm goes bust and your goods haven't arrived or they are faulty
Join our new commenting forum
Join thought-provoking conversations, follow other Independent readers and see their replies