Brooks Newmark resigns: Minister caught in sex sting to quit as MP over new scandal
The Sun on Sunday claims it has 'uncovered a new shame'
Steve Anderson
Sunday 12 October 2014 17:10 Comments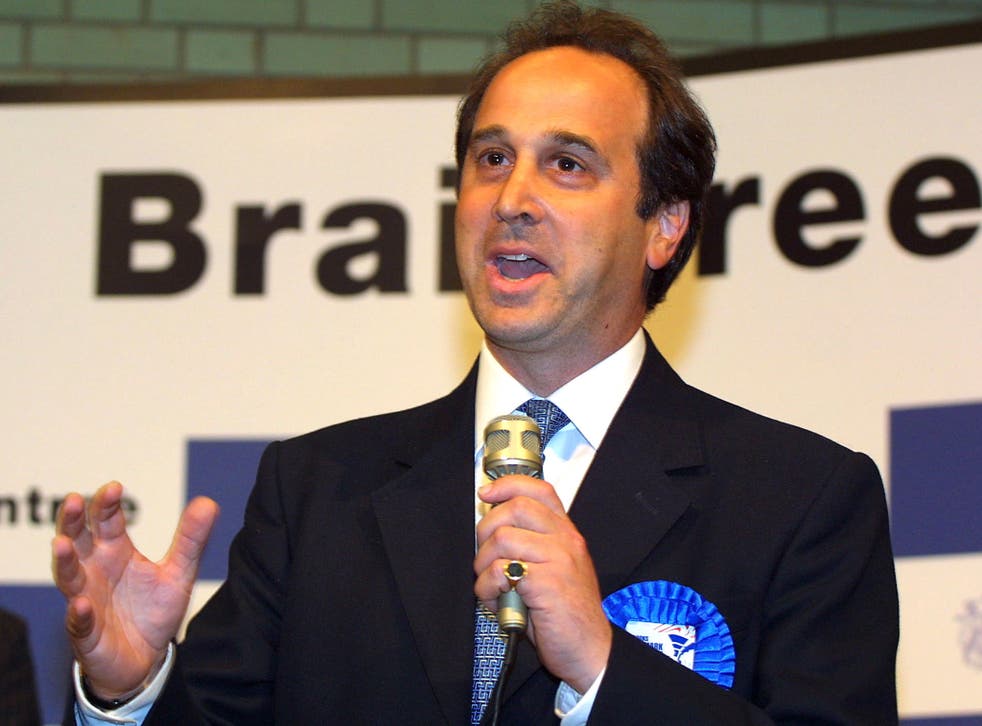 The Conservative MP Brooks Newmark, who quit as a minister after he was caught sending explicit photos to an undercover journalist on the internet, has announced he will stand down from Parliament as another Sunday newspaper threatens to expose a new sex scandal.
Brooks Newmark, who served as minister for civil society and founded the Women2Win campaign group, had exchanged suggestive pictures over the internet with a Sunday Mirror reporter posing as a young Tory PR woman.
Now, the Sun on Sunday claims it has "uncovered a new shame", which it will publish in tomorrow's paper.
The front page, which has now been circulated on Twitter, claims that Mr Newmark sent "a series of sex pictures to a second woman" which "led him to quit" as an MP. Manchester United's Antonio Valencia is also featured, with the paper claiming that he allegedly sending nude pictures to two women.
In a letter to the Prime Minister, the American-born MP for Braintree said he would quit at the general election next May.
He wrote: "The continued media intrusion into past episodes in my personal life is placing an intolerable burden on my family. I have therefore decided to stand down at the general election. I will continue to serve my constituents to the best of my abilities until that time.
"I again appeal to the media to respect my family's privacy and to give me a chance to try to heal the hurt I have caused them.
"I have no one to blame but myself and take full responsibility for my own actions.
"I will remain a loyal supporter of the Government and would like to thank the many friends and colleagues for the support and sympathy they have shown me and my family."
Mr Newmark was caught in a Sunday Mirror sting involving a "honey trap" operation that used a fictitious party activist called "Sophie Wittam" to flirt with MPs via social media.
The 56-year-old married father of five tendered his resignation after learning that the newspaper was about to publish details of their exchanges.
His disgrace came just hours after Mark Reckless announced he was defecting from the Tories to Ukip, landing a double blow on David Cameron on the eve of the Conservative party conference.
But the methods used in the investigation have since been criticised and former judge Sir Alan Moses, the chairman of the Independent Press Standards Organisation (Ipso), said the matter was of "urgent public concern".
The Sunday Mirror has insisted the story was in the public interest; however, it has apologised to a woman whose photo was used as part of the operation without her knowledge.
Swedish model Malin Sahlen said she was "shocked" that her picture had been used to attract MPs.
Register for free to continue reading
Registration is a free and easy way to support our truly independent journalism
By registering, you will also enjoy limited access to Premium articles, exclusive newsletters, commenting, and virtual events with our leading journalists
Already have an account? sign in
Join our new commenting forum
Join thought-provoking conversations, follow other Independent readers and see their replies