From PIIGS to protests, an A-Z of the eurozone
From suffering PIIGS to violent protests, from an unbreakable currency to ideas for a swift exit, Russell Lynch charts the past two years of strife on the Continent
Russell Lynch
Saturday 25 August 2012 01:45 Comments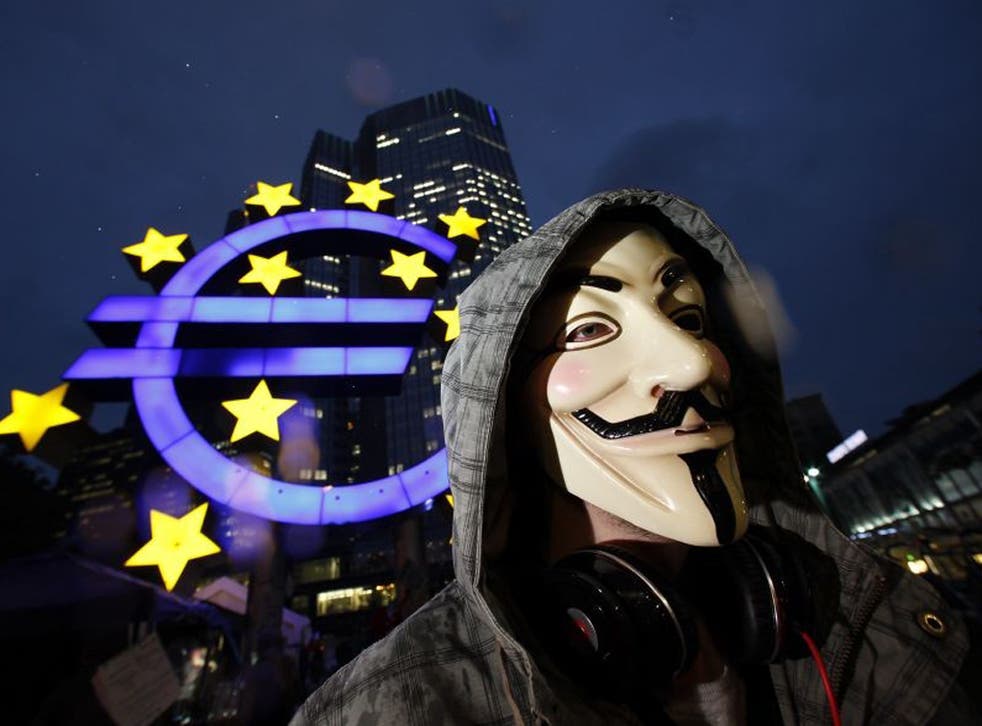 Back in heady pre-credit crunch days, Europe was a place you went on holiday, rather than a byword for financial meltdown and recession. Now it's virtually impossible to see the word eurozone in a sentence without the phrase debt crisis following close behind. After more than two years of turmoil on the Continent, and still no signs of a solution in sight, readers may be struggling to keep up. Here's a handy A-Z guide to all you need to know.
A is for Angela Merkel, German Chancellor and undisputed queen of the eurozone, who's currently trying to keep the whole show on the road, while placating resentful German voters. With Germany's banks already propping up the region with more than €700bn (£553bn) she's opposed to anything increasing their exposure. Not popular with PIIGs (see B, P and N)
B is for Bailouts. Greece (twice), Ireland, Portugal and Spain have been forced to put the begging bowl out in the past two years, racking up a total of €503bn in bailouts between them. Even tiny Cyprus has called for support. The real fear is a full-blown rescue for Spain and Italy, which are "too big to bail, too big to fail".
C is for Capital Economics, the consultancy which won the £250,000 prize put up by Next chief executive Lord Wolfson for the best suggestions on how a country can pull out of the eurozone. Roger Bootle suggests the sudden adoption of a new currency overnight, a debt default, and closing banks to prevent capital flight. An exiting member would also need inflation targeting and tough fiscal rules, Bootle says.
D is for Debt. A fundamental lack of faith in the ability of countries to pay their way essentially lies behind this crisis, along with the problems of yoking uncompetitive economies with the übermensch Germans in a single currency. The eurozone's Southern strugglers have a combined €3.4bn in debt but can't devalue because they're in the euro.
E is for ESM. The European Stability Mechanism is the second, permanent bailout pot for the eurozone, expected to have €700bn in firepower when established but yet to come into legal existence. There are lingering doubts over the size of the firewall because a rescue for Spain or Italy would seriously deplete resources.
F is for Fiscal Compact. The compact, agreed last December, is supposed to keep national deficits to within 3 per cent of GDP and debt levels at no more than 60 per cent of GDP. The European Commission can fine those who breach the rules but at face value it looks little more than the old Stability and Growth Pact, whose deficit targets most nations ignored.
G is for Greece. Greece blagged its way into the euro with the help of Goldman Sachs fiddling its debt figures, and used Germany's meal ticket to fund a spending splurge without any discernible tax collection system.
H is for Hollande. Socialist Francois Hollande saw off Nicolas Sarkozy to claim the French presidency and reshift the Franco-German axis at the heart of Europe. He claims to be on board with Chancellor Merkel, but has been more vocal in calling for measures to spur growth.
I is for Interest rates. The European Central Bank cut interest rates to a record low 0.75 per cent in July as policymakers set aside worries over inflation to throw the kitchen sink at the flagging eurozone economy. Deposit rates – what the ECB pays banks on their reserves – are currently zero and could turn negative.
J is for Jobs. Eurozone unemployment hit a record high of 11.2 per cent in June, underlining the human cost of the crisis.
K is for Krugman. Paul Krugman, the Keynesian Nobel Prize-winning economist, has been tearing his hair out at Germany's obsession with austerity and the overall response to the crisis. In May he said efforts so far resembled "a water pistol against a charging rhinoceros".
L is for Lender of last resort. What the eurozone hasn't got and what it desperately needs to reassure markets. Granting the ESM a banking licence to draw on the firepower of the ECB's balance sheet and use it to buy sovereign debt would end the crisis overnight, but it has been ruled out on legal grounds.
M is for Mario Draghi, the ECB bank president. Much rests on what "Super" Mario will do this autumn after dropping hints earlier in the month that the central bank could intervene to buy bonds and lower the borrowing costs of Spain and Italy. Markets are expecting shock and awe but the Germans may nobble him.
N is for Nazi. Relations between Greece and Germany reached a new low in February when Ms Merkel was depicted as a Nazi by right-wing newspaper Democracy, complete with references to Auschwitz, as the Germans demanded more cuts from Athens. The Chancellor rubbed it in by extravagantly celebrating her nation's 4-2 Euro 2012 win over Greece.
O is for Outlook. Not encouraging. Even if the UK isn't in the eurozone, we still export 40 per cent of our goods there. The Bank of England has slashed its forecasts for growth to virtually zero this year.
P is for PIIGS. Portugal, Ireland, Italy, Greece and Spain are the sick men of Europe going through painful austerity although Ireland, helped by its competitive corporation tax rate, is faring better than most. Greece's economy has been shrinking for five years.
Q is for Quantitative Easing. The ECB has failed to follow the Federal Reserve and Bank of England in reaching for the printing presses to buy up government debt because it breaches the ECB's mandate.
R is for Recession. The debt crisis is in danger of pushing the eurozone back into recession after a 0.2 per cent slide between April and June. The combined economies of the single currency block have failed to show any growth since September last year.
S is for Summits. Europe's leaders have held 20 "crunch" summits since the eurozone crisis kicked off and are still inching towards a convincing solution. The next crack is due in October.
T is for Troika. The trio of the European Commission, European Central Bank and the International Monetary Fund, which organised the bailouts for Greece, Ireland and Portugal in return for stiff cuts and austerity. The troika will decide in October whether to grant Greece its next €31.5bn lifeline.
U is for Unbreakable. Countless European leaders and policymakers have proclaimed the euro "unbreakable", "irreversible" and "permanent" over the past two years. But the bookies think otherwise. Paddy Power will give you odds of just 5/4, little better than even money, on the single currency being in existence in five years' time.
V is for Violence. In Greece, three people were killed in May 2010 when protesters set fire to a bank in demonstrations during a nationwide strike over plans for spending cuts. George Soros, the man who sank the pound on Black Wednesday in 1992, has warned of even worse social turmoil ahead.
W is for Weidmann. Jens Weidmann, the head of the Bundesbank and the central banker who threatens to thwart Draghi's plans to buy sovereign bonds. Isolated on the ECB's governing committee, but as the holder of the purse strings Weidmann is definitely first among equals.
X is for Xtra (OK, we're cheating a bit). Greece is pushing for two extra years in which to cut its deficit to restore growth as it struggles to find an extra €11.5bn in spending cuts. Spain was also granted an extra year to cut its deficit in June.
Y is for Youth unemployment. In Britain one in five of everybody under the age of 25 is unemployed but the crisis is far worse in Europe. Youth unemployment in Spain has hit 53 per cent. Similarly, in Greece, more than half of all young people are out of work.
Z is for ZEW, the closely watched German confidence index, which augurs badly for euroland's biggest economy in the months ahead. It dropped for the fourth straight month in August and points to more pain for the nation's key export sector.
Register for free to continue reading
Registration is a free and easy way to support our truly independent journalism
By registering, you will also enjoy limited access to Premium articles, exclusive newsletters, commenting, and virtual events with our leading journalists
Already have an account? sign in
Join our new commenting forum
Join thought-provoking conversations, follow other Independent readers and see their replies