How Block Workout's Terroll Lewis went from gang member to fitness entrepreneur
Block Workout is a gym, community centre and philosophy based in Brixton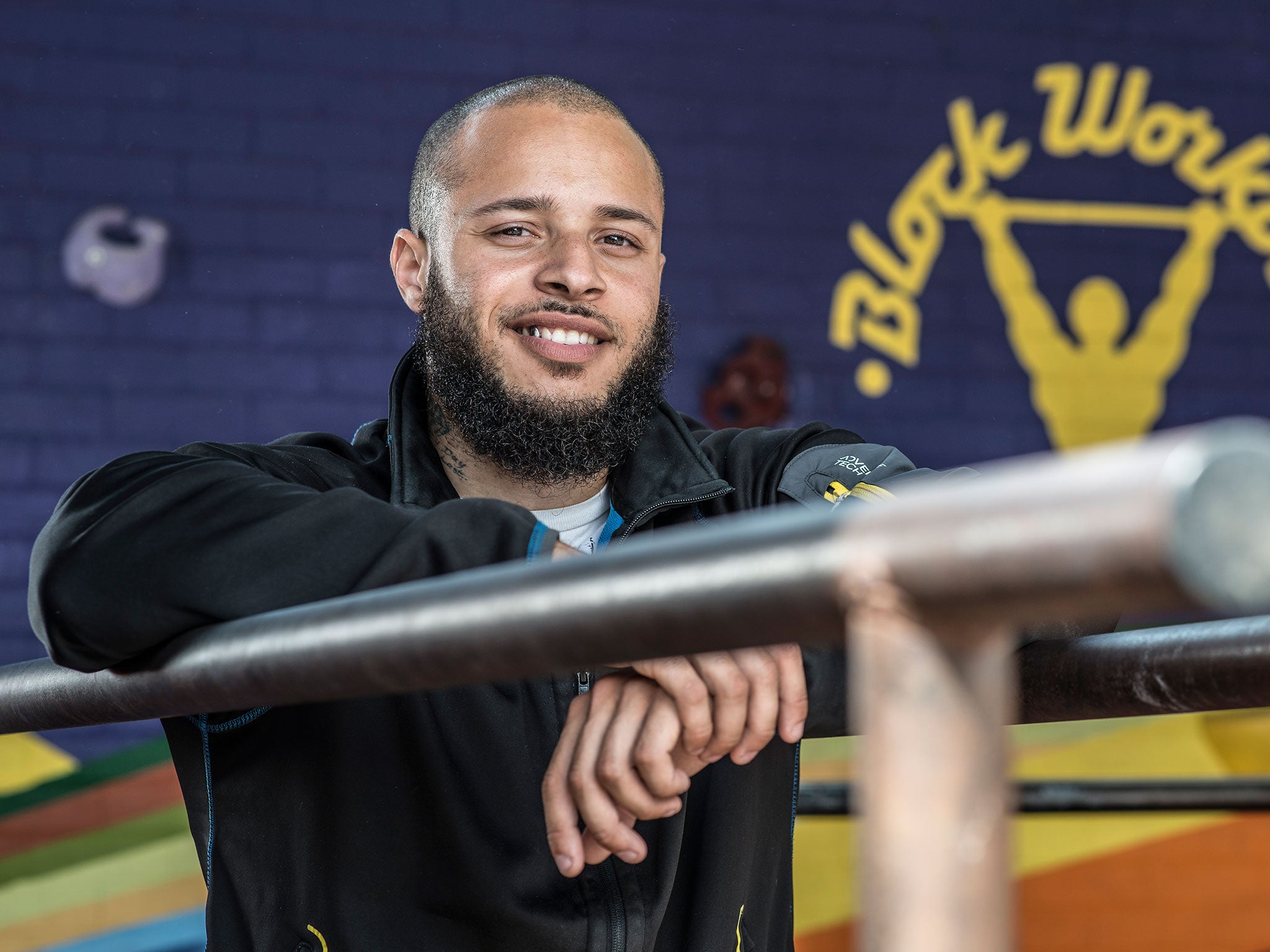 "Come on, five more! Four! Three! Two… One?"
Through the haze of pain across my skinny arms and chest, I'm only dimly aware of Terroll's words of encouragement. He's got me up on parallel bars doing these excruciating things called "dips".
I vaguely remember Brian Jacks being really good at them on the telly in Superteams, circa 1979. But I'm not a curly-topped Olympic judo champ, I'm an out-of-shape journalist with a fondness for a long lunch.
Collapsing into the embrace of a crashmat on my fourth dip, I try and recall why on earth I'm putting myself through this.
The fog clears and I remember. It was one of those darn' long lunches. Nosebagging with restaurateur and business mentor Iqbal Wahhab at his Roast eatery in Borough Market. I was opining on the courage of London's entrepreneurs when he said: "If you want to meet an entrepreneur with a courageous story, you should meet Terroll."
He was right, too. While entrepreneurs being mentored by the likes of Wahhab often have tales of humble upbringings, the tale of Terroll Lewis is in a different league.
Brought up by his mother on Brixton's rough Myatt's Fields Estate, Terroll fell in with a gang called OC – Organised Crime. He bears the tattoo on his neck "OC- One Chance to Live".
It was a serious gang: drug dealing, violence, the works. But he escaped and, thanks to his belief in God, a spell in prison and an ex-drug dealer's entrepreneurial spirit, now thrives as an inspiring young businessmen.
Terroll is the founder and boss of Block Workout. It's a gym, it's a community centre and it's a philosophy, based in Brixton but with its tendrils reaching far out to housing estates across the country. Thanks to a recent TV series, it's even gone global.
Stuck on a side street off the prison-like Southwyck House block, it is a fitness centre like no other.
On first impressions, it's not much to look at. A reclaimed one-storey warehouse building and an outdoor carpark-like area with bright, street art-style décor on the walls. But the architecture's not the thing.
Far more important is what happens outside. On the asphalt, part-under cover for when South London's weather is doing its worst, is a host of gym equipment: pull up and parallel bars, weights, mats, a vaulting horse.
To a throbbing, bassy sound system, fit young guys and girls are pumping, pounding and gymnasticking their way around.
Like a circus ringmaster, shouting encouragement and advice to this tough looking crew, beams a tall, musclebound gent with a straggly beard an infectious smile. Dark-skinned, warm-eyed, charisma unbound: Terroll.
Now 25, Terroll is a proponent of what's known as calisthenics – an exercise regime where you use your own bodyweight to work out. No fancy cross trainers, weights on pulleys or running machines. The concept's been around for years, but Terroll's twist is to do it outdoors, on the council estates of London.
To explain the concept, between frequent interruptions by passers-by who all seem to know him ("Hey Terroll," "Hi Terroll", "Catch you in a bit, bruvva,"), he takes me back to the gun-swamped Brixton estates of the noughties.
"My dad wasn't around much when I was young," he says. "So I didn't have much guidance and I started looking at the older guys on the estate. They had the cars, the money, the girls, and they supported each other, too – like a family. They looked like they were living the life."
"So I chased it. Started hanging around with the wrong crowd, getting into trouble, getting into fights, getting into all different mischief. From there, it was stepping stones to being an active gang member."
Then, in 2009, after a spate of appalling gun crimes going on at the time, Terroll found himself arrested for a murder he did not commit and jailed on remand.
Due to the grievous nature of the charges, despite only being a teenager, he was sent as an "A-Cat" prisoner to Belmarsh, rather than a youth offender's institution like Feltham.
"Belmarsh?" I gulp.
He laughs: "Yeah, but, you know what? I'm glad I went there and not to Feltham, 'cos Feltham's wild. I was 18 and, if I'd gone there I'd have definitely got into more trouble.
"But Belmarsh, that's different. It's an adult prison and your next door neighbours are guys who've done, like, 25, 30 years and are comfortable with that. Some are coming back from court and saying: 'Oh I only got 20 years.' That humbled me, definitely. I thought I was tough: you know, involved in gangs and stuff. But these guys did, like, major cocaine shipping operations. And I'm thinking: How did I get into this?"
He knew he had to get out.
"You know, in prison I had those four walls, myself, and my mind. It was one of the best times of my life to find myself, who I really was."
He had already begun changing before he went inside as he began to find religion.
"It was hard, because you're leaving your friends on the battlefield, but once I allowed belief to come in, it changed me, totally. I started to forgive certain of my enemies," he says.
"It made me take a step back and look at what I was really fighting for. My estate?" he snorts, recalling the pointless violence. "I had no stake in my estate – my mum didn't even have a mortgage in it. And yet here I was putting my life on the line for it. I realised it didn't mean nothing."
The price of gang life was high. One of his best friends was murdered – shot twice in the head.
During his 11 months on remand, he started getting into fitness. And, as it turns out, a bit of Category A prisoner lifestyle is no bad way to get a healthy regime going.
For a start, there was a prison gym, where Terroll went twice a day. Then there was his cell, which, though sparse, had potential.
"I used to turn the bin upside down and do press-ups, feet on the bin. I'd do dips on the toilet. It was OK," he said.
But not that OK. He'd stare at the blue sky from his cell window, watching the planes go by, wondering if he'd ever get the chance to travel. He'd watch the workmen out on the street, asking himself if he'd ever lead a civilian life outside.
When he finally was freed as the judge threw the case out of the Old Bailey, the first thing he did was touch a tree ("I hadn't seen one for all that time, it was like "woow!") then he bent down to feel some grass.
With empty pockets and time on his hands, he went to an old playpark on his estate and started doing pullups on the swings. He'd do handstands and press-ups by the hundred.
He'd spend hours there, all by himself: "People used to go past saying: "Why don't you go the gym like a normal person?" But there was more to it than that. It was about being outside, in nature, and using my environment. After all those months inside, it was for my mind as well, you know. It was helping me, keeping me focused and off the streets. And that's not easy, you know - my mates on the estate were still in the gang, still doing crime."
One day, he made a video of his workout and invited others to join him.
The reaction was electric: it got dozens, then hundreds, then thousands of views. People started turning up to watch him in the park. Then they started joining in.
Pretty soon, a few hit YouTube videos later, he'd moved to an outdoor gym in nearby Brockwell Park, where dozens upon dozens of local youths would turn up to work out with him, queuing up to try their triceps on the parallel bars. He came up with a brand: Block workout: "We grew up on the block and that's where we were working out – the name stuck, you know?" he says.
For some of local residents, the sheer numbers became an issue. Not everyone likes the look of 60 tough-looking young men in black hoodies, gloves and gang tattoos hanging out in their local park. The council complained.
"I guess it looked pretty scary," Terroll admits. But in fact, the Block Workouts were stopping these kids getting into trouble. There was no violence, no drugs - just, well, calisthenics.
Terroll responded cleverly: he had a load of blue and red Block Workout T-shirts printed for his followers and they instantly looked more friendly. Then, from being initially hostile, Lambeth co-opted him, offering him the disused industrial site as a permanent base.
He got on a free government scheme to get qualifications as a personal trainer. He got a few of the more dedicated Block Workout crew to do the same – one an ex-soldier and reformed alcoholic, two from gangs. Now fully qualified, they're the club's main instructors.
He's now got more than 100 members, all paying £10 a month, from barristers to people on probation looking to keep themselves out of trouble.
This part of Terroll's empire is not about the money, though – it's a social enterprise. In fact, Block Workout has just been granted charitable status in recognition of its work helping local youths stay out of trouble or get away from the gangs in the area. Because of their own tough backgrounds, Terroll and his team can speak to the local youngsters and explain that there are decent alternatives to gang life that don't lead to prison or, as he puts it: "six feet under the ground."
This includes help drafting CVs and job applications with local employers, helping them get into the legitimate economy.
He says:"These youths know we can relate to them: I understand why they'll carry that gun down the street, I know why they carry those knives in their shoe. I not only wore that T-shirt, I wore that balaclava and wore those gloves. That means they'll listen to me."
Meanwhile, the high profile he's built up in the area has given Terroll a thriving personal training business. He's done TV series based on street gym workouts around the world, from South Africa and Brazil to the tropical island of Reunion and France.
Now he's in talks with Tower Hamlets to open a Block Workout gym there, as the first stage in his plan to take the project to communities in North, East and West London. On a more lucrative personal basis, he's also keen to take BlockWorkout to the City.
He says: "That's what I love about Block Workout: it brings people together from different backgrounds, different religions, colours, areas."
I suggest that's the opposite to the small-minded gang culture he's come from. But he responds: "No. What we've done here is created a new gang. But it's a good gang that brings people together."
Join our commenting forum
Join thought-provoking conversations, follow other Independent readers and see their replies