Maria das Graças Silva Foster: Optimism fuels the 'Iron Lady' of Petrobras
Brazil's second most famous woman is fiercely proud of the oil giant she heads and upbeat about her country's future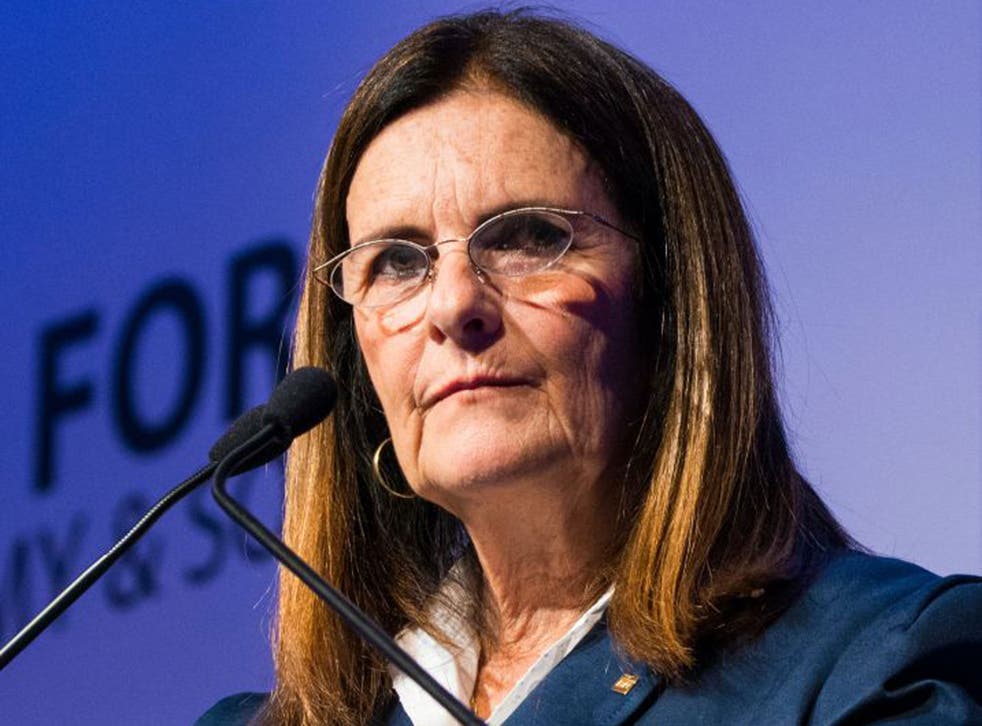 It seems like hours since Maria das Graças Silva Foster first walked the boardroom of Petrobras's Rio de Janeiro headquarters. Dozens of slides, graphs and statistics have been consumed. The translator appears exhausted and the mahogany-clad boardroom is starting to look like something out of a 1970s cop show.
Brazil's second most famous woman – the first being President Dilma Rousseff – knows the oil giant like the back of her hand. Her command of the room is impeccable yet we still haven't really found out anything about the leader of Brazil's largest company.
Eventually, the conversation turns to the issue of women in boardrooms, and her guard slips a little. Ms Graças Foster grows animated and talks about the responsibility of being an international role model.
"I know that I'm a reference point for women across the world," she says. "This increases my responsibility and I don't want to disappoint people at either home or abroad."
The 59-year-old mother of two – who grew up in one of Rio's most dangerous favelas – joined Petrobras as a trainee more than 30 years ago and was appointed chief executive last year.
She is known to be close to President Dilma and is full of praise for the country's leader, and particularly her desire tacking inequality in Brazilian society.
"I think it's fantastic to have a woman as President of the Republic," Ms Graças Foster adds. "She is concerned about diversity in companies and having more qualified women in important roles."
Petrobras was founded by the former Brazil President Getúlio Vargas in 1953, who at the time described it as a "new milestone in our economic independence".
The company operates in the oil, natural gas and biofuels sectors and had a monopoly in Brazil until 1997. It can now be found in 28 countries round the globe, employing 84,000 people worldwide.
The group raised a world record $70bn (£44bn) when it was listed on the Brazilian Stock Exchange in 2010. However, it is still 54 per cent owned by the state, with the Brazilian Development Bank and Fundo Soberano, Brazil's sovereign wealth fund, owning a further 5 per cent each.
State intervention in the Brazilian economy has spooked some international investors over the past few months, with some even likening the country to its neighbour Argentina.
Hedge funds have also begun to turn their attentions on state-owned companies such as Petrobras.
At last month's Ira Sohn investment conference in London, James Chanos of Kynikos Associates, described Brazil as the "home of samba, sand soccer and shorts".
He named Petrobras as one of his chosen stocks to short, claiming its investments were driven by national interests and not those of other shareholders.
Unsurprisingly, Ms Graças Foster is quick to defend the state's influence at the company, despite the its share price falling almost 13pc over the past year.
"The Brazilian government needs a successful Petrobras," she adds. "There is no government right wing or left wing that can hurt Petrobras. It's a win-win for us and the government."
The company plans to invest $141.8bn into exploration and planning in Brazil over the next five years. It says it is ready to meet the increased demand for oil products in the Brazilian market, which is projected to be 3.3 million barrels a day by 2020.
Petrobras says that work is also under way on four large refining plants in Brazil with a total capacity of more than a million barrels a day. It claims a million direct and indirect jobs will be created by the domestic oil and gas sector by 2014.
The interview ends on a lighter note with Ms Graças Foster reflecting on her management style, having been described as "dogged", "straight-talking" and of course – an "Iron Lady".
The self-confessed Beatles enthusiast, who is married to British husband Colin seems far more down to earth.
"I carry a notebook that has become famous throughout the company," she jokes.
"If I see that one of my teams is in trouble, I make sure I'm always there for them. I work for these people… I work for them."
But what about her home city of Rio – how optimistic is she that it will be ready for the double whammy of a World Cup and Olympic Games?
"I'm always optimistic – especially about soccer," she continues. "You must remember that Brazil is experienced at hosting these events: New Year, Carnival, – we have hundreds of thousands of visitors every year, and it's always perfect."
The President: Dilma's rise
Dilma Rousseff, 64, became the first female president of Brazil in January 2011 when she succeeded the popular Luiz Inacio Lula da Silva, known as Lula.
She rose through the ranks in Lula's Partido dos Trabalhadores, or Workers' Party, which set its sights on combining economic growth with an attack on poverty.
The two became close and she became his energy minister in 2003 and chief of staff two years later.
Ms Rousseff is the daughter of a Bulgarian immigrant to Brazil and his schoolteacher wife.
She is said to be unashamed of her past as an urban guerrilla, which included battling the former military government and spending time in jail as a political prisoner.
According to Forbes, she is now the third-most powerful woman in the world and governs a country where 49 per cent of entrepreneurs with companies less than 42 months old are women.
It was Ms Rousseff who appointed Ms Graças Foster as chief executive of Petrobras, one of a number of key government-related roles that have been handed to women.
Ms Rousseff's government has, however, been accused of destroying Petrobras's shareholder value by intervening with Brazil's energy markets.
Join our new commenting forum
Join thought-provoking conversations, follow other Independent readers and see their replies