The bubble bursts for Sodastream
It's been making the wrong drinks in the wrong place at the wrong time –and is even sorry about the Scarlett Johansson ad, Maria Tadeo discovers
Maria Tadeo
Friday 31 October 2014 02:01 Comments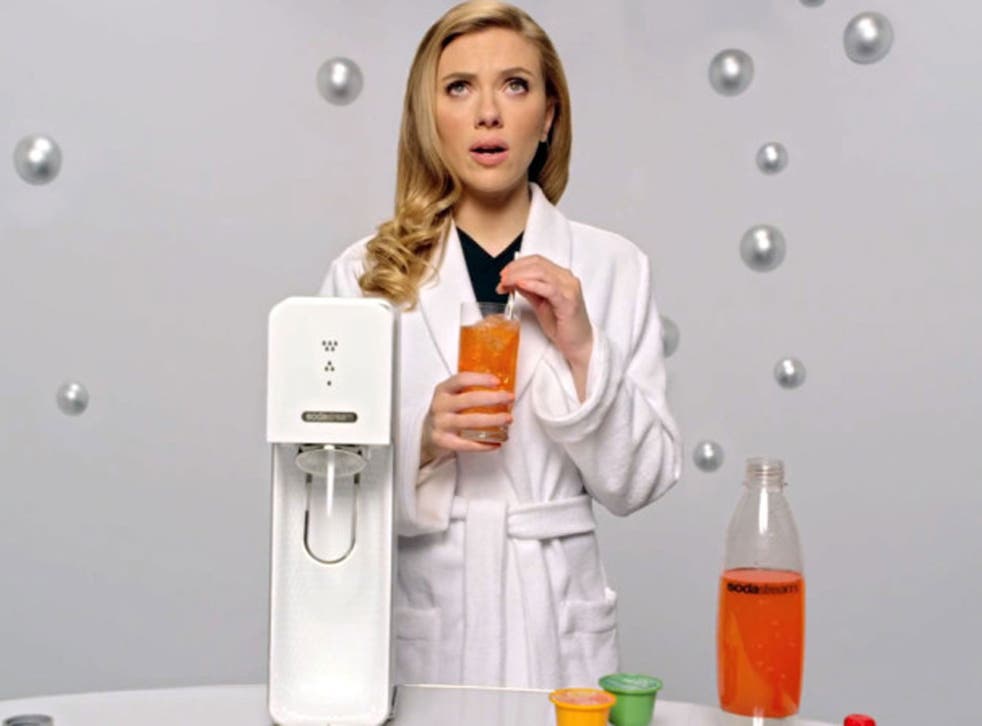 Sodastream began the year with a bang: it signed up the Hollywood actress Scarlett Johansson as its first "global ambassador" and vowed to take on rivals Pepsi and Coca-Cola in a Super Bowl commercial watched by millions.
Since then, the Israeli company's stock has lost half its market value in New York, plunging from $55 a share in January to $21, amid falling sales and mounting calls for a boycott over its presence in the occupied West Bank and with investor enthusiasm fizzling out.
In an effort to stop the rot, the company, whose soda makers allow consumers to carbonate their drinks, unveiled a restructuring this week. It announced plans to leave its West Bank factory and shift towards healthier, water-based products with fewer calories.
Its chief executive, Daniel Birnbaum, conceded that Sodastream's performance has been disappointing after three consecutive quarters of declining sales and speculation that it would put itself up for sale. Now Mr Birnbaum says he wants to put things right for shareholders by making water "exciting".
He told The Independent: "We made a mistake spending millions of dollars in a Super Bowl commercial to get Scarlett Johansson to say 'Sorry, Pepsi and Coke', because people don't want to drink Coca-Cola; they're looking for ways to drink more water. That was our mistake and we're sorry."
Earlier this week, the company reported third-quarter revenues down 13 per cent to $125.9m (£78.7m) from $144.6m a year ago. Net income plunged 42 per cent to $9.46 m .
Sales in the US, its main market, fell 41 per cent – a reflection of Sodastream's struggle against a shift in trends, with customers looking for healthier options containing less sugar and fewer calories.
"There are two issues: volume and calories. People don't drink as much soda as they used to and they're concerned about the amount of calories. They're starting to see sodas as a treat, as something you drink on a special occasion," said Jonas Feliciano, senior analyst at the market research firm Euromonitor.
"Sodastream had an identity problem. It tried to replicate the flavour of Coca-Cola and Pepsi instead of putting an emphasis on its strong platform for carbonated water, which is something consumers still want and have an appetite for."
Unlike those big-name competitors, which are targeting the mid-calorie market with stevia-based drinks containing a blend of naturally occurring sugars, Sodastream is now moving away from fizzy drinks into carbonated water.
"For a long time we told consumers they could make their own Coke – a Fanta-like drink that has less sugar than the other brands and is more natural. That's wrong," Mr Birnbaum conceded.
Sodastream recently introduced a new line of flavoured syrups called "Sparkling Naturals'', containing no artificial sweeteners or preservatives. But it hasn't given up on fizzy drinks entirely. Last week it confirmed it had signed a limited deal with Pepsi to sell some of its syrups.
Packaging for its machines, which allow users to make their own drinks at home, will now carry the words "Sparkling Water Maker" instead of "Home Soda Maker", and its new tagline – "Water Made Exciting" – will replace "Set the Bubbles Free".
Prices for the machines, which reduce plastic bottle use as well as adding effervescence and flavour to water – start at £59.99, and the company has 25 production facilities around the globe, with sites in the US, Australia, China and Sweden, but not the UK.
However, location has been one part of the mix in SodaStream's terrible year.
The company has been hit by a torrent of negative publicity over its presence in the West Bank. On Wednesday, it said it would pull out of Mishor Adumim – an industrial park located in an Israeli settlement north-east of Jerusalem – by 2015.
Sodastream insisted the decision to leave the West Bank and relocate to Lehavim, in southern Israel, was purely commercial after it received a $20m grant from Israeli authorities – and was not a response to pressure from pro-Palestine groups.
At the time, Mr Birnbaum claimed in an interview with The Independent that both Johansson and Sodastream were being "demonised" by the media. He argued that it treated all employees, including its 500 Palestinian workers, equally.
However, pro-Palestine activists such as Boycott, Divestment and Sanctions and the Interfaith Boycott Coalition repeatedly urged consumers to ditch Soda-stream products unless it pulled out of the West Bank.
On Thursday, they welcomed the company's decision to leave, but Mr Birnbaum wishes he could have stayed.
"We're proud of the work we did there, and we're working with the Israeli Government to secure work permits for our Palestinian employees," he added.
"It has nothing do to with politics; we're relocating to modern facility that is three times the size. But if it was up to me, I would have stayed. We showed the world Arabs and Jews can work together."
As for rumours suggesting that Sodastream is considering selling a stake in the company to Pepsi, Mr Birnbaum insists that it is not on the cards, adding: "We're profitable, we have a healthy balance sheet and almost no debt. We're well positioned and have a great product."
Register for free to continue reading
Registration is a free and easy way to support our truly independent journalism
By registering, you will also enjoy limited access to Premium articles, exclusive newsletters, commenting, and virtual events with our leading journalists
Already have an account? sign in
Join our new commenting forum
Join thought-provoking conversations, follow other Independent readers and see their replies