The Rothschild who plans to make big business honest
But The Economist won't be sold as long as I'm alive, the campaigner championing 'inclusive capitalism' tells James Ashton
James Ashton
Wednesday 26 September 2012 23:28 Comments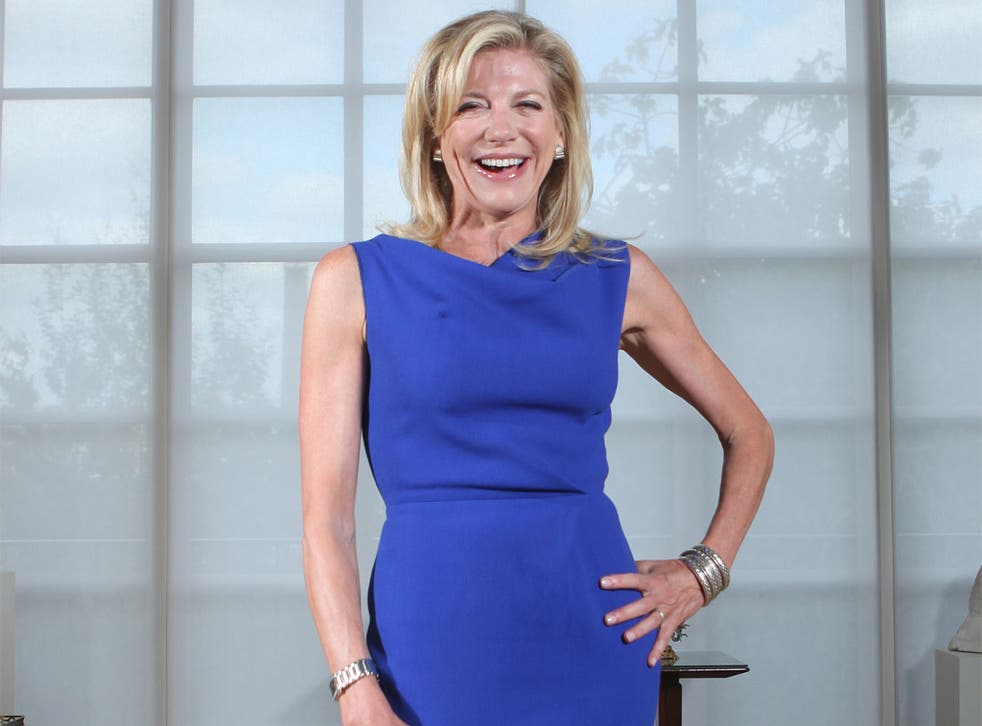 You could call it Lynn Forester's Scardino moment, proving that there isn't any less resolve in a lady than a dame. Asked if her family would ever sell their stake in The Economist magazine, Forester, aka Lady Rothschild, answers firmly: "As long as I'm alive, that will not change."
It doesn't sound much different to the statement from Dame Marjorie Scardino, who years ago vowed that Pearson, her FTSE 100 firm, would sell off the Financial Times newspaper "over my dead body".
Dame Marjorie, who used to run the Economist Group, oversees a 50 per cent stake in it from the helm of Pearson. The rest is in the hands of City blue-bloods such as the Rothschild, Cadbury and Schroder families. There is occasional speculation that the publishing company will buy out the others, but Forester, who oversees the investment after marrying the banking grandee Sir Evelyn de Rothschild 12 years ago, has just put paid to that.
"Why would anyone sell? I think being independent is very much a part of what helps The Economist be what it is," she adds.
Indeed, the magazine might have chronicled the worst of the global recession but it has prospered along the way. In seven years, global print circulation has jumped from 1 million to nearly 1.5 million, with a further 100,000 digital subscribers. Shareholders have enjoyed the improving dividends.
Now Forester, who trained as a lawyer and built telecoms businesses before becoming a Rothschild, is travelling from the boardroom into the headlines to win supporters for her latest cause. Amid the trading excesses of big banks and spiralling boardroom pay, "inclusive capitalism" sounds like an oxymoron. But Forester, who counts Hillary Clinton and the Duke of York among her friends, believes it can make a difference at a time when the gap between rich and poor is widening.
"I think it's more than an image problem, I think that there actually has been bad behaviour that's brought capitalism into legitimate ill-repute," she says. "I don't think, as defenders of capitalism, we should try to defend all the behaviour of all capitalists."
When Alan Mendoza, the head of the Henry Jackson Society, came to see her with a project, it didn't take much to convince her to lend her name to it. The movement's launch in Westminster in May was a Who's Who of attendees including Lords Grade, Tugendhat and Gavron. A three-point plan has been designed to tackle the acute skills shortage, support small businesses and move away from stock market short-termism.
Projects include a web portal created by the computing giant IBM that matches big corporations with small suppliers. Sir John Peace, the chairman of Burberry and Standard Chartered, is championing an initiative to cut youth unemployment. "What victory would look like is lower unemployment, higher growth and Occupy Wall Street saying, 'Hey, we've got jobs now, we're on our way to becoming the top 1 per cent'," Forester says enthusiastically.
In the intervening months, more companies have come on board. A New York event on 11 October will include another top-level line-up: Larry Summers, the former US Treasury Secretary, and Carly Fiorina, Hewlett-Packard's one-time boss, will speak.
It sounds encouraging, but what about the companies that really need to show they are rehabilitating: the banks? "You know, after our announcement and before their troubles, God bless them, Barclays reached out to us and said they would like to engage in this journey but, of course, it got overshadowed by events," Forester says. "There's also going to be an ethics course at the London Business School that's going to be mid-career and several of the banks have signed up for it."
Forester is mindful of the irony of a member of such a famous banking family promoting manufacturing as a good, honest profession and hitting out at financial engineering as a scourge.
"It's a fair question. I was always in businesses that operated and built things. But my husband has always seen finance as a way to motor the real economy," she says.
"I remember him saying to Alan Greenspan [former chairman of the Federal Reserve]: 'You know derivatives are really something you need to look at and you need to regulate them'. He wrote a piece in The Guardian in 2004 about how bankers need to stop focusing only on their money and get back to focusing on clients. Actually, Evelyn had one of the best lines when I came home from our first meeting. I said, 'Well, what do you think we should do to stop this decline in the way people view capitalism?' He said: 'Tell people to behave better.' Easy."
Can such a simple approach rebuild the shattered American dream that anyone can shape their own destinies through hard work? From an upbringing in New Jersey, she'd like to think so. "I was born in 1954 and my father worked two jobs. He entered the war as soon as we declared, he didn't use the GI Bill and go back to college even when my mother got pregnant, and he wanted to support his family. So he went right to work, uneducated, and he made sure we knew we could get whatever education we wanted, that he would pay, no matter what he had to do, for our educations."
She studied law in New York and Geneva but switched to the telecoms industry when she went to work for the tycoon John Kluge. Striking out on her own, she set up the broadband company FirstMark, and sold out for $150m (£93m) in 1997.
Such experience means she has the right to let out a sigh when the subject of putting more women into top jobs is raised. "In 1982 I was on television talking about the need for women in boardrooms. I was young and successful, so I got recognised in that way, and got put on some good boards. My view today is quotas are always a bad idea except when, after 30 years, women are still not represented on boards, I think putting pressure on finding a qualified woman is a good thing."
However, the mother of two sons – one working in the film business, the other in investment – recognises it isn't always as easy as that.
"Recruiting from the bottom up is difficult too. If you're an employer and you have five plum jobs, and you give three of them to women and two of those women might go at the age of 32 to have a family, you've lost those seats, you've lost those years of training, you've made huge investments and two of your five are gone – that's bad. You have your duties to your shareholders; you also have a duty to other people who work in the firm."
She began moving in political circles after marrying her second husband, Andrew Stein, a New York Democrat, at the age of 28. After marrying her third husband, Sir Evelyn, 23 years her senior, she moved closer to the seat of power. The pair, who have a £463m fortune and live in American painter John Singer Sargent's former Chelsea townhouse, honeymooned at the White House at the Clintons' invitation.
She still campaigns for the Democrats, and threw a glitzy fundraiser for Hillary Clinton's White House run. As a disarming hostess, it's easy to see how she makes things happen. Just don't label her a socialite. With the next presidential election only six weeks away she is worried about the outcome.
"I think there is a genuine mistrust of what Barack Obama will do in the second term regarding taxes, regulation and the freedom of businesses," she says. "I don't think there's any question that if people knew Mitt Romney was going to get elected, which is doubtful, the stock market would explode."
For her party to have disappointed business so much is upsetting.
"When Obama announced his candidacy he said he wasn't running to fill an office but to transform a nation. He's backed off with that a lot because he's not a strong enough leader to get us there and it's a bad idea, but that's his orientation, he wants us to be something different."
Back to inclusive capitalism, and she hopes to make a difference in her own way. The crusade could even go global. "We're not going to confine this to Britain and the United States, we think it's an important global message. The Chinese have invited us and so have the South Koreans so we see this as something to convene around the world. In the past 20 years, capitalism has lifted 700 million people out of poverty."
If it's a real success, we might even read about it in the pages of The Economist.
Register for free to continue reading
Registration is a free and easy way to support our truly independent journalism
By registering, you will also enjoy limited access to Premium articles, exclusive newsletters, commenting, and virtual events with our leading journalists
Already have an account? sign in
Join our new commenting forum
Join thought-provoking conversations, follow other Independent readers and see their replies