Where's the meat in the workers' pay?
Fast-food giants have had to flip their policy on low wages in the US and the campaigners who turned the tables have arrived here to try to do it again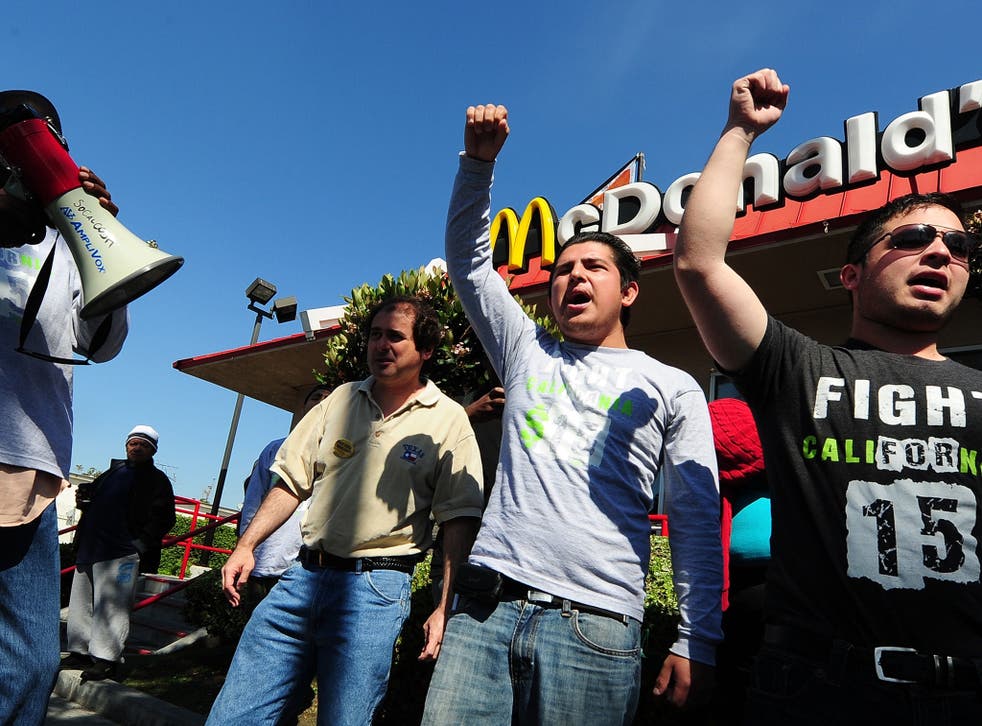 As McDonald's celebrates its 40th anniversary with a rash of giveaways to its British customers, its staff are wondering where their presents are.
A remarkably successful campaign that is getting a $15 an hour (£9.53) minimum wage adopted across the US arrives in Britain today with the aim of ensuring those staff receive a slice of the birthday cake. The Fight for 15 campaign has won significant rises in minimum wage rates in cities across the US, following a groundbreaking move in Seattle in June.
Now it is linking up with Britain's homegrown Hunger for Justice Campaign, led by the Bakers, Food and Allied Workers' Union (BFAWU), in an attempt to achieve something similar here.
With tens of thousands of fast-food workers earning little more than the minimum wage of £6.50 an hour – and less for younger workers – they think there is ample room for hugely profitable companies like McDonald's to do more.
"We're here to support our co-workers in the UK with their campaign for fast-food rights, to build alliances and to increase understanding about what's going on in the global fast-food industry," said Flavia Cabral, a 53-year-old mother of two and McDonald's crew member from New York City. "Fast-food workers need more respect. We're on poverty pay and that needs to change. I'm trying to raise two daughters on the $8 an hour McDonald's pays me, and even with two jobs, I can't get by. We deserve a proper living wage for the work that we do – work that generates huge profits for McDonald's, Burger King and the other fast-food giants.
"We've heard about the situation in the UK, with zero hours contracts and a low minimum wage. It's very similar to what we face in the US. It's time fast-food workers around the world joined forces and said enough is enough. I've been on strike three times with my co-workers to gain respect and build a better future for ourselves and our families. In 20 years, my grandkids won't be struggling like I am. "
While the US federal national minimum wage is still just $7.25 an hour, cities and states have the ability to set their own standards. Hence Seattle's groundbreaking initiative. Others are debating similar increases.
Raising the national rate is anathema to Republicans, who now control both houses in Congress and claim it will heap costs on employers and cost jobs. Democrat leaders nationally in the US have talked about $10.10 an hour.
But such has been the success of the campaign's argument that the figure of $15 is rapidly becoming the standard at city and state levels. At current exchange rates, it's just above the voluntary London Living Wage of £9.25 an hour – a rate that has been backed by a number of big employers.
But not the fast-food industry, which has complained that adopting it will increase prices for its customers. Not by much, though, argue the campaigners. They point to Denmark, where they say McDonald's workers make up to $20 and have union representation. McDonald's burgers are only 35 cents more than in the US. They also point to work by the American think-tank Demos which said that in 2012 McDonald's Corp spent $2.6bn on share buybacks to boost its share price.
The campaign argues that the long-term value of buying back shares benefits just a few executives whose pay packages are tied to stock performance. It says that money should be used to invest in the workforce, to benefit employees, customers, communities and, ultimately, shareholders too.
Demos says that pay for fast-food executives has quadrupled in the last decade to an average of about $24m a year, but that front-line workers' pay has not budged. It believes that McDonald's could give rises of $2 to $3 an hour to all of its US employees using just the money it is now spending to buy back shares.
"That's nothing, if you think about it, and these companies make huge profits. Is it really too much to ask that they pay a proper wage to the people who work for them? We think the same is true in Britain and we want to show our support," said Alvin Major, a 49-year-old father of four from Brooklyn, New York. He has worked at KFC as a cook for over two years and is paid just $8 an hour.
It's a message finding favour here. Ronnie Draper, general secretary of the BFAWU, said the plight of younger fast-food workers in the UK is particularly pronounced. Minimum wage rates are lower for younger staff at just £5.13 an hour, currently. for 18 to 20-year-olds, and £3.79 for under-18s who have finished education.
He described the minimum wage as "poverty pay which is not good enough for anyone".
"We are very keen to work with Fight for 15 and learn from their experience. I would ask the question, what is the difference between a 60-year-old and a 16-year-old flipping a burger? They employ so many young people, they can exploit them. McDonald's didn't want us there. And they don't want to talk. Nobody could justify paying such a low wage to young people.
"This is a hugely profitable corporation, remember. Paying young kids fractions of the minimum is exploitation."
Paul Sellers, the TUC's pay policy officer, described the situation in fast food as a "monopsony" – where one buyer (the industry) has unfair power to set rates for hundreds of thousands of workers (the sellers). He agreed wage rises have to be managed, so as not to cost jobs, but he said the fast-food industry and, indeed, many other employers are in a position to pay more.
"We're convinced that similar conditions [to the US monopsony] exist in the UK. It's almost like there's a norm on what pay increases will be, if there are any, and it doesn't relate to the employer's ability to pay. Corporate profitability has risen, which tells you something."
Raising pay for those on low wages, he added, could reap huge economic rewards because most, if not all, of that money will be spent and pumped back into the economy.
A McDonald's spokesperson described its rates as "competitive" for the hospitality sector, but said: "At this stage we are unable to pay the living wage.
"We fully support the national minimum wage. All our hourly-paid employees start on more than the national minimum wage and qualify for many of the same benefits as salaried employees, such as a stakeholder pension and a full suite of training and development programmes. In addition, our hourly-paid employees receive an annual performance and salary review where they can earn an increase of up to 4.5 per cent. These rates also apply to all those who choose to participate in our apprenticeship scheme.
"Our people progress quickly and stay with us because we offer flexible, rewarding work and the chance to gain accredited qualifications, along with training and development opportunities to ensure people reach their full potential. For young people, we give over 10,000 their first taste of work each year and offer industry-leading qualifications from apprenticeships to foundation degrees."
McDonald's argues that it has contributed £40bn to the UK's economy during its time here and has created 1.5 million jobs directly and through franchisees. In June it unveiled plans to create 8,000 jobs over the next three years.
Register for free to continue reading
Registration is a free and easy way to support our truly independent journalism
By registering, you will also enjoy limited access to Premium articles, exclusive newsletters, commenting, and virtual events with our leading journalists
Already have an account? sign in
Register for free to continue reading
Registration is a free and easy way to support our truly independent journalism
By registering, you will also enjoy limited access to Premium articles, exclusive newsletters, commenting, and virtual events with our leading journalists
Already have an account? sign in
Join our new commenting forum
Join thought-provoking conversations, follow other Independent readers and see their replies