Ireland's economy is heavily reliant on trade with the UK – the consequences of a Brexit could be ruinous
My Week: One estimate says a Brexit could see trade between the two countries reduced by 20 per cent or more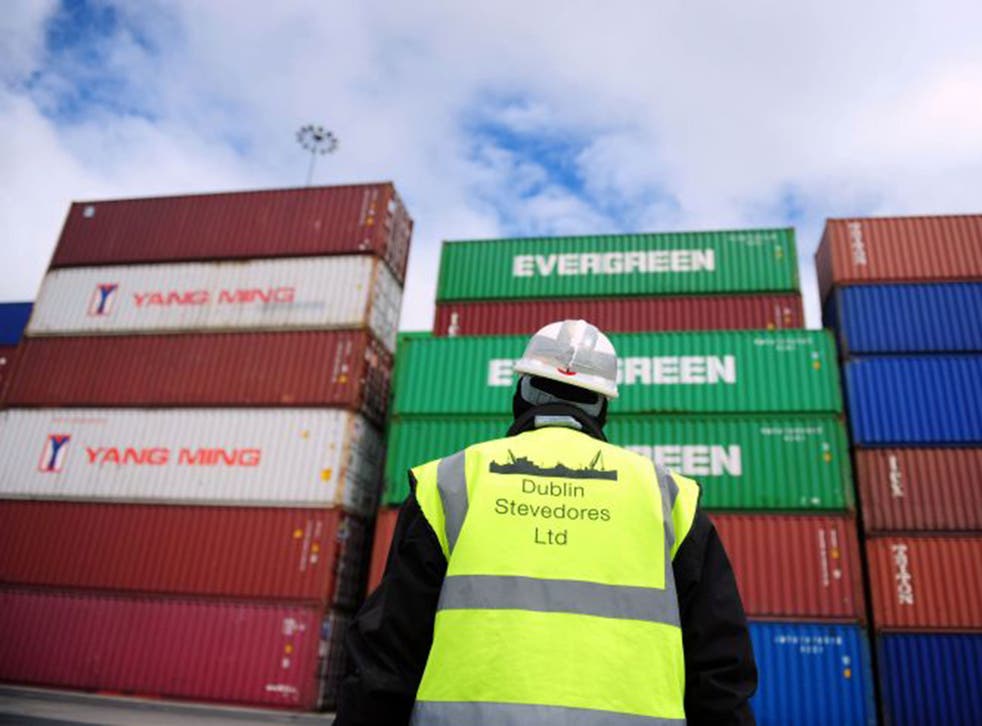 Monday breakfast found me in the luxury of the Goring Hotel, discussing the forthcoming Irish election. It was an event organised by Powerscourt, the City PR firm, and it was packed.
The audience was pretty much divided, between the Irish and English, with many of the latter having gone along to try and make sense of the convoluted nature of Irish politics. One of the key messages from the panel of experts was the damage that would be wreaked to the Irish economy should Britain leave the EU.
Britain is far and away Ireland's biggest trading partner, accounting for 50 per cent of exports from the Republic. Ireland is virtually entirely dependent upon its larger neighbour for energy, importing 90 per cent of its oil and more than 90 per cent of its gas from the UK.
One estimate says a Brexit could see trade between the two countries reduced by 20 per cent or more, while trade barriers would jack up prices of Irish imports from the UK. The effect on the Republic could be devastating.
Whoever becomes mayor must speed up public projects
A gathering of a very different sort in very different surroundings was the London Tech Debate on Tuesday. Part of the Mayoral hustings it was held in Here East, a huge digital workspace being created out of what was the press centre for the 2012 Olympics.
Listening to the mayoral candidates setting out their vision for London's tech economy, in gleaming, brand new, state-of-the-art surroundings had a futuristic sense. The London we've been used to felt old, distant and no longer fit for purpose.
The debate was hosted by Tech London Advocates, the group that is lobbying hard for the capital to match and even surpass the world's other digital centres. Seven Hills, the campaigning PR firm that also majors on making Britain more amenable to enterprise and start-ups, was also closely involved.
The result was an impassioned session attended by 800 people (on a Tuesday afternoon, deep in London's East End in hurricane-like conditions).
The two standout candidates in terms of polish were Zac Goldsmith and Sadiq Khan. The Tory and Labour representatives had an authority the others lacked – possibly because they're more likely to get elected and therefore have extra credibility.
Honestly, there was little to choose between them – even though physically and in appearance and delivery they're far apart. But while there was no doubting Khan's passion for the subject, I found myself thinking which of them could I see selling London in the powerhouses of Asia and the US, which one of them would attract overseas investors? For that alone, I gave it to Zac – he seemed more statesmanlike, more able to connect central government, the City and foreign companies with the mayoralty.
All the candidates talked about the need for improved infrastructure, for London to actually get its much-vaunted high-speed transport links, Crossrail and HS2, and for every part of the sprawling metropolis to have access to super-fast broadband.
Business news: In pictures

Show all 13
One of the more telling moments came from Peter Whittle for Ukip, who pointed out that Rotherhithe, barely a stone's throw from the City of London with its towers and humming trading floors, was a digital black spot. There are other areas similarly blighted. Everyone agreed this was shameful and required urgent correction.
Likewise, we must crack on and deliver on better rail services and providing more affordable housing. But, I said, we still don't know where we are in regard to airport expansion; Crossrail has also taken an age to build; HS2 will be similarly lengthy. We must complete our public projects quicker – the rest of the world is getting on with theirs, we have to do the same.
The Olympic Park where we were sitting is testament to what can be achieved; to just how speedily we can move if pushed. That was a development, though, that had to be built to deadline, no ifs and buts, the Games had to go-ahead in 2012. Maybe that is what is lacking in the other works – a tight time schedule with a severe penalty and international embarrassment for lateness.
New academy can help firms raise their design standards
One of those helping with the design of HS2 is David Kester. I saw David, the former head of the Design Council, on Friday. He was getting ready to launch his latest venture, Design Thinkers Academy London.
Design Thinkers Academy was formed in Amsterdam in 2011, with the aim of instilling thinking about design within senior management of businesses and public bodies. We simply don't pay enough attention to design – very often until something goes wrong. To help firms improve in this area, there's a new website (designthinkersacademy.co.uk), and a whole host of courses and boot camps run in partnership with the Design Museum.
It's good design that sets products and their makers apart. Just look at Apple.
Ex-Waitrose boss will be fine trade minister – if allowed
Congratulations to Mark Price on being made a peer and joining the Government as trade minister. When I heard the news my first thought was delight for Mark, the outgoing boss of Waitrose. I've known him for years and have always enjoyed his company.
But oh dear, I did find myself wondering how he would find Whitehall, and whether the civil servants would be able to deal with his rumbustious, direct style and humour. He, after all, is someone who gave himself the moniker of the Chubby Grocer in reference to his girth. I can't imagine one of the legions of Sir Humphreys doing anything remotely similar.
There's no doubt in my mind he will do a good job – provided he's allowed to do it. Our recent past is littered with examples of well-known, high-achieving business figures who enter government, then simply disappear. Either they find themselves frustrated by the bureaucracy and the hidebound culture, or they're shoved aside by seasoned politicians who know how to court publicity and gather the plaudits for the achievements of others, or both.
If Lord Price is allowed to manage as he did at Waitrose, then we should have a trade minister who can press the right buttons, make the correct contacts and sell Britain overseas. He needs, though, to be cut some slack.
Join our new commenting forum
Join thought-provoking conversations, follow other Independent readers and see their replies