What happened at the Presidents Club is symptomatic not of the City but of society as a whole
The business establishment has come a long way since the dark sexism of the 1980s
Chris Blackhurst
Saturday 27 January 2018 14:06 Comments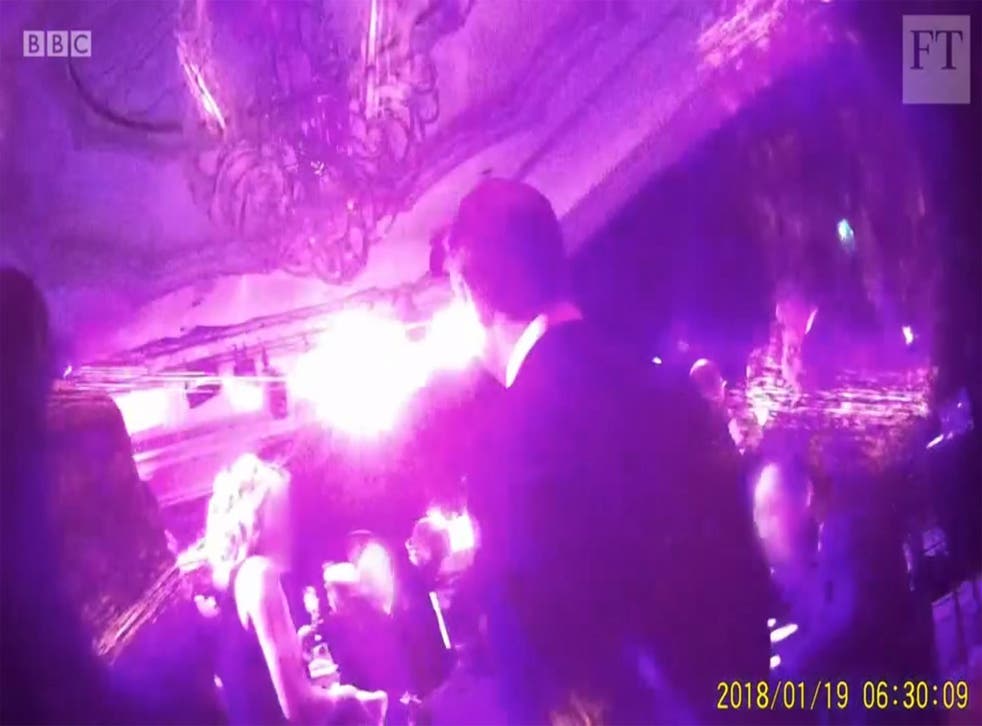 When I first joined the City in 1983, I worked at one of the major law firms. We went for lunch, us trainees, with one of the senior partners. He took us to his club nearby.
After we'd eaten we went upstairs for coffee. All the tables and chairs were taken on one side of the room, but there were plenty vacant at the other end. We made to sit in those. Then our boss said that unfortunately our woman colleague would have to stay put. A painted line across the floor meant that females could not cross.
Much has altered since, certainly where large employers are concerned. Today, the act of taking a mixed party to such an establishment with the woman excluded in that fashion would be heavily frowned upon – the partner could expect to be made the subject of a formal complaint and disciplined.
Back then, however, lewd comments in the office or after work in the bars and at dinners, towards women were commonplace. As with the line on the floor, discrimination had an almost official seal. I recall going for an interview on the graduate milk round with another well-known law firm. The men were asked to tell the all-male panel a joke, to make them laugh. The women were not. Presumably, only the blokes had the requisite sense of humour.
The City and business establishment has shifted – not as much as it should – but a definite move in the right direction, nonetheless. Numerous law suits, resulting in negative publicity, not to mention huge payouts, have put paid to the worst excesses, certainly at the most pukka organisations.
There are still male-only gatherings and societies, but there are fewer of them and they are far more discreet than in the past. Outside the City, there remain well-known institutions that are strictly masculine preserves: the Garrick Club, White's, Boodle's, and Brook's. Many senior businessmen, especially those in companies with HR departments and stated policies on equality and inclusivity, would think twice about joining one of these clubs.
Which is where mistakes are being made about the Presidents Club charity dinner. It was not, in any shape or form, an event for the City or business establishment. Looking at the guest list, there are a handful who could lay claim to belong to that top layer. Most of those attending were self-made, successful men with their own, private concerns. It was a very different roll call from, for instance, those who go to the annual Mansion House or CBI dinners.
There were retailers, property men, wheelers and dealers, entrepreneurs who work for themselves. Some of them might have had knighthoods or assorted honours; plenty of them were well known; but mostly they were not from blue-chips or multinationals. They would go to a dinner like that because they could, because they were in charge of their diaries, because they were not subject to warning bells from human resources, because they did not have to defer to anyone.
For them, the Presidents Club gala was not even that special. A good night, a belter of a charity fundraiser, granted, but one among many. It was not that far removed from a dinner at the golf club – also black-tie, with some of the same crowd, and definitely, identical views.
Today, they're in a state of shock. It's PC gone mad, they complain – a behind closed doors social where, OK, some women might have been groped for a bit of fun. But that's all it was, fun. They were raising cash for deserving causes, and that, surely, outweighs the odd woman or two who was unhappy. They really don't get it.
And neither, until now, have they had to. That's the point about the furore over the dinner. It's the new world meeting the old. Admittedly, the former is by no means perfect – it can be very rough around the edges, even now. Likewise, there were people at the Presidents Club bash who really ought to have known better. But, by and large, it was one set of values (newly honed in some cases, but increasingly standard) rubbing up against another.
The lows of the Presidents Club were more to do with the wider society than the City and business. Yes, many of the names hailed from commerce but in no way were they representative of the modern City and business. Embodying the types who wear diamond jumpers and discuss holed putts in the same breath as their latest property deals, maybe, but not those who bestride the boardrooms of corporate Britain.
I was going to say that Davos and the Dorchester could not be further apart. But then Sir Martin Sorrell, head of WPP, is a Davos stalwart and his WPP advertising, marketing and communications giant had a table at the Presidents Club. Sorrell himself, though, was not present, and as soon as the exposé landed, was quick to end his company's support.
We've had Harvey Weinstein, now this. Sharp lessons are being learned. Change is taking place. But not everyone is moving at the same speed. There will be plenty more Presidents Club-type dinners and further dreadful revelations before this is over.
Chris Blackhurst is a former editor of The Independent, and executive director of C|T|F Partners, the campaigns and strategic communications advisory firm
Register for free to continue reading
Registration is a free and easy way to support our truly independent journalism
By registering, you will also enjoy limited access to Premium articles, exclusive newsletters, commenting, and virtual events with our leading journalists
Already have an account? sign in
Join our new commenting forum
Join thought-provoking conversations, follow other Independent readers and see their replies