UK jobs market remains gloomy despite City boom, report warns
New report reveals a two-speed recovery in Britain's economy with the capital booming while other parts of the country continue to struggle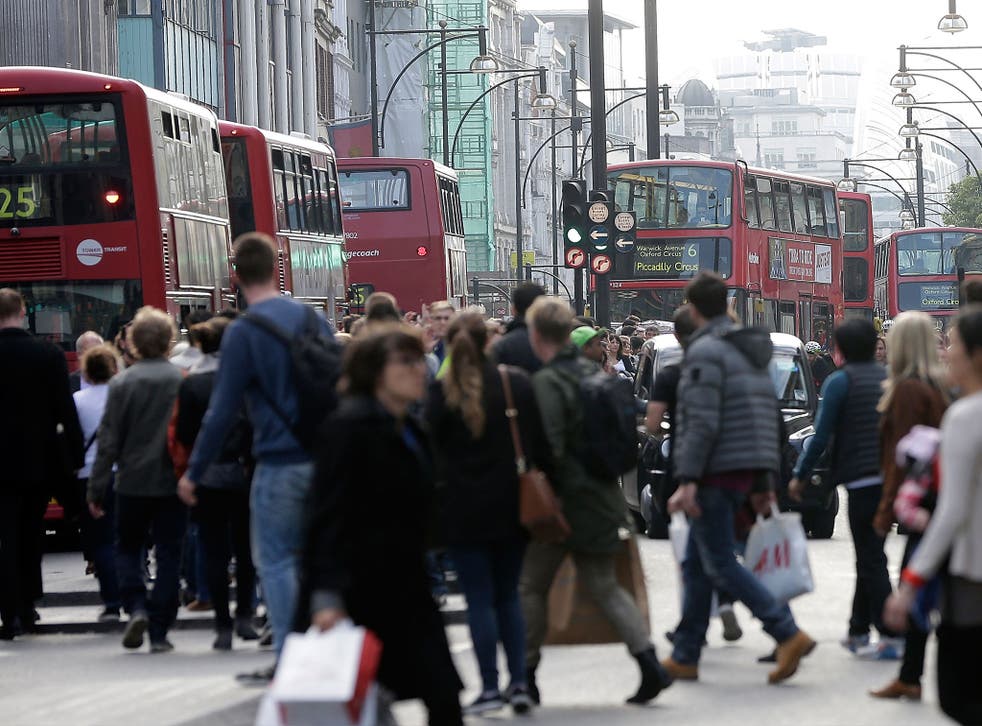 The City's dramatic revival means inner London is now the only part of the UK to have returned to pre-recession levels of job creation.
A TUC report to be published today reveals a two-speed recovery in Britain's economy with the capital booming while other parts of the country continue to struggle.
The TUC Touchstone pamphlet – Equitable Full Employment: A Jobs Recover for All –paints a picture of a static labour market with people clinging grimly on to the jobs they have outside the capital.
It will say that job starts – the number of people starting a new job within a three-month period – are continuing to run at 20 per cent below pre-recession levels across the country as a whole and are still falling in many regions. Three in 10 new jobs are now also of a temporary nature, with fixed terms or contracts increasingly becoming the norm for new workers.
While employment rates have increased, one of the main factors sustaining them is the fact the levels of people leaving their existing jobs for new ones remains extremely low.
Outer London, the South-east and East have recovered since the crash but job starts are still 11 per cent, 16 per cent and 21 per cent below pre-recession levels.
The North-east outside Tyne & Wear and the West Midlands outside its metropolitan area show declines. In Merseyside and the North-west outside Greater Manchester, job starts are 30 per cent down on pre-recession levels.
Scotland, however, is recovering well with the exception of Strathclyde. In Yorkshire the recovery is patchy with the south and west outpacing the rest of the region.
The TUC says that job creation remains depressed across large areas of the country, especially in rural communities.
Young people are also suffering disproportionately. Hiring rates for 16-24 year olds, who traditionally have moved from unemployment into work at a far quicker rate than all other age groups, have declined considerably over the last 17 years. People in their late 20s and early 30s are now finding work just as quickly.
The report urges targeted employment support programmes, such as a job guarantee for any young person out of work for at least six months, identifying low skills as a reason to provide more intensive employment support and establishing bodies in each industrial sector so government, unions and employers can work together to identify skills gaps and promote workplace standards and fair pay.
The Centre for Economic and Social Inclusion's associate director Paul Bivand said: "Our concern is inclusion. It isn't just our name. Employment growth should help close gaps in our society. We don't want a rising tide to lift just the most buoyant and leave others behind. We want all areas and groups to benefit. We need to close gaps.
The TUC's general secretary Frances O'Grady said: "Job creation is as important for people looking for work as it is for those already in work and looking to boost their incomes.
"It's worrying that across huge swathes of the country – and particularly in rural areas – job creation levels remain depressed, and that where jobs are being created, far more are temporary positions than before the crash.
"We need to see far more high-quality jobs being created, not just in our cities but across the UK if we're going to achieve full employment and a return to healthy pay rises."
Register for free to continue reading
Registration is a free and easy way to support our truly independent journalism
By registering, you will also enjoy limited access to Premium articles, exclusive newsletters, commenting, and virtual events with our leading journalists
Already have an account? sign in
Register for free to continue reading
Registration is a free and easy way to support our truly independent journalism
By registering, you will also enjoy limited access to Premium articles, exclusive newsletters, commenting, and virtual events with our leading journalists
Already have an account? sign in
Join our new commenting forum
Join thought-provoking conversations, follow other Independent readers and see their replies