Delaying end of Covid restrictions would have 'devastating' impact on hospitality businesses
Industry figures warn of more job losses if roadmap to reopening is delayed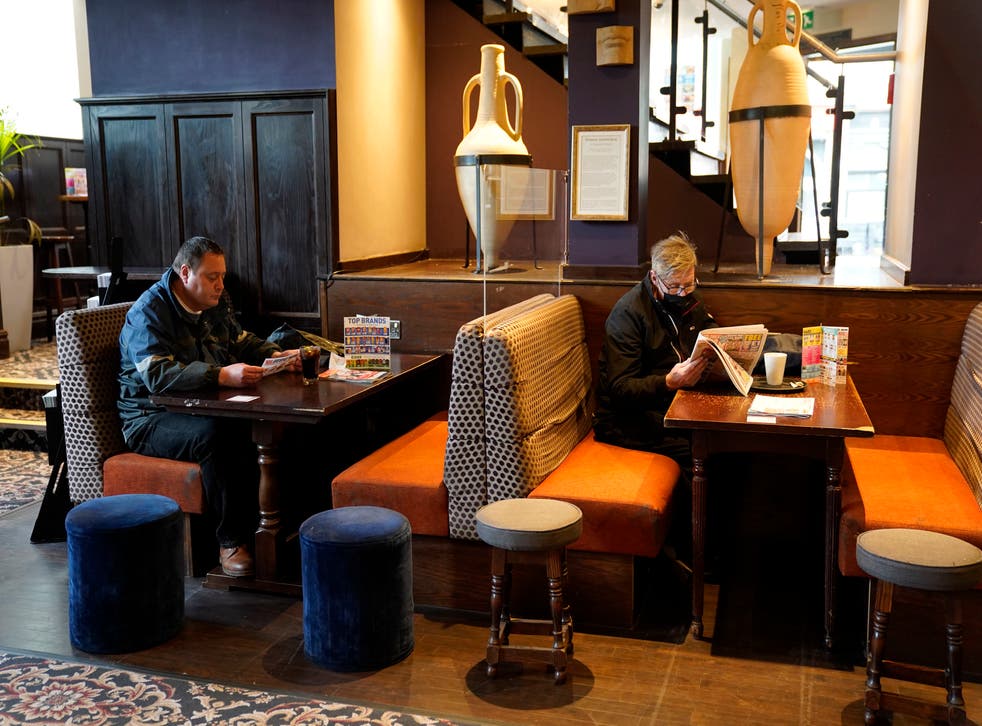 Leer en Español
Continuing with Covid restrictions beyond 21 June would have a "devastating" impact on UK hospitality businesses that are already struggling for survival, industry leaders have warned.
Businesses have demanded certainty from the government amid increasing concerns that a rise in coronavirus infections could mean restrictions will not end this month as planned.
A quarter of hospitality firms remain closed and many of those that are open are operating at a loss, according to trade body UKHospitality. They are banking on a booming summer season to repair the damage caused by one of the toughest years the industry has endured.
"A delay would push many businesses closer to the cliff edge of failure, meaning more job losses," said Kate Nicholls, UKHospitality's chief executive.
The government has refused to confirm whether or not the date is in jeopardy as scientists warn of the danger posed by a renewed surge in coronavirus cases.
Wedding venues, events organisers and nightclubs are among those who say they need firm guidance from ministers about what measures will be in place and what help will be available if restrictions on households mixing are to continue.
Currently, companies are hiring new staff, buying stock and planning for a busy summer while still not knowing if they can operate at full capacity or at all. Boris Johnson is to give an update on 14 June, giving just a week for firms to prepare.
Emily Lewis, of the Lewis Partnership, which runs pubs and a 41-room hotel wedding venue, said she has already taken on 10 new employees who are currently being trained up.
"Training takes weeks; it's not a matter of people just stepping to a job. We've started the ball rolling but if it doesn't come off on 21 June were going to be in a position where we have more than we need. They won't be eligible for furlough.
Weddings are limited to 30 people, but under current plans there will be no restriction on numbers after 21 June. Many venues have already taken on substantial debt to make it this far and will make further losses if they operate for the summer season with limited numbers
Uncertainty is also deepening a recruitment crisis for pubs, restaurants and events companies who have seen an exodus of migrant labour.
Ms Lewis added: "We see a lot of CVs on jobs boards where people say they don't want to work in hospitality any more because they've been burned by the experience of the pandemic.
"Our industry will be the first that is closed down and people taking new jobs won't be eligible for furlough. It's very difficult to staff a very busy wedding season when people don't have the certainty that you are going to be open."
If restrictions do continue, the Lewis Partnership plans to keep on its new staff but may be forced to furlough existing team members.
Ambiguous statements from the government have also caused further worry for couples planning their weddings, some of whom have now moved the date for their big day four or five times, Ms Lewis said.
"They just want to get married; they want to know what the day is going to look like. We are being that reassuring voice but at the moment we have no information to give them."
Nightclubs, which have been unable to open their doors at all since March last year, face particularly tough circumstances.
A recent poll by the Night-Time Industries Association (NTIA) found that nine in 10 businesses in the sector believe their survival would be under threat if they must remain closed beyond 21 June.
Michael Kill, chief executive of the NTIA, said: "According to our survey 95 per cent of [nightlife] businesses have already had to start engaging staff, ordering stock, booking entertainment and selling tickets, all at a considerable cost, any deviation or delay will put further financial pressure on them."
Nightlife operators are calling for a minimum three-week period to prepare for rule changes.
Britain's biggest business group, the CBI, urged the government to issue clear guidance about Covid-status certification and social distancing when the economy fully reopens.
"Businesses have their fingers crossed that health data allows for a full reopening on June 21," a CBI spokesperson said.
"Easing of restrictions has kick-started economic momentum in many sectors, but others, like hospitality, leisure and tourism are longing to make the most of the summer trading period.
Wavering by Boris Johnson's government has caused public confidence that restrictions will end to plummet, according to a poll by Ipsos Mori published on Tuesday.
It found 58 per cent of people think the government will keep to the target of shedding most if not all Covid restrictions in June – a 25 per cent fall compared to just weeks ago.
The concern comes as a new Covid-19 variant first identified in India spreads in the UK. Scientists have advised caution on the roadmap to ensure that progress on suppressing the virus is not undone.
Join our new commenting forum
Join thought-provoking conversations, follow other Independent readers and see their replies