The Independent's journalism is supported by our readers. When you purchase through links on our site, we may earn commission.
99p 'Boris menu' and bottomless wings: How tier 2 pubs are getting around 'substantial meal' rules
Pub owners left to their own devices to decide what constitutes 'substantial meal', finds Kate Ng
Saturday 05 December 2020 17:22 Comments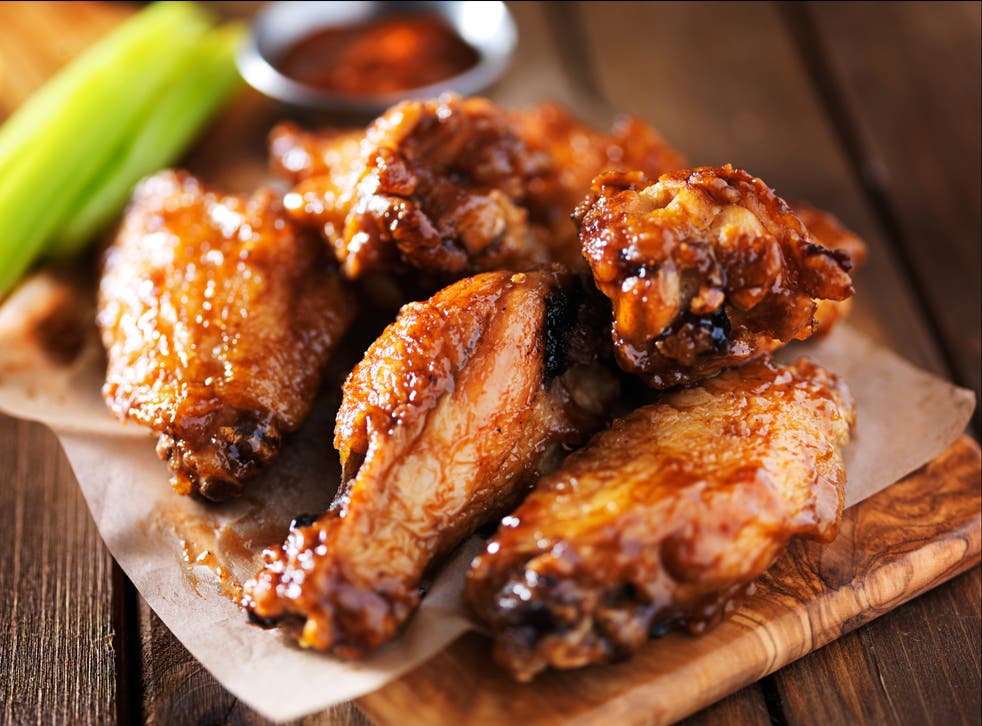 A hot dog and chips for a mere £1.99 is the best-selling item on The Castle Inn pub's "Boris Menu" – launched by owner Kerry Hills to stay in line with the government's latest coronavirus regulations.
Pubs under tier 2 restrictions in England that primarily sell drinks can only operate if they serve a "substantial meal" with orders of alcohol. But what constitutes a substantial meal remains murky, with government ministers themselves seemingly unclear on whether or not a scotch egg would constitute a starter or a main. 
In order to get through the ongoing restrictions, "wet-led" establishments like The Castle Inn in Tring, Hertfordshire, have begun offering cheap food and snacks in a bid to stay open.
Ms Hills tells The Independent: "Ninety per cent of my customers are tradesmen who come in after work for two or three pints on their way home. They do not want anything to eat bar a bag of peanuts as they have dinner at home with their families."
The pub's "Boris Menu" includes starters of garlic bread and soup for 99p, main courses or baked beans on toast, hot dog and chips, or tomato and mozzarella pizza bread for £1.99, and 99p desserts.
"I needed to make the menu as cheap as possible so as not to deter them from coming in at all. Due to the limited kitchen facilities at the pub, I also needed quick, simple dishes," she says.
"The customers have responded really well and so far the hot dog and chips has been the winning dish by far."
Other pubs in England have similar menus, such as The King's Head in Essex. Pub owner Matthew Arnold told Essex Live the idea for the menu was born out of "frustration" at the new regulations, which take "a lot of time and cost for pubs to abide" by. 
He said: "It's the frustration that prompted the menu idea initially at the same time as catering for customers that don't necessarily want a large and costly meal each time they want to visit us."
But it's not just that a substantial meal is required with an alcoholic drink – pub-goers have also been told they must leave the pub after their meal.
According to Boris Johnson's official spokesperson, the coronavirus guidance states that "once a meal is finished, it is at that point [you have to leave]".
Some venues have used creativity to get around this particular problem – from serving bottomless chicken wings and chips to meals that apparently take a longer time to cook to allow patrons to get in a few more drinks while they wait.
The Admiral Nelson pub in Northamptonshire launched a "substantial"menu that includes visuals indicating how long a meal would take to cook and eat in the form of drinks.
For example, a ham and egg dish with chips and peas would be prepared in the time it takes to drink two cocktails, and eaten in the time it takes to drink four beers.
But a Cornish pasty and chips could take up to four cocktails to cook, but two beers to eat, according to their menu.
Meanwhile, the Lord John Russell pub in Southsea and the Yates Southampton in Southampton are both offering all-day bottomless wings and chips to encourage people to take their time and enjoy their drinks.
However, some venues have drawn criticism from others for "taking the piss" with their less-than-substantial meal offerings.
The Long Arms, a pub and smokehouse in Wiltshire, posted a screenshot of another pub serving a sandwich and crisps for £1, commenting: "I'd call this taking the piss at best and defo breaking the law, come on guys play the game."
In London, the Southampton Arms on Highgate Road appears to be siding with environment secretary George Eustice over Michael Gove (who said the food was just a starter), and is offering vegetarian scotch eggs for £4 on their menu, which they describe on their website as a "government-approved substantial meal".
The substantial meal rule and lack of definition for what actually constitutes to such a meal has left pub owners with mixed feelings.
Ms Hills said: "Whilst I understand that this will prevent people from doing a 'pub crawl' and also from just going out to get drunk, I also feel that the rules are too strict and there should be some allowances.
"For example, tradesmen coming in for a couple after work shouldn't be forced to eat a meal. As a licensee I am trusted to sell alcohol to the public responsibly in normal times. Since the start of this pandemic I feel like the authorities don't trust me to do the right thing."
Register for free to continue reading
Registration is a free and easy way to support our truly independent journalism
By registering, you will also enjoy limited access to Premium articles, exclusive newsletters, commenting, and virtual events with our leading journalists
Already have an account? sign in
Join our new commenting forum
Join thought-provoking conversations, follow other Independent readers and see their replies