For Greater Manchester, the latest government announcements could be the end of the traditional British pub
As Greater Manchester's night time economy adviser, I'm more fearful than ever about the impact these ill thought through moves are having on our society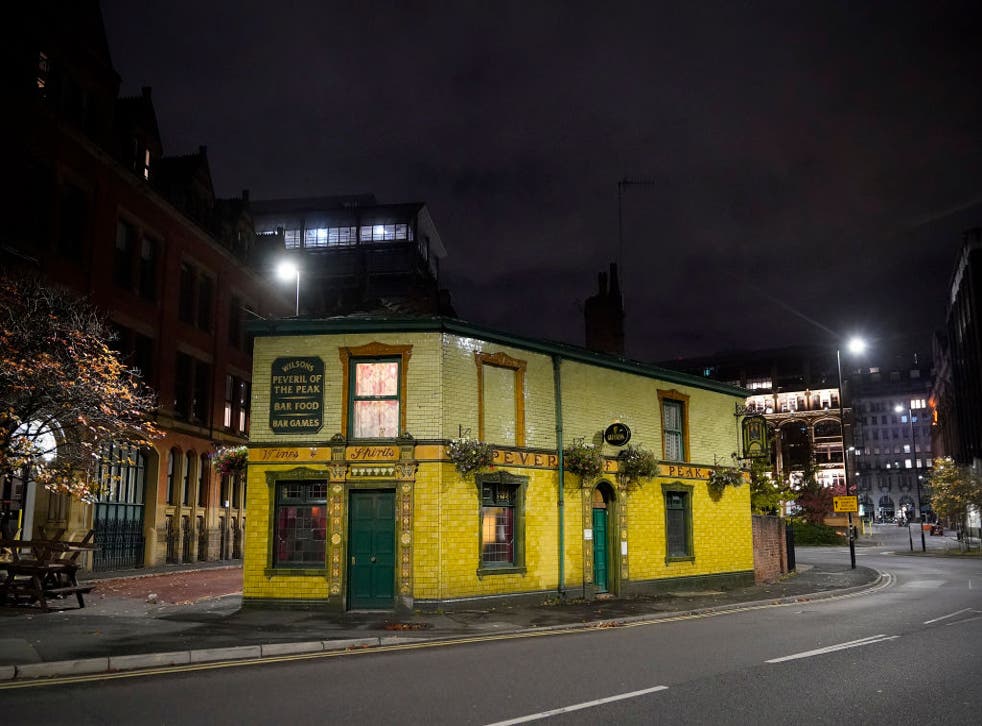 I was upbeat over the weekend as news of the curfew changes began to filter through onto social media. But that initial encouragement was replaced by heartbreak when details of the harder tier systems were announced on Monday morning.  
Greater Manchester, where I am night time economy adviser, was placed under Tier 3 restrictions on October 23, prior to the national lockdown, and with the government announcing that all hospitality in this highest tier will remain closed post 2 December, it is likely that the region's pubs, bars and restaurants will not reopen until March.
As a region, we have spent the majority of the year under more stringent restrictions than elsewhere in the country. Sometimes it feels like we're playing a twisted game of hokey-cokey with people's livelihoods, as we are told one minute that we are in lockdown, and the next that we're out.
What is consistent, however, is the irreparable damage being done to the pubs, bars and restaurants striving to stay afloat. These latest developments have rocked even the hardiest of business owners, and I'm now more fearful than ever about the impact these ill thought through moves are having on our residents and our society.  
I've spent every waking minute in the midst of this pandemic talking to those whose businesses are on the line, and to the public who rely so heavily on bars and pubs, not just for employment but for a sense of community. "The local" isn't just a phrase; it's a way of life – and yet I am almost certain that these latest measures will mean the end of the traditional British pub as we know it.
Going back centuries, they have been places for communities to gather, stitched in the fabric of our culture. They are the lifeblood of towns, villages and streets. Vital social spaces to let off steam, to share wins and tragedies. They provide places of comfort, laughter, friendship and socialisation for many – not just for the elderly, but for the most disadvantaged in society, who may be unable to afford meals out and just want to socialise with friends.
For those who used to go to their locals for a pint after work, to see friends or to watch football, these moves will only serve to increase severe loneliness and isolation already rife during this pandemic.
What is most hard to swallow is the seemingly throwaway nature of these decisions. The government has claimed time and time again that the sector is deemed too unsafe to reopen, but operators have worked tirelessly to abide by the necessary rules from the outset. They have accepted quick-fire lockdowns and spent millions implementing the government's own recommended Covid-secure measures. If these guidelines are deemed not safe enough, then how can they win?
I have repeatedly called on the government to show us the evidence stating that hospitality, in any form, is a sector with high transmission rates, and despite this, and even my ongoing legal challenge, we have not been shown any tangible scientific evidence to merit these closures.
In fact, the only evidence we see regularly is from Public Health England, whose own data has shown hospitality venues attribute to just a fraction, a single figure percentage, of Covid transmissions.
I heard reports this morning from one brewery that they expect around 94 per cent of pubs in Tier 3 areas to go under by the spring. It is no exaggeration. Yes, we can commend the government for extending the furlough scheme until March, but frankly, with ever-increasing debt racking up from rents, rates and bills, these businesses simply won't be around to pay the furlough. This is especially true for the independent operators, who cannot lean on multi-million-pound parent companies, and it's now inevitable that we will see mass redundancies.
So for a sector where 21 per cent of full-time workers and 53 per cent of part-time workers in Greater Manchester are already paid less than the Living Wage, we'll now see many workers fall into poverty as a direct result of the announcements made today.
A government should work to keep its people safe, and yet with each day that passes throughout this sorry period, I am more of the belief that this is not happening. We hear day in, day out that the regulations are supposedly built on keeping people away from the virus, but I can say with certainty that these latest moves will not only encourage people to gather in their own homes, where we know transmission rates are prevalent, but they will also increase the likelihood of illegal parties, underground trading and an increase in 'lock-ins'. It is once again a move that will do more harm than good.
On Thursday, the government will vote on these proposed measures. At this point, with rumours rife across Westminster and restrictions announced through media leaks, it's impossible to know what's coming next. All I can hope is that MPs on both sides do the right thing and vote against the destruction of our nation's most loved sector.
Sacha Lord is the night time economy adviser for Greater Manchester
Register for free to continue reading
Registration is a free and easy way to support our truly independent journalism
By registering, you will also enjoy limited access to Premium articles, exclusive newsletters, commenting, and virtual events with our leading journalists
Already have an account? sign in
Register for free to continue reading
Registration is a free and easy way to support our truly independent journalism
By registering, you will also enjoy limited access to Premium articles, exclusive newsletters, commenting, and virtual events with our leading journalists
Already have an account? sign in
Join our new commenting forum
Join thought-provoking conversations, follow other Independent readers and see their replies