Deliveroo slashes target valuation by almost £1bn after investors raise concerns on workers' rights
Company faces questions over business model reliant on self-employed contractors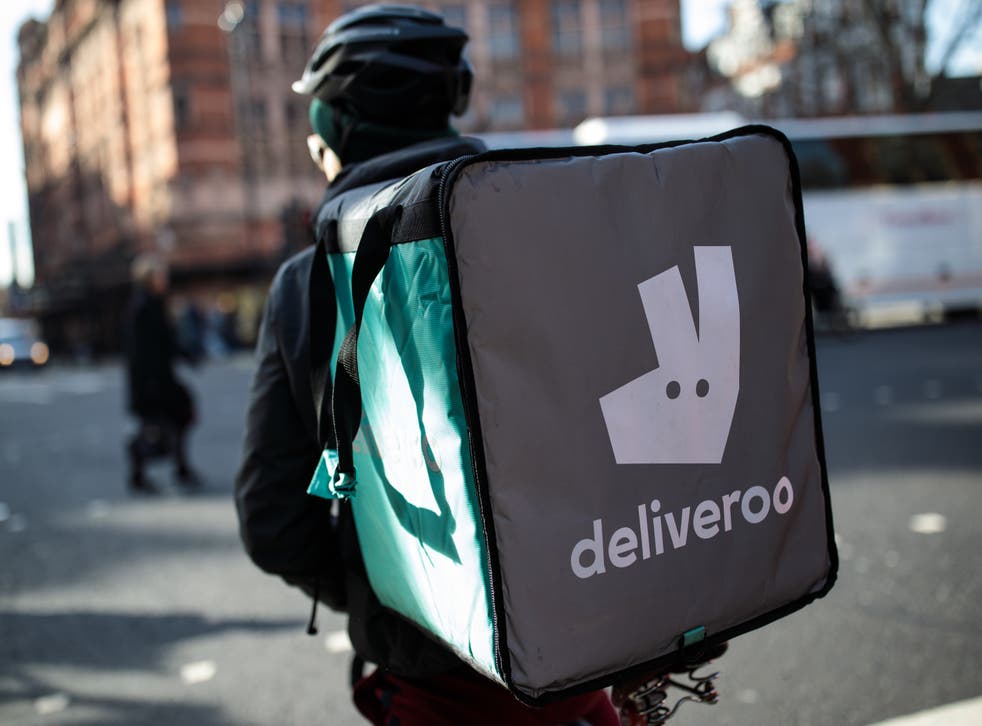 Deliveroo has slashed its valuation target by close to £1bn after a string of large investors snubbed the firm's share sale.
The food delivery app blamed "volatile" market conditions as it said it would cut its target share price range to between £3.90 and £4.10. It had previously sought a top-end price of £4.90 which would have valued the loss-making start-up at £8.8bn.
Deliveroo's announcement came after fund managers controlling more than £2 trillion of assets said they would not take part in the initial public offering this week.
Aberdeen Standard Investments, Legal & General and Aviva are among investors to have raised questions over Deliveroo's business model and workers' rights.
It comes after Uber announced it would grant drivers rights including a pension, guaranteed minimum wage and sick pay following a Supreme Court ruling that stated drivers were workers not contractors.
Analysis published last week by the Bureau of Investigative Journalism of more than 300 riders' pay found that around one in three received less than the minimum wage. One rider was paid just £2 an hour.
Read more
Deliveroo disputed the figures and said riders receive between £10 and £13 an hour, on average. Deliveroo's riders are classified as self-employed contractors, meaning they are not entitled to a guaranteed minimum wage, holiday pay or sick pay. Investors fear that classification may have to change.
"Given volatile global market conditions for IPOs, Deliveroo is choosing to price responsibly within the initial range and at an entry point that maximises long-term value for our new institutional and retail investors," a spokesperson said.
Analysts were sceptical about the stated reasoning.
Susannah Streeter, senior investment and markets analyst at Hargreaves Lansdown, said: "It's likely initial orders for the IPO have come in nearer the bottom of the target range, and by setting its sights nearer those prices, it is managing expectations on its ride to listed status.
"It may be blaming volatile market conditions for the move, but the rejection of the IPO by a slew of institutional investors is likely to also have caused some concern at the delivery company.
"Clearly Deliveroo, already facing criticism over the working conditions of its riders, doesn't want to puncture the prospects of a successful launch."
Register for free to continue reading
Registration is a free and easy way to support our truly independent journalism
By registering, you will also enjoy limited access to Premium articles, exclusive newsletters, commenting, and virtual events with our leading journalists
Already have an account? sign in
Register for free to continue reading
Registration is a free and easy way to support our truly independent journalism
By registering, you will also enjoy limited access to Premium articles, exclusive newsletters, commenting, and virtual events with our leading journalists
Already have an account? sign in
Join our new commenting forum
Join thought-provoking conversations, follow other Independent readers and see their replies