Pop Brixton: the south London shipping containers showing councils a different way to do business
Each tenant at Pop Brixton must invest a minimum of four hours a month on training, apprenticeships and charitable activities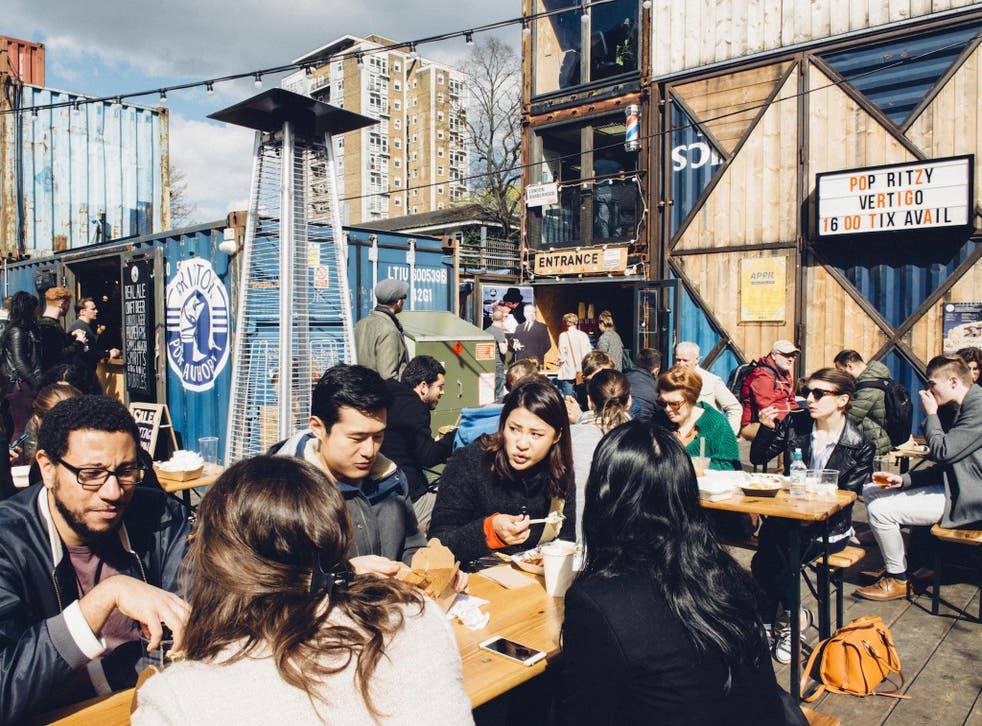 Not long ago Reprezent, the London radio station whose training programmes for young people were feted on a visit by Prince Harry and Meghan Markle in January, was on the brink of shutting down.
In 2015, Reprezent's local authority funding was reduced to the point where it was having to crowdfund for survival. "We were in a really tight spot," says manager Adrian Newman.
Just up the road in Brixton, the council had granted so-called "meanwhile use" of a plot behind the Brixton Market to Pop Brixton, a business hub designed by local architect Carl Turner. The project was managed by James Leay, a serial entrepreneur with roots in street food and an augmented reality startup. Pop Brixton had won councillors' hearts with plans to use the land – which was once a car park and will one day be reclaimed for housing development – as a base for local entrepreneurs, built out of shipping containers.
The hub, called Pop Brixton, was rooted in the idea that it would offer support to entrepreneurs in the local community. Leay and the team came up with a community investment scheme, where each tenant has to invest a minimum of four hours a months on training, apprenticeships and charitable activities. While commercial businesses get charged normal business rates for space, Pop Brixton offers social enterprises such as Reprezent rates 50 to 80 per cent lower.
Pop Brixton has been so successful that the council has just extended its lease until 2020. Leay and his team have created a company called Make Shift and gone on repeat their success in nearby Peckham with Peckham Levels, in a disused car park. A third site in Hackney, on the old Olympic Park site, is next.
On a bright winter Wednesday, Leay looks up at the three-high stack of containers in one corner of Pop Brixton which houses an events venue, meeting spaces, a barbers and Reprezent, which continues to broadcast live every day until 11pm.
"I'm not sure I'd build out of shipping containers again," he says. The problems start when you try to stack them on top of each other, especially with drainage when it rains. But the containers are the perfect stepping stone for entrepreneurs between working from home and the high pressure of taking out a commercial lease. "For me it's all about that space gap," Leay says. "For a commercial lease you need to know a lot more than a street trader."
We stop in at London Barberhood, the barbershop below Reprezent that was started by cousins Ben and Kris Theophanous. Kris previously worked as a mobile barber while Ben still works full-time in marketing. Ben says the cousins had long dreamed about working together and continuing four generations of barbering in their Greek Cypriot family.
They wanted to open a barbershop rooted in community, where they could offer work experience to schoolchildren and opportunities to local people with mental health issues, or out of work.
"This felt like a great platform to try something relatively risky," Ben says, motioning to the container, which has mirrors along one side and artwork from a nearby college along the other. "The guys here gave us support and took out some of the barriers that get in your way."
London Barberhood is about to open its first permanent base in Tooting Bec, with room for more than a few pictures on the walls. The cousins have plans for a cafe and meeting space, plus extra space to take on staff and apprentices.
Downstairs, the shipping containers have been arranged around a makeshift food court. Visitors enter into a covered area lit by lanterns and neon signs, surrounded by street food vendors. We peer into Baba G's, which serves Indian-inspired burgers. There is just enough room for a food preparation area and a serving counter.
Baba G's, like London Barberhood, is one of eight businesses that started in Pop Brixton that have gone on to open premises elsewhere. Others include Kricket, Donostia Social Club, L'Amuse Bouche, Boombocs and Pack'd.
Pop Brixton has got a name for itself for incubating the next big thing on London's culinary scene. "Investors scout around here for talent," says Oli Brown, the founder of Duck Duck Goose, which serves Cantonese food. Within a month of opening at Pop Brixton, Brown had been approached by seven investors.
Brown initially wondered how Duck Duck Goose would fulfil the community requirement of being a tenant. But Crisis, the homelessness charity, introduced him to potential staff. "Our kitchen porter came through Crisis," Brown says. "While that feels good, it's also given him the means to rent a flat."
Leay says people commiserate him when the most successful businesses move out. But that, for him, is the whole point. "Since the day we opened, we've had a waiting list," he says.
While Pop Brixton does make money – it has an annual turnover of £18 million across the site and will start paying base rent to the council in October 2018 – it is a social enterprise, which means any profits go back into the business or connected social causes. An independent assessment carried out by the council ahead of the lease renewal discovered that Pop Brixton supports 200 full-time jobs and that three-quarters of all employees on site are local.
Matthew Bennett, the cabinet member for planning on Lambeth Council, is obviously delighted with these results. When I ask why more councils aren't using temporary space in this way, he says it comes down to cash. "It was a clear trade-off between taking the money," he says.
Lambeth Council has lost 56 per cent of its Government grant. Although the land could only be built on temporarily, the council knew developers would have fallen over themselves to get hold of it. So councillors tried to think differently about value, beyond just money. "It's about measuring success in a different way," Bennett says. "It's a different way of thinking as a council."
Much of Pop Brixton's value comes from expecting businesses to give back. "There's a mutual benefit," Newman from Reprezent says. "We get a good deal with rent, but every artist that comes here tweets that they are here. If it was just subsidised rent I'd feel like we were taking the piss."
Leay nods in agreement. "If you give someone a cheap space and there's no value in return, they don't do anything with it."
I ask Leay how he feels about the fact that in two years, all this could be razed to the ground to make way for a housing development. "You go in with your eyes wide open," he says. "Ten years ago, this could have been a Tesco."
Maybe Pop Brixton will get longer, Leay says with a sideways grin at Councillor Bennett. Maybe it won't. Either way, Leay hopes to have shown the Lambeth Council and others, through numerous examples of successful small businesses, what is possible.
Join our new commenting forum
Join thought-provoking conversations, follow other Independent readers and see their replies