UK councils are turning to communities to fund key services after huge cuts
Swindon Borough Council is the first in the country to use Abundance, a green investment platform, to give residents the opportunity to help fund two solar farms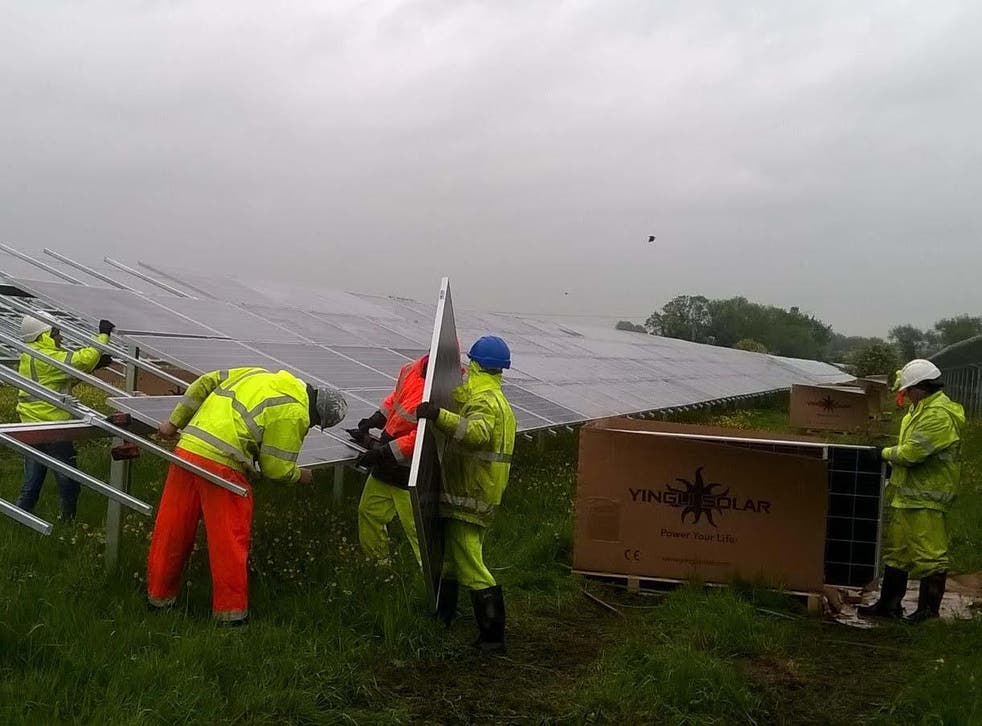 After she turned 50, Diane Gilpin from Wiltshire decided that she had better take a closer look at her pension. Gilpin works as a renewable energy consultant, so she didn't want her money invested in fossil fuels. But when she asked her financial adviser about it, he said ethical investing was too risky. "I don't think he knew how to do it," she says. "My husband and I aren't super-sophisticated investors, but we decided to look at renewables. And then Abundance popped up."
Gilpin can't remember exactly where she saw the adverts for investors in a local solar farm in Swindon. The borough council had advertised the scheme in Swindon railway station and on the local evening news. The couple discovered an opportunity to invest as little as £5. Councillors thought it would be fitting to involve the community in funding two new solar farms that would produce enough power for all the houses in Swindon.
Swindon is the first council in the country to use Abundance, a platform that allows people to invest in energy projects using debentures, which act like bonds and pay out regular returns. The first Abundance projects in 2013 funded electricity bills for schools, leisure centres and a library. Since then the platform has raised £40m from investors to help fund 25 projects, and paid back £7m in returns.
Bruce Davis, co-founder, says Abundance is putting money to work that would otherwise sit around doing nothing.
"There's £1 trillion in cash in the UK at the moment, because people can't see anything to invest in. What crowdfunding is doing is getting that money to be more active, and you can do that in two ways: donate it or invest it," he says.
Councils are eyeing the money with interest. By 2020, austerity policies implemented by the former Conservative government mean they will no longer receive money from central government to run everything, from bin collections to buses to essential care for the elderly.
By some estimates, that's going to leave UK councils £4.1bn short of what they need just to get by. Some of the services will be funded by higher council tax and the right to retain all the money from business rates, a tax on property that is used for commercial ends. But civic crowdfunding, ranging from a Crowdfunder campaign for donations to revitalise a neighbourhood in Plymouth to multi-million pound equity investing in renewable energy in Swindon, is an increasingly attractive alternative.
"Councils co-invest on these projects," Davis says. "They are saying, 'We want to build these things, we're going to invest in it and we want you to invest in it too,' and from the reaction you really get a sense of whether it's valued in the community."
Steve Cains is in charge of solar power at Public Power Solutions, a wholly-owned subsidiary of Swindon Borough Council. "Swindon Council is quite unusual. In the area that I work in, they look at different ways of doing things," he says.
The council set a target to develop a low-carbon economy by 2030. In spring 2016, investors like Gilpin from the surrounding area and beyond co-funded Common Farm, a 4.8 megawatt solar farm. Investors contributed £1.8m alongside the council's £3m, hitting the target for cash in two months, rather than the allotted three. The project was complete by June and is already paying interest to investors like the Gilpins, who expect to get between 5 and 6 per cent annual return on the £2,000 they invested over 20 years.
"It gives us £50 every year, so that's a meal out or something," Gilpin says.
They are not just in it for the money. "It feels good," Gilpin says. "I am deeply concerned about the rate of greenhouse gas emissions that we are collectively putting into the atmosphere and I have been for many years. I think government policies in the UK and in the United States are giving the wrong message. If we commit to it, renewable energy has huge potential."
Swindon Borough Council launched its second council-community partnership just a few months later, in November 2016. It raised £2.5m in a matter of weeks to fund the 5 megawatt Chapel solar farm. The council invested the remaining £3m.
"Chapel Farm is a win for us because it is on council-owned, previously-used land," says Cains from Public Power Solutions. "The funding was exactly the same but there was this new innovation where they were able to wrap the investment in an Isa."
Abundance set up an Isa last year to allow investors to save between £5 and £20,000 tax-free, while receiving a 2 per cent return annually (until July 2017). Once the money is saved, account holders can choose which projects to invest in and the returns are paid back into the Isa, where they can be withdrawn at any time.
The two Swindon solar farms now generate enough electricity to supply the equivalent of 1,200 homes, contributing towards the council's low-carbon economy target and providing a steady income. In the process, the council has forged new relationships with people in the borough, increased public engagement with their low-carbon agenda and created more wealth in the community, as investors spend their returns.
"With a lot of infrastructure projects, the local community feel that it's being done to them, rather than for them," says Davis. "You only have to look at the correlation between EU money going into counties and the number of leave voters to see that when money is dumped into areas, people don't connect the two."
Swindon has since been contacted by other councils keen to tap into people's hidden cash. "We're working with other local authorities as well in public sector organisations in Bristol and in Gloucestershire," Cains says. "It is really gaining momentum."
As for Diane Gilpin, does she feel Swindon Council should be funding their own energy schemes, rather than relying on residents who already pay council tax? "I don't think so," she says. "The council's vision to create a low carbon economy is fantastic. We depend on pioneering councils and companies to take this vision forwards."
Join our new commenting forum
Join thought-provoking conversations, follow other Independent readers and see their replies