American Apparel files for second bankruptcy in a year, after signalling all UK stores will be closed down
The announcement comes as the company's remaining British business, including 13 stores, went into administration earlier this month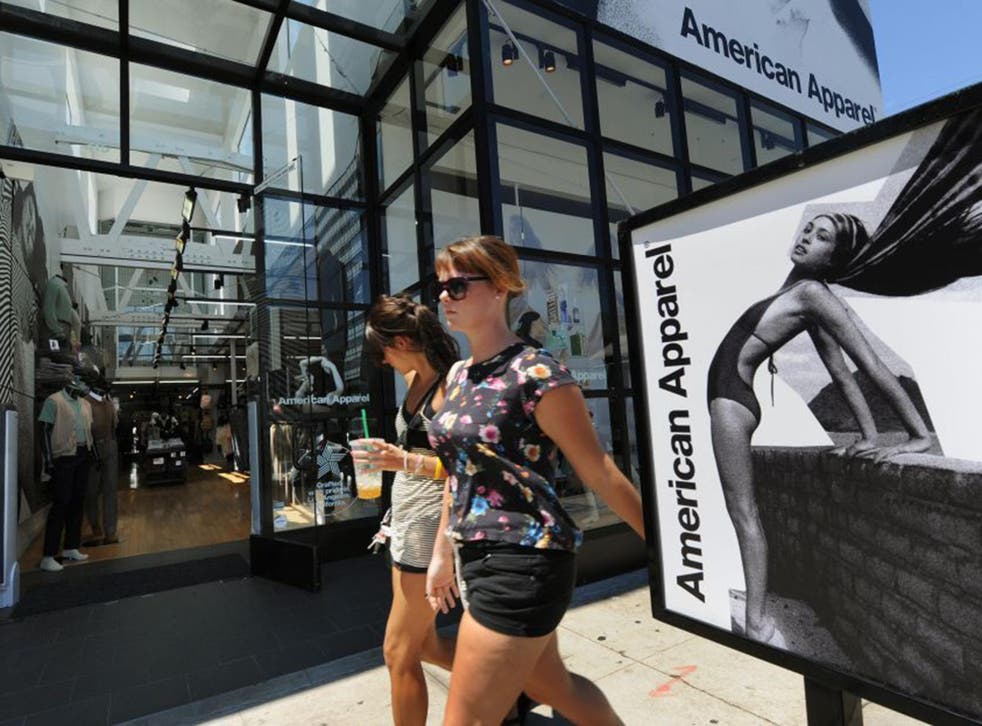 The troubled teenage fashion retailer American Apparel filed for bankruptcy protection on Monday, for a second time in the US in just over year,
The brand, which at its peak had more than 200 stores including 18 in the UK, has suffered falling sales. It might now turn into a Canadian-owned operations with no stores.
The announcement comes as the company's remaining British business, including 13 stores, went into administration earlier this month. The group's UK stores and some other European operations are not part of the US sale and are therefore "likely to be wound down", according to joint administrators Jim Tucker and Richard Beard of KPMG.
The second filing comes less than a year after the US retailer emerged from a previous round of bankruptcy protection and weeks after a management shake-up. American Apparel plans to sell itself at auction with a leading $66m (£53m) offer from Gildan Activewear, a Canadian T-shirt maker.
Gildan Activewaear announced this morning that it agreed to buy intellectual property rights related to American Apparel and certain assets. However, it said it would not be buying any physical stores.
"We are confident that this decision is the best strategic move forward, in order to preserve the legacy of the American Apparel brand," American Apparel Chairman Bradley Scher said in a statement.
The bankruptcy process will allow American Apparel to put its stores up for auction and it is possible a bidder could come in with a better offer.
In the meantime, the retailer plans to continue running its US business as usual and said there would be no noticeable changes to the day-to-day operations of stores.
The company said last week it was winding down its operations in the UK
The retailer's UK operations appointed administrators at KPMG after the US parent company decided to stop shipments to the UK following a rocky trading period.
The remaining UK stores continue to trade, but property agent Cushman & Wakefield has been appointed to seek a buyer for the properties.
Biggest business scandals in pictures

Show all 20
American Apparel filed its first bankruptcy in October 2015 following a steep drop in sales and drawn-out legal battle with chief executive Dov Charney, who was ousted in 2014.
The retailer emerged from bankruptcy this year under the ownership of a group of former bondholders led by hedge fund Monarch Alternative Capital.
Additional reporting by Reuters
Register for free to continue reading
Registration is a free and easy way to support our truly independent journalism
By registering, you will also enjoy limited access to Premium articles, exclusive newsletters, commenting, and virtual events with our leading journalists
Already have an account? sign in
Register for free to continue reading
Registration is a free and easy way to support our truly independent journalism
By registering, you will also enjoy limited access to Premium articles, exclusive newsletters, commenting, and virtual events with our leading journalists
Already have an account? sign in
Join our new commenting forum
Join thought-provoking conversations, follow other Independent readers and see their replies