Brexit: True cost of UK leaving EU without trade deal revealed
EXCLUSIVE: An analysis by The Independent of official data suggests British exporters would face a cost of at least £4.5bn - and in all likelihood they would take a hit many times larger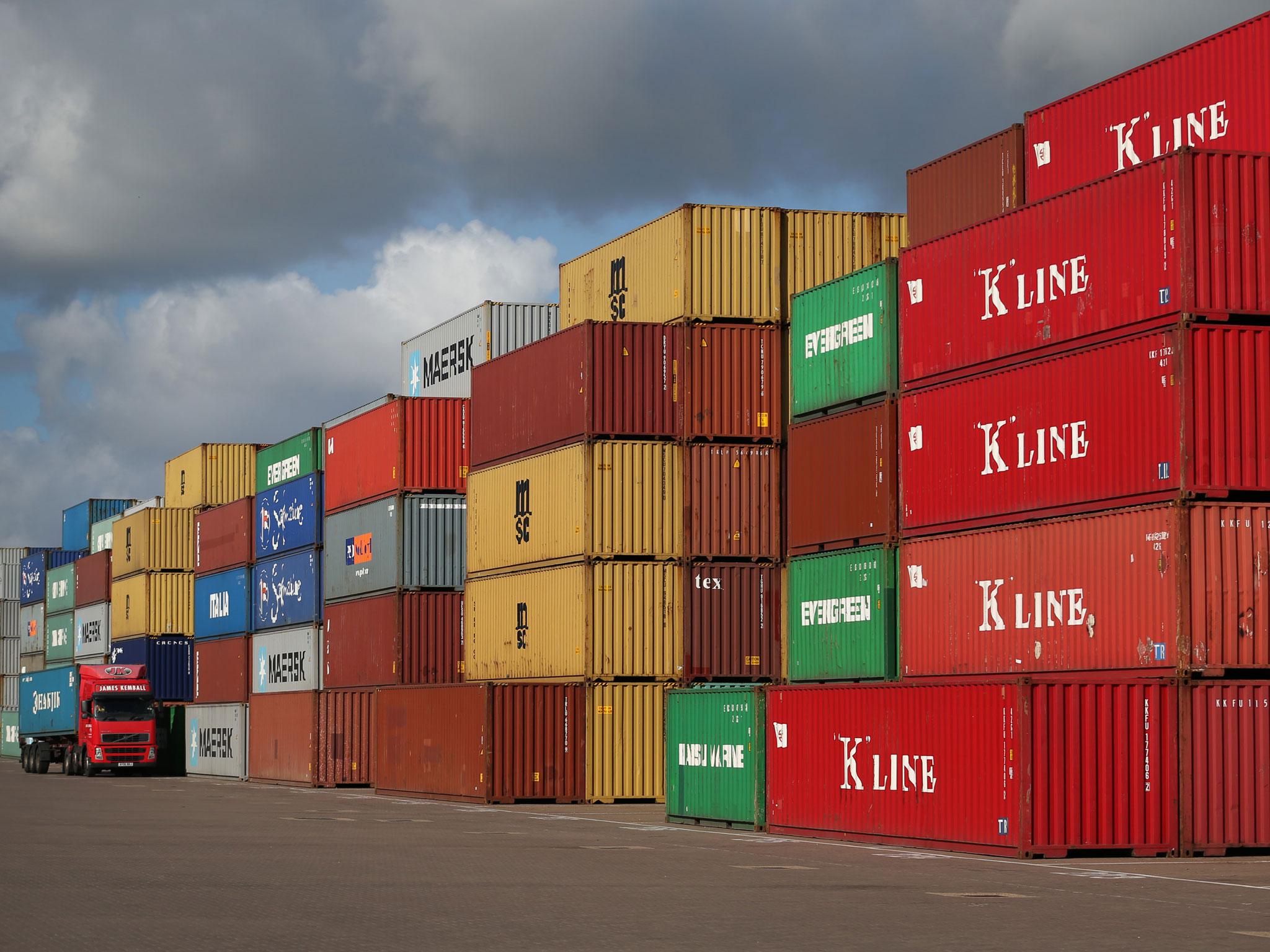 The damage to Britain's goods exporters of leaving the European Union without a new free trade deal in place would be at least £4.5bn a year – and in all likelihood many multiples of that – an investigation by The Independent has found.
David Davis, the Brexit Secretary, admitted earlier this month that it was possible the UK could leave the EU without a deal and would be forced to trade with the rest of the continent under World Trade Organisation rules.
And the International Trade Secretary Liam Fox issued a press release in August that suggested to exporters this could be the ultimate outcome of Brexit.
Some trade experts are concerned that even if the Government tries its best to negotiate a free trade agreement with the EU it could be impossible to complete within the two-year timetable for Britain to leave after Article 50 of the Lisbon Treaty is triggered.
World Trade Organisation rules mean that UK exporters would be hit with the EU's Common Customs Tariff – a wide range of taxes on imports.
These would serve to push up the price of UK exports, rendering them instantly less competitive in local markets and damaging British-based exporting firms.
Research by The Independent published today confirms that trading under WTO rules would have a serious impact on several important UK goods export industries, including car manufacturing, plastics production, machinery and clothing.
In 2015 official statistics show the UK exported £133bn worth of goods to the rest of the European Union, almost half of our global goods exports.
This included £10bn in food and drink, £16bn of fuel and around £10bn of motor vehicles.
Boris Johnson never wanted Brexit and only backed Leave to become 'heir apparent' to Tory throne
The average EU tariff is 4.8 per cent and applying this to total UK exports to the EU implies a "cost" of around £4.5bn – which would have to be absorbed as lower competitiveness for UK exports or as lower profits for firms if they chose to reduce prices in response to maintain their competitive edge.
But the EU tariff is uneven, ranging from 0 per cent on pharmaceutical products and 11 per cent on footwear to as high as 45 per cent on tobacco, meaning that some UK industries are much more vulnerable than others.
A full list of the UK's goods exports to the rest of the EU and the average tariffs they would face under WTO trade terms can be found below.
The Independent's calculations suggest that vehicle exporters facing an average 6 per cent tariff on £14.5bn of exports would be hit by £850m, plastic producers facing a 6 per cent tariff on £5bn of exports would be hit by £300m, and machinery makers with a 2 per cent tariff on £15bn of exports by £275m.
These costs would shift depending on the level of exports from various sectors when Brexit occurred – and patterns of trade would probably change over time in response to the tariffs – but the estimates give a ball-park figure of the initial shock.
Moreover, this would be only the beginning of the cost of the WTO scenario for exporters.
Leaving the EU with no free trade deal would mean the UK would also fall out of the coverage of the more than 50 free trade in goods deals the EU has concluded with other countries including significant markets such as Korea, Switzerland and Mexico.
And, over time, UK goods exports would also face "Non-tariff Barriers" (NTBs) in the EU such as the enforcement of different market standards and regulations.
Some experts have estimated the effective cost of these NTBs for chemicals, motor vehicles and aerospace is between 10 and 20 per cent.
And NTBs would be especially damaging for the UK's services exporters, which make up almost half of the UK's total exports.
Before the referendum Oxford Economics estimated the long-term cost to the UK economy of trading under WTO terms of between 1.5 and 3.9 per cent of GDP relative to otherwise by 2030.
It also estimated that overall UK exports would be 8.8 per cent lower than otherwise by this date.
A separate analysis by the London School of Economics suggested the welfare losses of moving to the WTO rules in a "big bang" would be up to 3.5 per cent of GDP per head instantly.
"The fact that the country is in some way being told to be prepared to face what we regarded as a very pessimistic outcome is quite discouraging in itself," said Gianmarco Ottaviano of the LSE.
John Van Reenen, a former colleague of Ottaviano and now Professor of Economics at MIT in the US, said trading under WTO rules would be a "truly dreadful outcome for British people".
"Exports to our closest neighbours would crash," he said. "This will lower our ability to pay for imports, the productivity of British business and ultimately our living standards. It would be one of the worst own goals in British trade policy in living memory."
Gains from trade
Industry bodies have lined up to warn ministers against even considering the WTO terms trade scenario.
Ben Digby, the CBI international director, said: "Tariffs on trade with the EU would have a significant impact on several sectors, from agriculture to automotive, pushing up prices for UK consumers and making our exports less attractive."
Dominic King, the head of representation at UK Steel, said: "Dealing with the EU under WTO rules would be a serious blow to manufacturers, leading to new tariffs being imposed on around 90 per cent of the UK's goods exported to the EU, leading to manufactures automatically becoming less price competitive."
The Japanese government wrote a letter to the UK Government earlier this month stressing the need to "maintain customs duty-free trade between the UK and the EU" and suggesting that a failure to do could see Japan pull investment and jobs from the UK.
The Nissan plant in Sunderland, which has a workforce of 6,700, exported around 250,000 cars to the EU last year, around half its output. Those exports would face a tariff of up to 10 per cent under WTO rules.
What experts have said about Brexit
Show all 11
However, some economists pointed to offsetting factors.
Martin Beck of Oxford Economics pointed out that the 10 per cent plunge in the value of sterling since the Brexit vote cushioned the loss of competitiveness that would result from facing EU tariffs on goods.
"EU tariffs would represent a burden to UK exporters, but to put it in context, a cost of £4bn or so is only around half of the UK's net contribution to the EU budget and could be adjusted to through relatively modest movements in taxes on companies, wages and the exchange rate" he said.
And Ryan Bourne of the "Economists for Brexit" group argued that the negative impact on exporters could be more than offset by cheaper imports if the UK decided to unilaterally drop all its import tariffs at the same time.
"Moving to unilateral free trade, in the absence of a trade deal with the EU, would lead to significant net gains to consumers and formerly unprotected producers through lower global import prices. These would both lower input costs directly, and through exposing all sectors to competition, would lead to greater economic dynamism as we trade according to our comparative advantages" he said.
However, the LSE's economic model suggests that the benefits for consumers of lifting import tariffs would be relatively small and would not cancel out the damage of facing export tariffs.
The LSE's economists have also severely criticised the Economists for Brexit group's modelling as implausible, arguing that it is underpinned by ideology rather than science.
David Davis told the Commons Foreign Affairs Committee on 13 September that Britain trading with the EU under WTO rules was "not ... in my view a very likely outcome", but he conceded it was possible.
The Prime Minister, Theresa May, has avoided any detailed comment about her own preferences for UK trade post Brexit, but said in New York earlier this week: "I believe in good trading relations, I have said I want the UK to be a global leader in free trade."
A number of other prominent Brexit supporters such as the former Chancellor Nigel Lawson and the Wetherspoons pub chain boss Tim Martin are also urging the Government to embrace the WTO option, insiting that Britain has nothing to fear.
UPDATE 26/09/2016
Peter Ungphakorn, a former WTO official and now blogger on trade issues, says that the headline tariffs rates for agricultural products quoted below considerably understate the likely scale of the hit to UK food producers selling to Europe because they are also often subject to complex additional tariffs known as "specific duties", expressed as euros per 100kg of imports.
Estimates of the economic impact are also complicated by restrictions on the overall quantities that the EU imposes on agricultural imports from the rest of the world.
Mr Ungphakorn says that the overall impact on the UK agricultural sector of exporting under WTO rules would hinge on the outcome of detailed negotiations between the UK and the EU and the rest of the WTO.
The cost of no free trade deal - line by line
| | | | |
| --- | --- | --- | --- |
| Goods Description | UK exports to rest of EU by value in 2015 (£m) | Average EU tariff | Cost (£m) |
| TOTAL | 133929 | 4.80% | 4576 |
| Mineral fuels, mineral oils and products of their distillation; bituminous substances; mineral waxes | 15753 | 1% | 113 |
| Nuclear reactors, boilers, machinery and mechanical appliances; parts thereof | 14846 | 2% | 275 |
| Vehicles other than railway or tramway rolling-stock, and parts and accessories thereof | 14648 | 6% | 851 |
| Pharmaceutical products | 10022 | 0% | 0 |
| Electrical machinery and equipment and parts thereof; sound recorders and reproducers, television image and sound recorders and reproducers, and parts and accessories of such articles | 9489 | 3% | 267 |
| Aircraft, spacecraft, and parts thereof | 6484 | 3% | 212 |
| Plastics and plastic products | 5063 | 6% | 306 |
| Optical, photographic, cinematographic, measuring, checking, precision, medical or surgical instruments and apparatus; parts and accessories thereof | 4782 | 2% | 104 |
| Organic chemicals | 3531 | 4% | 151 |
| Miscellaneous chemical products | 2848 | 5% | 153 |
| Natural or cultured pearls, precious or semi-precious stones, precious metals, metals clad with precious metal, and articles thereof; imitation jewellery; coin | 2697 | 1% | 16 |
| Beverages, spirits and vinegar | 2520 | 4% | 99 |
| Iron and steel | 2432 | 0% | 7 |
| Essential oils and resinoids; perfumery, cosmetic or toilet preparations | 2290 | 3% | 58 |
| Articles of apparel and clothing accessories, not knitted or crocheted | 2137 | 11% | 242 |
| Articles of iron or steel | 1792 | 2% | 31 |
| Articles of apparel and clothing accessories, knitted or crocheted | 1753 | 12% | 205 |
| Tanning or dyeing extracts; tannins and their derivatives; dyes, pigments and other colouring matter;paints and varnishes; putty and other mastics; inks | 1471 | 6% | 85 |
| Paper and paperboard; articles of paper pulp, paper or paperboard | 1371 | 0% | 0 |
| Rubber and articles thereof | 1262 | 3% | 33 |
| Books, newspapers, pictures and other products of the printing industry; manuscripts, typescripts and plans | 1246 | 0% | 0 |
| Footwear, gaiters and the like; parts of such articles | 1228 | 11% | 136 |
| Aluminium and articles thereof | 1207 | 6% | 77 |
| Miscellaneous edible preparations | 1195 | 9% | 111 |
| Furniture; medical and surgical furniture; bedding, mattresses, mattress supports,cushions and similar stuffed furnishings; lamps and lighting fittings, not elsewhere specified; illuminated signs, illuminatedname-plates and the like; prefabricated buildings | 1106 | 2% | 25 |
| Meat and edible meat offal | 1039 | 5% | 54 |
| Inorganic chemicals: organic or inorganic compounds of precious metals, of rare-earth metals, of radioactive elements or of isotopes | 1020 | 5% | 48 |
| Toys, games and sports requisites; parts and accessories thereof | 1007 | 2% | 24 |
| Preparations of cereals, flour, starch or milk; pastrycooks' products | 989 | 11% | 105 |
| Soaps, organic surface-active agents, washing preprations, lubricating preparations,artificial waxes, prepared waxes, shoe polish, scouring powder and the like, candles and similar products, modelling pastes, dentalwax and plaster-based dental preparations | 957 | 2% | 19 |
| Dairy produce; birds' eggs; natural honey; edible products of animal origin, not elsewhere specified or included | 876 | 6% | 51 |
| Fish and crustaceans, molluscs and other aquatic invertebrates | 839 | 11% | 92 |
| Other products | 632 |   | 0 |
| Residues and waste from the food industries; prepared animal fodder | 614 | 1% | 5 |
| Articles of leather; saddlery and harness; travel goods, handbags and similar containers; articles of animal gut (other than silk-worm gut) | 547 | 5% | 25 |
| Glass and glassware | 533 | 5% | 27 |
| Copper and articles thereof | 503 | 3% | 17 |
| Articles of stone, plaster, cement, asbestos, mica or similar materials | 462 | 1% | 6 |
| Cocoa and cocoa preparations | 461 | 6% | 28 |
| Miscellaneous articles of base metal | 452 | 2% | 11 |
| Miscellaneous manufactured articles | 414 | 3% | 14 |
| Man-made filaments | 411 | 6% | 25 |
| Nickel and articles thereof | 410 | 1% | 3 |
| Cereals | 409 | 5% | 22 |
| Tools, implements, cutlery, spoons and forks, of base metal; parts thereof of base metal | 398 | 3% | 12 |
| Animal or vegetable fats and oils and their cleavage products; prepared edible fats; animal or vegetable waxes | 385 | 5% | 21 |
| Ships, boats and floating structures | 356 | 1% | 4 |
| Other made up textile articles; sets; worn clothing and worn textile articles; rags | 350 | 10% | 35 |
| Preparations of vegetables, fruit, nuts or other parts of plants | 315 | 17% | 55 |
| Other base metals; cermets; articles thereof | 307 | 3% | 10 |
| Live animals | 305 | 1% | 4 |
| Photographic or cinematographic products | 299 | 6% | 16 |
| Preparations of meat, fish or crustaceans, molluscs or other aquatic invertebrates | 269 | 18% | 47 |
| Sugars and sugar confectionery | 269 | 11% | 31 |
| Salt; sulphur; earths and stone; plastering material, lime and cement | 268 | 0% | 1 |
| Wood and articles of wood; wood charcoal | 264 | 2% | 6 |
| Impregnated, coated, covered or laminated textile fabrics; articles for technical use, of textile materials | 247 | 6% | 15 |
| Coffee, tea, mate and spices | 230 | 2% | 5 |
| Oil seeds and oleaginous fruits; miscellaneous grains, seeds and fruit; industrial or medical plants; straw and fodder | 218 | 1% | 3 |
| Lead and articles thereof | 210 | 2% | 5 |
| Edible vegetables and certain roots and tubers | 205 | 9% | 18 |
| Albuminous substances; modified starches; glues; enzymes | 202 | 5% | 9 |
| Ceramic products | 192 | 5% | 9 |
| Wool, fine and coarse animal hair; yarn and fabrics of horsehair | 191 | 3% | 7 |
| Tobacco and manufactured tobacco substitutes | 182 | 45% | 81 |
| Edible fruit and nuts; peel of citrus fruits or melons | 180 | 6% | 11 |
| Man-made staple fibres | 179 | 6% | 11 |
| Hides and skins (other than furskins) and leather | 178 | 2% | 4 |
| Clocks and watches and parts thereof | 171 | 4% | 7 |
| Fertilizers | 168 | 5% | 8 |
| Carpets and other textile floor coverings | 153 | 7% | 11 |
| Arms and ammunition; parts and accessoriesthereof | 140 | 2% | 3 |
| Wadding, felt and nonwovens; special yarns; twine, cordage, rope and cable and articles thereof | 139 | 6% | 8 |
| Works of art, collectors' pieces and antiques | 139 | 0% | 0 |
| Products of the milling industry; malt; starches; inulin; wheat gluten | 134 | 12% | 16 |
| Railway or tramway locomotives, rolling-stock and parts thereof; railway or tramway track fixtures and fittings and parts thereof; mechanical, including electro-mechanical, traffic signalling  equipment of all kinds | 103 | 2% | 2 |
| Headgear and parts thereof | 95 | 2% | 2 |
| Products of animal origin not elsewhere specified or included | 79 | 0% | 0 |
| Special woven fabrics; tufted textile products; lace; tapestries; trimmings; embroidery | 76 | 7% | 6 |
| Pulp of wood or of other fibrous cellulosic material; waste and scrap of paper or paperboard | 76 | 0% | 0 |
| Knitted or crocheted fabrics | 73 | 8% | 6 |
| Cotton | 65 | 6% | 4 |
| Zinc and articles thereof | 56 | 3% | 2 |
| Live trees and other plants; bulbs, roots and the like; cut flowers and ornamental foliage | 50 | 7% | 4 |
| Lacs; gums, resins and other vegetable saps and extracts | 50 | 2% | 1 |
| Musical instruments; parts and accessories for such | 39 | 3% | 1 |
| Explosives; pyrotechnic products; matches;pyrophoric alloys; combustible materials | 37 | 6% | 2 |
| Ores, slag and ash | 36 | 0% | 0 |
| Prepared feathers and down and articles made of feathers or of down; artificial flowers; articles of human hair | 23 | 3% | 1 |
| Furskins and artificial fur; articles thereof | 18 | 1% | 0 |
| Other vegetable textile fibres; paper yarnand woven fabrics of paper yarn | 15 | 3% | 0 |
| Tin and articles thereof | 14 | 0% | 0 |
| Silk | 13 | 3% | 0 |
| Umbrellas, sun umbrellas, walking-sticks, seat-sticks, whips, riding-crops and parts thereof | 11 | 4% | 0 |
| Wickerwork and basketwork | 4 | 3% | 0 |
| Cork and articles of cork | 2 | 3% | 0 |
| Vegetable plaiting materials; vegetable products not elsewhere specified or included | 2 | 0% | 0 |
| Complete Industrial Plant | 1 |   | 0 |
Source: ONS, WTO, Independent calculations
Click here to download your free guide on Brexit ideas and action plans, from Independent Partner, Hargreaves Lansdown​
Join our commenting forum
Join thought-provoking conversations, follow other Independent readers and see their replies